NY cop wounded in ambush saved by body armor
Cop shot three times but is saved by vest; suspect dead after NYPD fires 21 times
---
New York Post
NEW YORK — A young cop was seriously wounded yesterday during a blazing gun battle in a Bronx housing project dubbed "Vietnam" by residents.
Police Officer Robert Salerno, 25, was shot three times at close range when he confronted Santiago Urena, 57, a lovelorn loser who had just attacked his 92-year-old mother's home-health aide and menaced her with his .38-caliber revolver inside the family's apartment in the Morrisania Air Rights complex at 3073 Park Ave.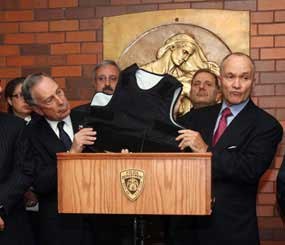 Urena was later found dead from what police believe was a self-inflicted gunshot.
It was an "ambush," a police source said of the cop's shooting.
The home-health aide, Yesenia Rodriguez, told cops that the unemployed Urena flipped out when she rejected his persistent come-ons. She called 911 after he grew so angry that he viciously slapped her and waved his pistol.
"He beat me," a weeping Rodriguez, 27, told The Post last night at New York Presbyterian Hospital, where she was treated for bruising. Salerno and three other officers rushed to the scene at about 12:30 p.m. "[The cops] go down to the bedroom, they knock on the door, they ask him to come out," said Police Commissioner Ray Kelly. "They open the door, and the perpetrator fires at least four shots, striking [Salerno] twice in the lower torso and once in the chest."
One bullet hit Salerno in his upper torso but was stopped by his Kevlar vest. Two other rounds struck his lower abdomen with one shot exiting through his buttocks.
In the melee, Salerno unloaded all 16 rounds in his gun. Two of his fellow officers got off two shots and the other fired one, Kelly said.
The wounded cop's shaken comrades grabbed him and carried him from the second-floor home and out of the building to safety. He was badly bleeding at the time, police sources said.
Urena, who had no criminal record, was later found in the bedroom with a single, fatal, gunshot wound to his temple. He also had a bullet wound to the abdomen.
Salerno, who joined the NYPD in January 2007 and is assigned to the 44th Precinct, was in critical but stable condition at Lincoln Hospital last night.
His parents, brother and girlfriend -- a sergeant at the same precinct -- were at his side.
Just hours after surgery, he was awake and talking -- receiving an emotional visit from the three other officers involved in the shootout, police sources said.
Salerno was concerned about how his fellow officers were doing and told them he planned to be back on duty as soon as he was able, the sources said. His colleagues were so traumatized themselves by the incident that they were also being treated at the hospital, the sources said.
Urena's brother and neighbors said they were stunned that he snapped. Some neighbors suggested that Urena -- who worked as a Kennedy Airport cleaner until last year -- may have been troubled by the death of his father, Elias, last month.
"My brother's a good person -- something set him off," said Urena's brother, Demitrio, who lived with him and their mother, Ana. "We just buried my father. Now we have to bury him."
The shooting occurred on a rough-and-tumble block -- a short walk from Yankee Stadium -- nicknamed "Vietnam" by residents because of past gunplay.
Urena's unrequited love -- or lust -- was apparently behind the incident. Rodriguez, the mother of a 2-year-old daughter, told The Post that Urena had been pursuing her for awhile.
Neighbor Jimmy Molina, 54, who translated Rodriguez's Spanish for cops, said, "[Rodriguez] said something to him [about his advances], and . . . he pulled out the gun. He smacked her and he said, 'I'll kill you! I'll kill you!' "
In a twist, Mayor Bloomberg said he knew Salerno's father, Joseph, when the mayor lived in Westchester in the 1980s.
The dad used to serve coffee to Bloomberg when he stopped at his service station in Armonk on his way to work.
"When I walked in the [hospital] room, I thought, 'I know this guy,' " the mayor said.
Salerno's relatives said they worry constantly about his dangerous job.
"He wasn't scared of anything, he had no fear, and that worried us," said cousin Mark Mezzancello, 44.
Copyright 2010 New York Post

Request product info from top Police Body Armor companies
Thank You!