Report: Dallas police were told to leave heavy gear behind
The president of the Dallas Police Association claims officers were told to avoid looking "militaristic"
---
DALLAS — Officers were told ahead of a rally last July not to wear heavy protective gear to avoid looking "militaristic," according to the president of the Dallas Police Association. 
Mike Mata, in an interview with the CBS DFW I-Team, said that if officers had been wearing their heavy gear, it may have "stopped some of the rounds during the ambush that killed five officers and injured nine." 
Mata told the news site that while officers were wearing standard-issued protective vests, their stronger, thicker body armor and helmets were left in their patrol vehicles.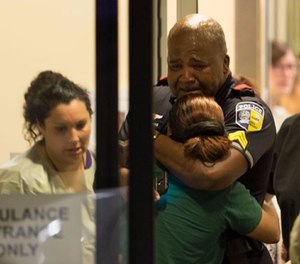 "They didn't want the police department to look militaristic to the community, look aggressive, incite any trouble," he said, adding that officers were also told not to carry their long rifles.
The gunman, Micah Johnson, ambushed and targeted white officers during a peaceful march in downtown Dallas. It was the deadliest attack on law enforcement since Sept. 11, 2001. Johnson was eventually killed by a remote robot.
Mata contends the heavier gear and rifles might have saved lives that day. He said officers blame then-Police Chief David Brown. 

Request product info from top Police Body Armor companies
Thank You!