Why body armor is a cop's best training buddy
Police officers should wear soft and hard body armor during firearms or DT training to understand how armor impacts breathing, shooting stance and physical abilities
---
By Amir Killah
It's probably not a good idea to run a 5K with new running shoes unless you want to end up with blistered and bloody feet. So why do we issue body armor to new police officers and then send them out to chase fleeing subjects, wrestle domestic violence suspects to the ground or get into gun fights all while wearing unfamiliar protective gear?
3 steps to break in your new body armor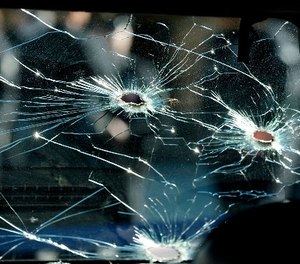 Body armor has a different feel, not just from brand to brand, but even from model to model. As a matter of fact, the same body armor can yield different contact points and restrictions based on how the various straps are adjusted. Here are 3 ways you test drive your armor:
1. Take your new body armor for a spin in a subject control training session. You need to find out how the armor reacts to striking, wrestling or ground grappling with a subject.
Questions to consider:
Will your body armor ride up and choke you?
Will you have to adjust the shoulder straps or the side straps to get a better fit?
2. Next stop is the shooting range. Run through your department's regular qualification course wearing your new body armor. See how your body armor impacts the draw of your weapon. Is your shooting stance conducive to catching a round in your trauma plate, or are you a little too bladed?
Now is the time to experiment. It is much better to find flaws in training than it is to discover your equipment's short comings in a middle of a fight.
3. Finally, since you are already all sweaty, do a quick calisthenics workout in your body armor. Be cognizant of choke points, respiration restrictions and mobility limitations created by the fit of the armor.
All this training probably got you pretty sweaty; don't panic, check the box your body armor came in to find a replacement liner. Use the replacement liner to get back to looking and smelling like the professional officer you are. Make sure you follow the manufacturer's instructions on replacing your body armor liner.
Don't neglect training with your hard body armor
With the recent and unfortunate trends and patterns in active shooter incidents around the United States, many U.S. officers are being issued – or purchasing their own – heavy body armor and carriers. The additional armor is necessary when facing a threat with a rifle.
Officers are customizing their own kits and including extra rifle magazines, self-aid/buddy first aid kits, and extra handcuffs and restraints. Many officers spend hundreds of dollars on their kits just to throw them in the trunks of the cruisers. Very little, if any, training is being conducted with the heavy body armor.
Remember, the day you pull that kit out of your trunk will be a very high-stress day. You must answer these questions ahead of time:
Do you know how the extra weight will interact with your currently equipped gear?
Will your body camera be blocked or repositioned?
Will you have access to your duty weapon, radio and magazines?
How will the weight of the additional armor affect your body and breathing?
At the very minimum I recommend timing how long it takes to don your heavy body armor. Recruit a partner to time you as you exit your cruiser, retrieve the heavy armor from your trunk, don the body armor and rearrange your gear to how you will need it before you can run into the active shooter scene and address the threat. Again, this should be a minimum training exercise.
The more training you can do with your equipment, the more comfortable you will be when you need it under stress. Remember, you train like you fight and fight like you train. Stay safe brothers and sisters.
---
About the author
Amir Khillah is a police officer, founder of Centurion and a police academy subject control instructor. Contact him at amir@lightningkicks.com.