Case Study: Lake Havasu PD cuts complaints, costs with TASER AXON
Dealing with dubious and costly citizen complaints becomes a whole lot easier when you deploy video technology in conjunction with robust digital evidence management
---
Sun Tzu said it is best to win without fighting. Plaintiffs' attorneys know this, and frankly, when their sole objective is a settlement, they're counting on it. They know that in a he-said-she-said situation involving a cop and a complainant, more times than not the folks in City Hall will probably just pay for the problem to go away.
Similarly, officers on the street know that when an adversary presents a challenge, the best possible course is the one which results in victory without having to engage in hostilities.
Cops know that force is only necessary when the violator makes it so. They're prepared to use all the force options available to them, but cops know that command presence, Verbal Judo, and such conflict resolution techniques frequently are sufficient.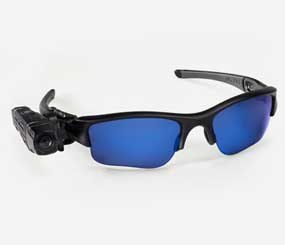 Problem is, citizens sometimes invent (or perceive) some slight on the part of the officers.
Solution
With the advent of body-worn cameras, a vital tool has been added to the belt — and it's as useful after a street confrontation as it is before or during one.
The Lake Havasu (Ariz.) Police Department already knows about the benefits of body-worn cameras.
Since June 2010, the department has fielded TASER AXON on-officer video systems, supported with the software-as-a-service (SaaS) EVIDENCE.COM  digital evidence management suite.
The AXON has undergone a tremendous overhaul since first introduced, resulting in the AXON FLEX, a versatile, light-weight unit with a small, simple-to-use belt-borne battery pack/switching system, Meanwhile, EVIDENCE.com offers all the benefits of cloud computing.
The AXON FLEX offers multiple mounting options, providing officers flexibility, simplicity and wearability. It features Looxcie Inc.'s proprietary video over Bluetooth streaming technology that allows officers to review events on a smartphone application.
Meanwhile, EVIDENCE.com is a full featured digital evidence management solution that allows the agency to securely store and track access to any type of digital evidence including AXON Flex videos service.
Results
Those solutions, used together, have led the Lake Havasu Police Department to rapidly resolve a significant number of dubious citizen complaints which otherwise would have had both financial and "utility" costs.
In one instance, a resident submitted a written complaint claiming officers who responded to a noise complaint at her home the evening before had violated her fourth amendment rights and treated her in an abusive manner.
Review of the AXON video revealed the officers courteously and properly handling the call, despite the cursing and rants of the very highly intoxicated complaining resident.
The officers were exonerated without need for further investigation.
There was the instance in which a citizen was unhappy about receiving a traffic citation and called the PD to initiate a complaint, claiming the officer was rude and did not explain the reason for the stop. Following the call, the sergeant logged onto EVIDENCE.COM, viewed the AXON recording of the encounter, and saw the officer politely and professionally explaining the reason for the stop.
The sergeant called the motorist back within moments of the complaint to let him know he had just watched the AXON video. The motorist immediately retracted his complaint and apologized for the "misunderstanding."
Then there was the instance in which an armed man claimed to not have been armed when officers drew their sidearms and commanded him to drop his weapon.
This particular resident had already established a reputation for obstinate, bizarre, and threatening behavior. You know this guy on your beat — you can name him, recite his address, and accurately recall every detail about the last time you had a call there. He's "that guy."
As a city contractor started work in "that guy's" neighborhood, he put up his usual fuss, leading to a visit by Lake Havasu officers to his home. He emerged from his front door brandishing a shotgun.
The cops drew their guns, and the resident quickly complied with the officers' orders to drop the weapon. As the officers' spoke with him immediately thereafter, the resident denied brandishing the shotgun and indicated his intent to complain about the officers having drawn their firearms.
When the officers informed him that the entire event was recorded on video with AXON, he opted not to make the complaint.
"Had he not been informed of the AXON evidence," said Captain Joe Fiumara of Lake Havasu PD, "the resident would have likely made good on his threat to complain. Once we let him know that this device was video — that we got it all on video — he said, 'Oh, never mind.'"
Like all departments, Lake Havasu PD takes complaints of excessive force very seriously, and had "that guy" gone through with his threatened complaint, the Professional Standards Bureau (PSB) investigation would have depleted resources on a frivolous complaint.
Hours of interviews would have been conducted. Reports would have been written, reviewed, and filed with command staff. Then their time would have been needlessly tied up.
Economists call this drain on resources "utility cost" and when taken in sum, those costs can be staggering.Instead, all the abovementioned incidents turned into an administrative non-event.
Fiumara said that the PD has been getting a lot of "never mind" responses. In fact, they've even added such a category in their paperwork for dealing with citizen complaints. 
"In other agencies you have sustained, exonerated, not sustained, and unfounded. We've added an additional category in our database called 'Cleared by AXON'," said Fiumara. 
"The officers dig it. Several times we've contacted an officer and said, 'By the way, what would have normally been your standard interview with PSB, you've been cleared upon viewing your video."
Conclusion
If you simply hand a cop a device that will record them doing their work, there's a reasonable chance you're going to hear some grumbling:
• It's one more thing to have to think about
• It's one more thing to have to put on the belt
• It's one more thing that has to go into my reports
"I think it's important to exercise some patience," said Fiumara. "We can anticipate great things from an administrative standpoint — that this is a game changer and that the overall end result is going to be extremely positive — but we have to recognize that there is going to be apprehension, and at times resistance"
Fiumara said that officers' responses to this new technology will depend in large part upon their own initial experiences with it. Yes, there must be an initial education as to what the technology is capable of, what the policies are for its use, and what the agency's intentions behind the deployment are, but the actions taken by the agency will speak far louder than those first words.
"Recognize that the benefits will reveal themselves when you get the technology out there and let the positive experiences rack up. Those positive experiences get out there and they get communicated agency wide. And at all cost avoid the temptation to use this for any kind of micromanagement — you don't want to go down that road."
Yes, there will occasionally be an instance in which some sort of officer behavior can be improved "upon further review" of the video but those teaching moments happen already between officers "checking" their patrol partners and FTOs simply doing their jobs.
It's become almost a national pastime to sue the police. In an age of rampant litigiousness among citizens who — either rightly or wrongly — feel they've somehow been mistreated by police, this has led to myriad complaint cases against cops to be "settled."
Settled is a nice word in many respects, but in this context, it may as well be written $ettled, because each time an agency acquiesces to a plaintiff's attorney, municipal coffers are being drained.
Sometimes checks are written in massive sums, but far more frequently cities are being bled out in what can correctly be called death by a thousand paper cuts.
Whether your agency is looking to protect against that once-in-a-lifetime, national-news-headlines, multimillion-dollar misconduct lawsuit or a parade of "nickel and dime" complaints, probably the best one-two punch available to you right now is the body-worn camera system used in conjunction with a truly robust digital evidence management solution. 

Request product info from top Police Body Cameras companies
Thank You!