Survey: Police officers want body-worn cameras
LEOs from across the country, and from agencies of all sizes, are increasingly seeing body-worn video as something that can protect them from false complaints
---
An overwhelming majority of police officers believe that there's a need for body-worn cameras, according to a new nationwide survey.
The survey — conducted in a partnership between Police1 and TASER International — offers extensive insight into the rapidly evolving opinion among cops that body-worn cameras have become an indispensible piece of duty gear.
The survey was conducted among 785 federal, state, and local law enforcement professionals. The survey results comprised opinions from the Southeast (26 percent), the Midwest (21.7 percent) the Northeast (17.6 percent), the West (16.3 percent) and the Southwest (14.7 percent).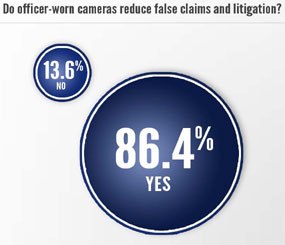 In terms of agency size, about 25 percent said their agency had more than 250 sworn officers, and another 25 percent said they had fewer than 25 sworn officers — the remaining 50 percent fell somewhere in between.
Some Surprises
Perhaps the most important single piece of data was that more than 85 percent of respondents believe that body-worn cameras reduce false claims of police misconduct, and reduce the likelihood of litigation against the agency.
Similarly important, the same figure said they are now familiar with the technology. That one data point alone is extraordinary, for just a few years ago, very few street-level officers held that opinion.
Perhaps the most surprising statistic in the survey relates to the perceived effectiveness of body-worn cameras versus in-car systems, with 77 percent of officers saying they think the body-worn solution is more effective.
Intellectually, this makes sense of course, but just a few years ago, such an opinion was not widespread. In fact, it was the tiniest minority. 
Good News for Manufacturers
Given the abovementioned results, it is unsurprising that 80 percent of respondents said their agency is in the midst of evaluating one or more body-worn solution.
While the vast majority of respondents said they are familiar with the technology, want the technology, and are even evaluating the technology, only around 25 percent of respondents said that their departments are using body-worn cameras today.
This represents an amazing market opportunity for manufacturers in this space — TASER International, Scorpion, VIEVU, Panasonic, VIDMIC, and others — who have solutions already available to agencies.

Nearly a third of respondents said that TASER comes to mind first when they think of body-worn cameras, while Scorpion garnered 12.7 percent, VIEVU came in at 11.8 percent, Panasonic was 9.9 percent, and VIDMIC came in at 4 percent.
In addition, 40 percent of respondents also identified TASER as the market leader in the area of body-worn cameras.
When it came to the most important features of cameras, respondents offered a number of different perspectives, as outlined in the graphic below. 
You can read more about different body-worn products at P1's Body Cameras section.