What agencies need to know about BWC-enabled smartphones [eBook]
Learn what features to look for, what policies to implement and how to save money with a single device
---
Sponsored by Kyocera
Technology has promised to deliver the tools we need to accomplish more with less, thus improving our efficiency and effectiveness in the workplace. Device integration has long been part of that pledge, which is now coming to fruition in law enforcement. For example, what if a patrol officer's smartphone could do double duty as a body-worn camera? This would allow cops to upload bodycam footage while using apps to increase situational awareness and improve safety for both officers and citizens.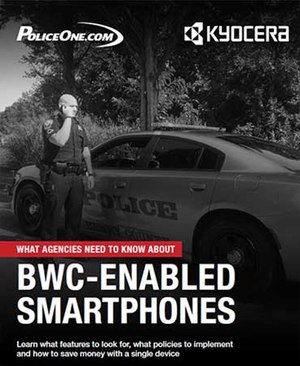 BWC-enabled smartphones are overtaking stand-alone BWC devices as the choice for law enforcement agencies looking to increase police transparency and improve community engagement, while enhancing officer safety and saving costs.  Download this eBook to find out why.
In this free guide, you'll learn:
The essential features you should look for when considering a BWC-enabled smartphone
What policies you need to have in place before acquiring hardware or deploying your program
How one Georgia PD rolled out its innovated body-camera program that deploys an all-in-one smartphone and body worn camera.
See us at IACP for a live demonstration of the Visual Labs and Kyocera Body-Worn Camera enabled smartphone.