Reagan County Sheriff's Office choose PatrolEyes MAX body cameras
---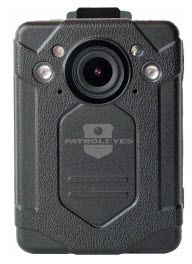 BIG LAKE, TX — The Reagan County Sheriff's Office has made the decision to equip officers with PatrolEyes MAX body cameras. The department stated that it had purchased another brand of body camera which resulted in having major issues with those cameras. With their former retailer now out of business, Reagan County began looking for options to replace their broken cameras.
Chief Deputy Destin Wilha mentioned that the department was facing budget constraints and unable to afford large mainstream brands, which led them to discover PatrolEyes. Wilha said "I found the PatrolEyes product online and contacted them directly. The sales team was very helpful in integrating their MAX cams into our department. I plan to use their products and services as long as I can. The Reagan County Sheriff's Office has recommended PatrolEyes to all of the small and medium size departments in our region." PatrolEyes CEO Mike Gramza stated "We understand that most departments, especially smaller ones will face budget constraints when implementing a body camera program. We do everything we can to provide affordable options to departments large or small. We offer customizable cost effective features on our devices, storage and multiple camera management solutions."
The PatrolEyes MAX is the highest resolution camera released by PatrolEyes; who specializes in body worn cameras built specifically for law enforcement. Multiple resolution and frame rate settings offer customizable video and photo capture quality up to 2K. With the press of a single button, recording can start even when the camera is turned off. Every moment is in frame and in focus, with a 140 degree wide angle lens. Recording can transition well into low light and darkness with MAX's auto infrared feature. Night vision range is 30ft, with the ability to adjust IR sensitivity settings. A built in LCD allows the user to review videos, photos or audio recordings in the field. MAX's EIS (Advanced Image Stabilization) assists the device in maintaining steady shots, especially when users are in movement such as foot pursuit. MAX cameras can last long beyond an average shift. The built-in lithium battery has a recording life up to 14 hours and 18 hours standby. Built-in GPS saves video location data while MAX films.This data is integrated with maps through included software and provides even more priceless facts to evidence collection. Video overlay text includes date, time and ID stamps. These secure watermarks are locked and tamperproof to camera operators. An included drop-in charging station can also transfer data from the camera to desired location. Transferred camera files are well organized and include their own unique device ID and log files, making if quick and easy to find the evidence you are looking for. The body of MAX is built for optimal performance while being waterproof, lightweight and drop proof up to 10 feet.

Request more info from PatrolEyes
Thank You!