Broadcast innovation could revolutionize police video use
Bonded cellular technology enables resilient high-quality live mobile streaming
---
Sponsored by LiveU
By John Erich, Police1 BrandFocus Staff
Back in 2006, Avi Cohen took his son to a football match. Outside the stadium, Cohen – an engineer by trade, at the time involved in R&D for a top technology company – noticed the usual lengthy lineup of large, intricate satellite trucks required to share such major sporting events with viewers around the world. On this day it gave him pause.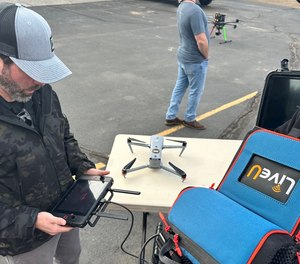 "In my pocket," Cohen thought, "I have a computer that has more power than we used to send people to the moon. And I have mobile cellular service to support it. Couldn't I somehow take the video from events like this, crunch it down and send it, very quickly, over that kind of wireless platform?"
At the time, the answer was no – because mobile wireless technology hadn't yet advanced to the point of ensuring steady, reliable, broadcast-grade video streams without the threat of signal disruption or loss.
So Cohen invented a solution – video IP over bonded cellular – and cofounded a company, LiveU, to bring it to users.
Today, bonded cellular allows the seamless real-time streaming of high-quality live video Cohen envisioned – and LiveU is extending its benefit beyond the sporting world to another area where it has great potential value: law enforcement.
How do you handle live video?
For police, one of the clearest use cases for LiveU's advance – the core technology of which is known as LiveU Reliable Transport, or LRT – is drones.
"The first thing I ask a law enforcement person is, 'Do you have a current drone program?'" said the company's director of public sector sales, Janet Brown. "I want to know how it works for them. How do they handle live video? What do they do with it? That's where I can learn about their pain points. Because 99% of the time, what I hear is that the connection isn't always reliable, and the video isn't always clear. And those are pain points we can address."
Drones aren't the only potential use: The solution works just as well from piloted aircraft, ground vehicles, dash-cams and other video sources. It can disseminate that video to any destination, including headquarters, mobile command posts and even responders' personal devices, via an IP video protocol designed for use over mobile networks.
At the heart of the system are video encoders that bond different types of connections together – cellular, Wi-Fi, Ethernet, satellite – to create a bigger "pipeline" that helps enable reliable connections no matter the location. The video signal is compressed and pieced up to make use of those various potential transmission routes. If one becomes unavailable, it automatically determines the best alternative and switches. At its destination the stream is reassembled, much like the transporter from "Star Trek," into viewable video with just milliseconds of latency.
"We're spreading the load," explained Steve Wind-Mozley, LiveU's chief marketing officer. "We take multiple connections and bond them together to create a thick pipe. That way, if one of them drops out, you don't lose a signal. That lets us be incredibly reliable and deliver high quality and low latency."
This begins with a line of small field units tailored for various uses. One small but powerful option suitable for law enforcement is the LU300S: At 4.4 by 8 by 2.1 inches and weighing just two pounds, it combines up to six IP connections with built-in 5G support for data speeds of up to 30 Mbps. This enables 4K 10-bit HDR broadcast-quality video.
The unit supports up to four 4G/5G cell connections via two internal dual-SIM modems with antennas and a pair of external modems. It includes a 2.2-inch display and intuitive interface with a rugged design for demanding environments. LiveU field units are typically deployed in special backpacks.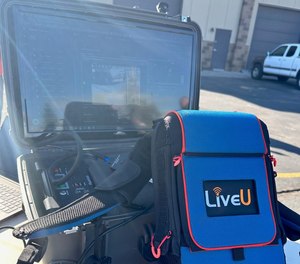 At the larger end of the scale, the flagship LU800 is a production-level field unit with capabilities to do multicamera content. With 14 connection options, the unit can power slick and sophisticated live productions. But "the point is, all our solutions are incredibly mobile, very resilient and deliver high quality where you need it," said Wind-Mozley.
At the video's destinations, special receivers decode and reassemble everything. These provide a point-to-point connection and require specific pairing, ensuring security. Users can join multiple receivers to one transmitter or multiple transmitters to one receiver. LRT is compatible with existing video management systems and situational awareness platforms.
What all this produces is dependable and resilient video for essentially any kind of on-the-go application.
"Bonded cellular can help users stay connected when others can't," said Brown. "We can help them when bandwidth is struggling because of capacity. We can help them stay connected when Mother Nature is in the way with bad weather or in dense areas where there aren't a lot of cell towers. And the fact of the matter is, we can take that valuable video right now and, instead of just the drone or camera operator seeing it, we can share it with the mobile command center down the road, the headquarters across the city, and all responding officers on foot.
"And we don't need people to stop using what they're using – we can enhance what they already have."
'Our go-to media platform'
Of course even the best real-time video is only as valuable as what you do with it. LiveU provides several key software applications that can help law enforcement make the most of theirs.
LiveU Video Return extends video feeds to crews in the field. Developed to deliver key viewing and other information to reporters for their broadcasts, it benefits police by letting officers at scenes directly view streams from drones and other video sources, maximizing their situational awareness as they operate. This video can be viewed by up to 40 recipients on LiveU field units or any mobile device or PC.
Two-way and multiparty communication with those cops in the field can occur through LiveU Audio Connect. Users need simply to route their audio signals through a LiveU server using a special interface unit; a smart algorithm provides resiliency to network fluctuations. "Having that two-way communication, in sync with the video you're seeing, can be pretty important when you're making split-second decisions," noted Wind-Mozley.
LiveU Audio Connect can be managed through the LiveU Central platform for unified management. This permits full control of units, channels/servers and other tools from any browser-based device.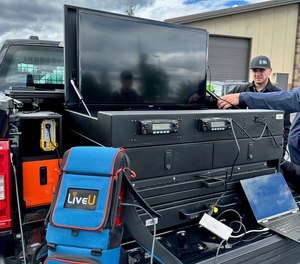 With roots in the broadcast world, LiveU's tools and technologies were first developed for media use, and it's worth noting they are well-suited to help law enforcement craft polished outward-facing messaging as well. For updates, news bulletins, public instructions, educational productions and other instances of getting the word out, LiveU Studio is the first cloud-native live video production solution built around LRT. It can support video switching, audio mixing and graphics in a polished final product, including a "lower third" ticket with text on the bottom of the screen.
"If you're using multiple cameras, you can switch them up," said Wind-Mozely. "You can switch from camera #1 to camera #2 and pull a close-up. You can have talking heads pulled in if you want to use somebody remote calling in from Teams. You can show them within the stream as well – it's a very powerful communication tool."
This is all more than theoretical; LiveU solutions are already benefiting first responders in practice. The police and fire departments in Los Angeles are two examples.
The Los Angeles Police Department turned to the company's product line to power its live streaming of press conferences. Leaders liked the LiveU technology's ease of use – it was "truly plug and play," said LAPD Sergeant Hector Guzman. It has used its system to stream the World Police and Fire Games, community outreach events and media briefings during critical incidents.
That local police use case inspired the L.A. Fire Department to look at LiveU solutions as well, and LAFD obtained LiveU field encoders for its PIO, communications team, and drone program, among others. "The LiveU unit has become our go-to media platform for getting our message to the department operations center or the public," said LAFD Captain Mike Flynn. "We can have multiple agencies view the live stream at the same time and make decisions quickly based on what we are seeing in real time."
More than 1,000 law enforcement agencies across the U.S. and around the globe are currently using LiveU technologies. They are also used in nonemergency settings like building inspections, highway and traffic studies, and training and exercise scenarios.
Meet a higher standard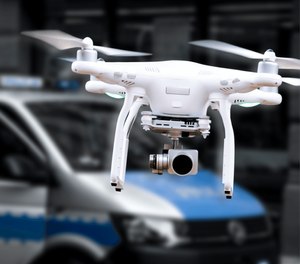 Deft, timely use of video not only enhances situational awareness but is rapidly becoming expected of responsible modern agencies – it will soon be, if it's not already, the "standard of care" in law enforcement. Optimizing its use, though, is a multifaceted challenge that only starts when the video is captured. It must still be reliably and resiliently transported. It has to go to the right destination with minimal delay. And from there it still must be shared across systems, devices and users to realize its full benefit.
"There are lots of companies that say they have 'streaming solutions.' But many of those still haven't thought about the connectivity and building in the software," said Jared Brody, an expert in the field of resilient communications who works with LiveU. "LiveU has done a really good job of making sure they're almost agnostic to the destination of the video. You have to deliver it across many disjointed and disconnected types of platforms, because a lot of the software companies doing AI and things like that don't want to help each other. So the ability to work with all of them, I think, is very important. And then to, within 1–2 seconds, give them the ability to easily share – those are things I don't believe have been really solved ubiquitously in this space until now."
For more information, visit LiveU.tv. 

Request information from LiveU
Thank You!