Motorola unveils the LEX 700
A new handheld device seems to be more science fiction than fact — but 'tomorrow' and 'today' are sometimes separated by the slimmest margin
---
Consider this hypothetical. An elderly man is separated from his wallet by an armed assailant at approximately 1805 hours on a Wednesday evening. The first officer to respond arrives at 1808, and observes the old guy to be rattled but unhurt. The victim gives — at best — a muddled description. "Medium, maybe...", "Medium, I guess...", and "Hell, I don't know..."
All the old guy can really remember is "the gigantic black gun." The cop calls it in at 1810. Seconds later, a man is spotted by another officer who had just then been arriving as backup. He fits the description — sort of — and is seen entering a one-story building in a small industrial park. The business appears dark and quiet, but it's only 1811 hours, and there's a very real possibility that some employees may still be at work.
Pretty common-sounding scenario so far, right?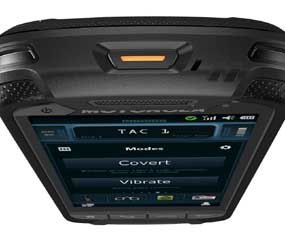 Not Uncommon, But Potentially Complicated
When the inner- and outer-perimeters are set and a command post has been established — it's not even yet half past six in the evening — nobody really knows for sure who the suspect is. But at 1829 hours, another photo comes in — it's the perp in the very clothes he's wearing today, snapped by a person who witnessed the robbery and surreptitiously grabbed a remarkably-good picture on her iPhone. If you zoom in, you can even discern the type of pistol in his hand.
The old guy, standing beside our first first responder, sees it too.  "No doubt about it, that's the guy," he says.
We're looking at a 'regular customer' who has recently been released from a brief stint in County. A prior booking photo is now distributed, along with a detailed history of the violator's past encounters with law enforcement. Multiple assaults. The whole nine yards. 
At 1832, an email comes in — everyone who works in the building has clocked out and gone home, according to a supervisor who monitors 'the time clock' (more accurately, 'the overtime'), the inventory, and everything else in his small business... except an unannounced armed man in his shop right around the time the six-o'clock news takes its third commercial break.
At 1833, detailed building plans have been beamed to every cop at the scene. Seconds later, an 'A' and then a 'B' and a 'C' and a 'D' suddenly appear on the four walls of the structure's image each copper is looking at. Further, an 'X' appears inside a room where the suspect is believed to be hiding.
At 1834, a every cop on scene gets a text message indicating that a live video stream inside that 'X room' has been made available thanks to the security company whose cameras cover the whole facility. Somebody, someplace, is giving all the law enforcers involved some very important, real-time and/or near-real-time tactical information.
A red line — like the 'John Madden Telestrator' used on broadcasts of NFL football games — then appears on the floor plan, running from the back entrance, through a storage area, past the kitchen equipment, directly to the cafeteria.
One click, and everyone is looking through the lens of a full-color pan-tilt-zoom (PTZ) camera in the cafeteria, controlled remotely by the LT at the CP. Sure enough, there's our a__hole... very lonely, and before the top of the hour, very, very busted.
Science, Not Science Fiction
Whereabouts in the above hypothetical did things stop seeming like a 'pretty common-sounding scenario?'
Oh, yeah, I forgot to mention that all those plans and videos and pictures — they were all sent to a handheld device not much bigger than your typical 'Droid' mobile phone and all the data was encrypted on a proprietary, public-safety-only, 700 MHz, Band 14 network owned and operated by the city.
I'm really sorry to 'bury the lede' like this, but I wanted to paint you a picture which would illustrate the geek-speak which follows. The technology described above is all very doable, and according to what I saw today from Motorola at IWCE 2012, it's also going to be available to police officers around the time the 2012 World Series gets underway.
Now... The Rest of the Story
Apologies to Paul Harvey, Motorola today announced the LEX 700, a ruggedized and compact handheld device designed to deliver data, photos, video, and voice quickly, reliably, and securely over multiple networks. I told you there would be geek-speak.  Read on for more. 
Very light — I don't know, maybe a half pound in weight? — the LEX 700 packs a 1GHz processor, 1GB of RAM memory, something like six different wireless antennas, an 8-megapixel auto-focus camera, and a 740x480 DVD-quality video camera. Oh, and it meets (or surpasses) MIL-STD-810G Method 516.6 Procedure IV drop testing.
I used to do PR work for a very famous rugged computer manufacturer, and I've been known to perform demonstrations in that role which are far outside the realm of reasonable (yes, I've destroyed a laptop computer... or two). A Motorola guy handed me his prototype LEX 700 on the show floor at IWCE today, but when I realized he had seen the devilish glint in my eye, I decided not to test that Mil-Spec rating.
Nonetheless, I can tell you firsthand that thing is rock solid.
The LEX 700 will run on emerging public safety LTE, and will also 'roam' to Verizon's 4G LTE, 3G EV-DO, and 1X RTT networks. It can also connect with the 802.11 a/b/g/n Wi-Fi networks which are increasingly prevalent in many municipalities. It can join a Project 25 (P25) radio talk group via a P25-LTE gateway. I'm told that a version for the AT&T wireless carrier network is also pending.
Yeah, There's an App for That
Unsurprisingly, Motorola has developed a set of applications designed to provide first responders with "unprecedented access to intuitive multimedia applications that increase situational awareness, enhance tactical collaboration, and enable greater in-field productivity," according to Motorola literature distributed today at IWCE.
With rich-media applications designed for public safety from Motorola and other third-party developers, agencies will have access to unprecedented use cases such as:
• A shared operational view of an incident with high-quality, real-time video pulled from fixed and mobile cameras or streamed to the field from the command center
• Tracking information from mobile computer-aided dispatch (CAD) and real-time collaboration software lets everyone see the positions of field assets and know where they need to be next
• Everyday tasks like ticket writing, identity verification and suspect booking are handled within minutes on the scene, and transmitted directly to headquarters so there's no need to file paperwork
All that bullet-list stuff is directly quoted from the Motorola press release, but from what I saw in today's event, there's a very clear path for existing applications now being used on a variety of mobile devices to also be integrated into the LEX 700. The Motorola folks have developed some manner of API layer which will, according to what I was told today, accommodate whatever application your PD has deems to be essential.
I'm a geek. Big time. And even I don't understand the engineering this type of promise must require. So, following today's little press event, I asked one Motorola guy at their booth, "Just so I'm clear, if it can connect to the network, you can connect it to the device?"
He nodded, and said, "Yes."
Interesting. Rugged-as-hell, real-time, handheld tactical Intel for cops.
Hello, Moto.

Request product info from top Police Communications companies
Thank You!