PRESS RELEASE
Robust and durable dual push-to-talk (PTT) for reliable radio transmission
---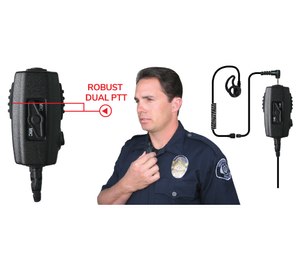 VALENCIA, Calif. – In critical situations, it is imperative that the push-to-talk (PTT) function is easy to get to and works every time. At the Earphone Connection, we understand this need and the responsibility behind this action.
To combat transmission anxiety, we developed the Chameleon Dual PTT Body Microphone. Slightly larger than the typical lapel microphone but still compact enough to work around all the body-worn accessories, the Chameleon easily adapts to anywhere you place it.
The Chameleon Dual PTT Body Mic's primary feature is the dual Push-to-Talk buttons. With robust and durable PTT buttons on both sides of the microphone, you can rest assured that your transmission will be received. Even with cold-weather gloves, it is easy to press. Wearing full tactical gear? Not a problem. The dual PTT feature makes it easier to grip the microphone for clear reliable transmission. View a video demonstrating the Chameleon Dual PTT Body Microphone here.
Other key features include the versatile Butterfly Switch and optional finger PTT jack.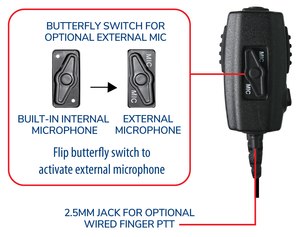 Butterfly Switch: The internal microphone works as the default. However, the butterfly switch leads the audio signal path to external devices. Now, when you activate the PTT button the external devices are active. The Chameleon is versatile and is more than capable of handling the communication needs required in everyday patrol. However, if the situation changes, simply plug in an external boom or throat microphone and you are prepared for tactical operations.
There is also a volume on/off switch on the opposite side and the microphone unit is equipped with a 2.5mm audio jack for "listen only" earpiece (included). Choose between the tubeless "listen only" earpiece or traditional coiled tube.
Another great feature is the 2.5mm jack for an optional wired finger PTT switch.
The Chameleon Dual PTT Body Microphone is designed with the Easy-Connect system, making it compatible with most radio makes and models. The Easy-Connect system features on-target visual alignment, so there is less wear and tear on your radio and a more reliable radio connection. The Chameleon kit is available for purchase now, click here to learn more. Or, visit your local uniform store and ask if they carry EPC two-way radio accessories. Visit www.earphoneconnect.com to learn more about The Earphone Connection and all the two-way radio accessories that they have to offer.
Request more info from The Ear Phone Connection Inc
Thank You!