5 features of Kyocera's DuraForce PRO that make it the right cell phone for cops
The Kyocera DuraForce PRO cellphone is uniquely qualified to meet cops' needs
---
Sponsored by Kyocera
By Lindsay Bertomen for Police1 BrandFocus
There are a lot of cell phone providers who offer ruggedness and more in their hardware. But only a few cell phones are right for the tough job cops face daily.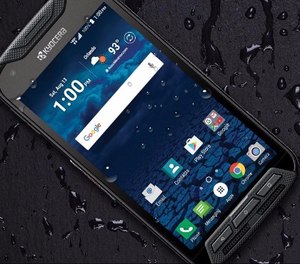 This includes the Kyocera DuraForce PRO. The waterproof, fully ruggedized device is a full-featured Android smartphone with an efficient Qualcomm Snapdragon octa-core processor. It also has intuitive ergonomics and military-grade specs for protection against drops, dust, vibration, extreme temperatures and more.
Here are several other reasons why it is the right phone for cops in the field.
THREE CAMERAS
The DuraForce PRO has three cameras.
The main camera is a 13 megapixel HDR-capable, f2.0, image stabilized set up that can run fully automatic and fully manual. The second camera is a 5 megapixel front-facing camera, ideal for video-calling and selfies.
I test devices and have looked at dozens of cell phones. The DuraForce PRO beats them all in photo quality and processing speed. What makes the device unique among rugged smartphones is the third camera, a 135-degree HD action camera. It runs circles around another popular action camera device, and this one can capture a lot of footage and stream it at the same time.
There is an action-mount case for this handset that works with popular mounting systems and also an Underwater Mode for the cameras that moves the controls from the touchscreen to the hard buttons.
Along with a one-touch camera activation button, what makes this great for police work is the fact the phone can be used as a body-worn camera. Software from Visual Labs, working closely with Kyocera, turns the smartphone into body-worn computers. Each device is able to function as a body-worn camera, a stand-alone digital camera, a personnel-location device (replacing in-car AVL units) and a fully functioning smartphone, all connected and transmitting in real time via the high-speed 4G cellular network.
DURABILITY
DuraForce PRO is certified to more than a dozen Military Standard 810G profiles for ruggedization, protecting it against settings and abuse that would kill normal phones, including liquid and moisture.
While most other phones are made water-resistant by using existing parts, then covering these parts with hydrophobic coatings, the DuraForce PRO is purpose-built from the ground up to keep water out. Seals, gaskets, fabrics and other technologies keep water away from the phone's internal electronics. It's good for 2m of submersion for up to 30 minutes.
Also, the Sapphire Shield display (found exclusively on the Verizon version of the phone, while the other versions have hardened, tempered glass) is highly scratch resistant. Sapphire is second only to diamonds in mineral hardness.
I have tested it with a knife blade, and it has ridden against my keys in a back pocket for about 6 months. There are no scratches on the screen.
Even more impressive is that the device works with wet hands and is glove friendly. It also can work in Non-Incendive, Class I, Div. 2 (potentially flammable) environments.
SECURITY
Several major public-safety products use the Android platform for their mobile communications because it is easy to secure.
The DuraForce PRO uses secure device encryption to protect against tampering and advanced protocols intended for corporate secure use, such as Advanced VPN and other advanced authentication protocols.
I personally like the way a FIDO-certified authentication fingerprint reader is on the power button, too.
PUBLIC SAFETY RADIO
The DuraForce PRO creates a cost-effective solution for agencies that need to expand their capacity or coverage of their existing radio systems.
The device is multi-band capable, ensuring communication on carriers in most regions. It supports carriers' push-to-talk (PTT) services, enabling one-to-many communication and 100+db speakers for challenging environments.
It also can be integrated into departments' existing radio networks via gateway products from companies like Kodiak and TangoTango.
For example, Kyocera teamed up with TangoTango Software to integrate radio communications for Jackson County (Ala.) Sheriff's Office with the existing LMR service radio communications, expanding capacity and coverage at a fraction of the cost of expanding the LMR network.
INTEGRATES WITH SENSORS
In the age of network-centric warfare, or Smart City management, every component becomes a sensor platform for crowd-source detection.
In a collaboration between Kyocera and Blueforce Development Group, human- and canine-toted sensors and live feed, combined with unattended sensors and other feeds, can make each DuraForce PRO a component that puts leadership, command centers and decision-makers in the know.
For example, each officer can be equipped with a DuraForce PRO and sensors. Differed sensors measure temperature, radiological, and chemical threats-combined, are matchbox sized, and, thanks to Bluetooth, have low energy draw functionality.
Supervising and monitoring units, which also can be DuraForce PROs, can detect threshold levels of events such as explosive devices and monitor them in the background.
The system can immediately determine the most likely location, based on the levels, air current readings and other data.
The DuraForce PRO is not only one of the most advanced computing/communications platforms available for law enforcement, but also a critical technology for officers, as it is built into a durable platform and flexible enough to be used not only as a mobile phone, but also as a public-safety radio, a body-worn camera or part of a larger sensor network.

Request information from Kyocera International, Inc.
Thank You!