What's the best bug out bag for a police officer?
Select a bug out bag that matches your load out gear, skill, experience and local conditions
---
Reprinted with permission from Lyons Tactical
A bug out bag is a mobile bag equipped with supplies, tools and gear to help a person survive for a short time after a natural or man-made disaster, terrorist attack, or other event. Most bug out bag choices range between some variation of a standard or everyday backpack and military-style, MOLLE-webbed sling packs. But what's the best bug out bag for a police officer? 
Only you can determine the correct answer. There probably isn't one single bug out bag that is perfect for you, but here are a few good rules of thumb: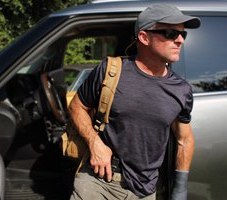 Choose the bag that will hold the amount of gear you intend to load out.
Choose a bag made of materials that will withstand the environment where you will likely use the bag.
Choose a bag that works within your skill and experience level.
Always be willing to modify and perfect your bug out bag.
If your bug out bag contents list is relatively long, you will need a larger bag to accommodate all of your gear. Keep in mind that the more gear, the more weight and the more weight, the less mobile the bag.
Build your gear list then narrow it down to the essential items. Keep what will be the most critical to you in whatever kind of situation you are likely to face.
The material your bag is made out of directly affects its durability and comfort level when it comes time to wear the bag for hours at a time. A higher denier nylon will stand up against the worst of conditions, but will also be stiffer and less forgiving against your body. Lower denier nylon is more supple and flexible, but less durable.
If you lack experience and skill in rigging up the best bug out bag or, more important, in using one, then choose a more basic bag to begin with. In time you can move up to a more complicated bag. On the other hand, if you are good at rigging carabiners, securing gear using MOLLE and such, then a more complicated bag may be an option for you.
In the end, the worst bag with a mixture of gear and supplies is still better than no bag with no gear and supplies.
Different bags for different uses
There is something to be said for having one bug out bag that can fit most of your needs, but the reality is that there probably isn't one bag, even built out correctly, that will work for all of your situations. For example, if you have the best bug out bag at home, ready to go, but the crap hits the fan while you are driving to work, then what? But are you supposed to carry your bag with you like you would a briefcase? Maybe, maybe not.
A better solution is to have a vehicle bug out bag and a home bug out bag. That's right, build one bug out bag kit for the house and another for the car. Since the bag in the car is much more susceptible to theft than a home bag, try to find items that are either used or a less expensive version of what you need. I'm not advocating for using cheap things, just asking you to consider that the bag is vulnerable to theft and you may lose everything.
I am also a fan of having another bag in the vehicle that is larger than a standard bug out bag. Many manufacturers make larger gear bags or duffle bags that can hold less mobile equipment such as rope, rifles, larger water purifiers, more food rations, etc. This kind of bag is also susceptible to theft so purchasing one that locks or can be locked into the vehicle interior may be a good idea. There are cable locksets that can secure these bags to the back seat child seat anchor points or other anchor points in the cabin of your vehicle.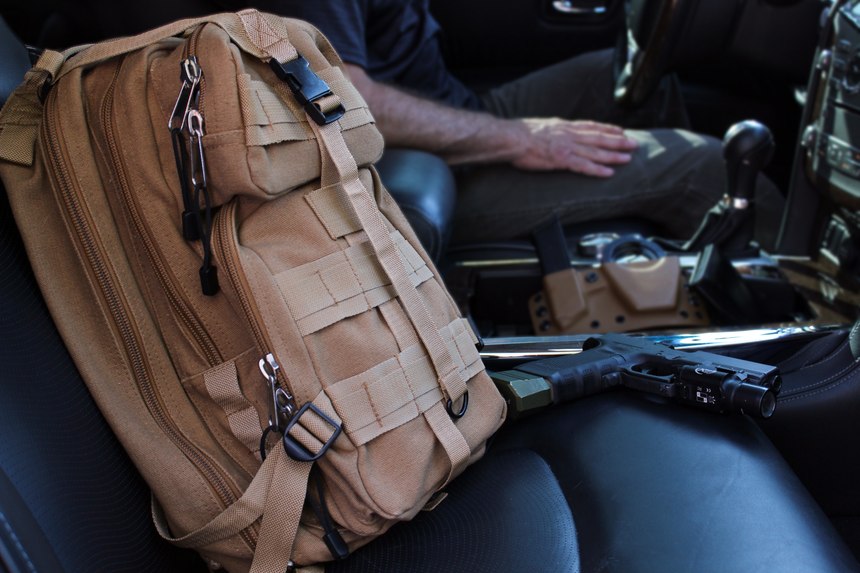 Invest a little money and at least make it more difficult for people to steal your stuff. Tinted windows, vehicle alarms and being careful where you park can all help deter theft as well.
Consider that when you have items in your vehicle, they are not only subject to a higher likelihood of theft, but they are also subject to higher and lower temperatures that may shorten the life or usefulness of contents. In this case, you may need to inspect your vehicle bag and gear more frequently. Medications, food and even water can be affected by temperature extremes or direct sunlight. Think through these possibilities and conduct your inspections.
EDC bug out bags
An Everyday Carry (EDC) bag is a hybrid. Typically, an EDC bag is made to handle all of your daily needs and gear such as money, checkbook, keys and such, but also any lightweight gear you may need in an emergency. The idea is to have things with you that you may need in the exact moment, perhaps when getting to your dedicated bug out bag is not possible for a while.
An EDC bag lends itself well to CCW situations. Many EDC bags are CCW compatible by having a special compartment that holds a handgun as well as having compartments for keys, a wallet and even a computer or tablet. These bags can look very tactical or can be purchased for more of a gray man appearance, blending into the normal world.
Pack an EDC bag as an interim to your bug out bag with CCW, extra ammo, and a smaller portion of food such as a meal replacement bar. You may want an extra phone charger and cable. Keep any medication you require in the bag, for example, if you have some significant allergy to certain foods or stings, throw that medication in the bag. Ultimately, the EDC list you create is just as much dependent on your situation, potential situation, and needs as your normal bug out bag.
Read Ron Lyon's complete guide to Bug Out Bags: Everything you need to know