PRESS RELEASE
EGC Gear Announces Black Friday Meets Cyber Monday Savings
---
Shop at EGCGear.com this holiday, and save!
Ventura, Calif. - EGC Gear introduces Black Friday Meets Cyber Monday savings. Now through December 4, 2013, simply visit http://www.egcgear.com/black-friday-meets-cyber-monday/, choose a coupon and redeem your savings on some of the industry's top brands. Save on Light sticks, gloves, knives, tools and more.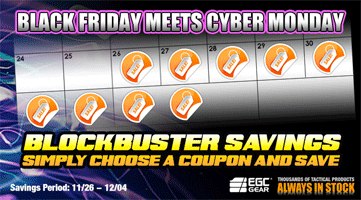 About EGC Gear
EGC Gear is a one stop "online" shop featuring thousands of products at competitive prices. We serve industries including Law Enforcement, Tactical Training, Officer & Patrol, Fire & Rescue, Training Centers, Outdoor & Hunting, SWAT & Riot Control and more.