PRESS RELEASE
U.S. Armor Debuts 2013 Master Catalog
---
At this year's 2013 SHOT SHOW, U.S. Armor debuted their new 2013 Master Catalog! Over 55 pages in length and showcasing 90 different U.S. Armor products, this catalog is the first of its kind for this Southern Californian body armor manufacturer. The purpose for this new catalog was to achieve three specific objectives:
1. To release a comprehensive document of all U.S. Armor products
2. To introduce our new products for 2013, and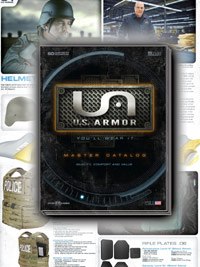 3. To better inform the officers on the function and need for body armor/ballistic items in regards to today's modern threats. 

The catalog introduces 5 new products including the SOV Quick-Release vest, the first responder's Ready Vest, an entire line of correctional armor options, carry bags and other accessory items. There are also descriptive sections that detail U.S. Armor's one-of-a-kind custom measurement process, cutaways of signature ballistic packages, new NIJ .06 certification standards, ballistic and stab threat levels, and additional information about the unique history of U.S. Armor's over its 25 years in business. This comprehensive reference guide now enables Law Enforcement Officers, SWAT team members, EOD teams, trainers and Correctional Officers to be informed about what ballistic/anti-stab products they need and how best to wear those products in the field to protected against the dangers of the street.  

Finally, all U.S. Armor products can be viewed in one comprehensive reference guide including:  ballistic body armor, stab-resistant body armor, trauma plates, rifle plates, helmets, face shields, high visibility embroidered patches, accessory bags, product sanitizer and much more! 
You can download the new U.S. Armor Catalog 2013 at the following link www.usarmor.com/resources.php or request hard copies of this item by emailing U.S. Armor directly at sales@usarmor.com.

Request more info from U.S. Armor Corporation
Thank You!