Render laser beams harmless with a simple but effective face shield accessory
The Super Seer Lazer-Shield protects officers from harmful laser exposure while allowing them to keep their eyes open to maintain situational awareness
---
Sponsored by Super Seer
By Police1 BrandFocus Staff
Across America, violent attackers are pointing handheld laser-emitting devices at the eyes of police officers. When one of these laser beams hits an officer's eyes, its focused light can cause temporary or even permanent blindness, along with a host of other serious injuries.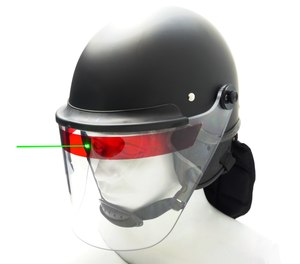 In September 2020, LAPD officer Kyle Rice was partially blinded after a suspect aimed a green laser at his eyes. According to a KNBC-TV news report, Rice has lost sight in his right eye, suffers debilitating migraine headaches and balance issues, and he is no longer able to drive.
"I have to lay down all the time," Officer Rice told KNBC-TV.
During the 2020 disturbances in Portland, Oregon, several officers suffered laser beam attacks. Similar attacks occurred in Iowa City, Iowa, where several officers suffered eye injuries that required treatment.
Since entering the law enforcement helmet market four decades ago, Super Seer has dedicated itself to keeping its customers protected and situationally aware while on the job. The company's latest product, the Seer Lazer-Shield, provides a simple yet effective safeguard against laser beam attacks – and it doesn't compromise officer situational awareness.
How the Lazer-Shield foils laser attacks
The Seer Lazer-Shield is a multi-layer tinted yet transparent self-adhesive strip that can be applied horizontally on any clear face shield made by any manufacturer. The Lazer-Shield was designed for riot duty use and is heat, chemical and impact resistant. It is applied to the area above the wearer's eyes and allows for a clear, unobstructed field of view.
When under attack from a laser beam, the officer wearing a Lazer-Shield enhanced face shield simply dips their head forward to take advantage of the Lazer-Shield's protective abilities. When a 1-watt green, blue or violet laser beam passes through the Lazer-Shield, the strip's multi-spectral optical qualities reduces the beam's power down to a harmless 1/1,000 watt.
"This substantial reduction allows the officer to look through the strip to identify the attacker without the risk of permanent eye damage from laser beams," said Kevin Smith, vice president of Super Seer. "In this way, Seer Lazer-Shield adds a layer of protection that is not currently available to law enforcement officers. Most importantly, it renders laser beam attacks harmless to officers and useless for attackers."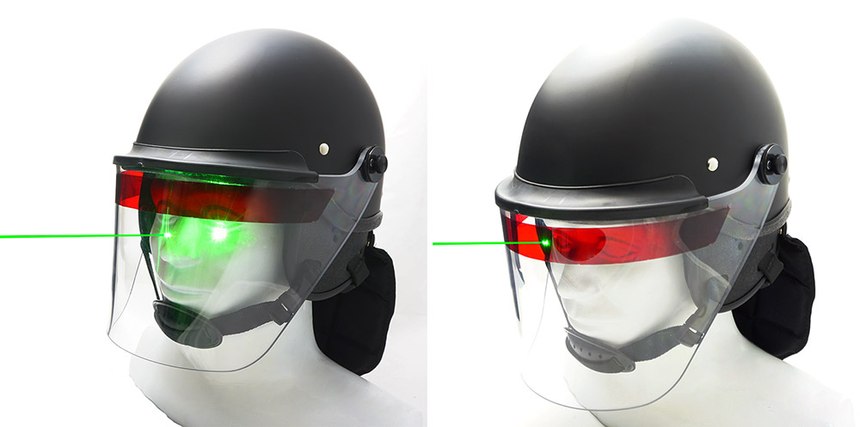 It's important to note that laser beams are only harmful if they strike unprotected human eyes. Otherwise, the energy contained within the beam is too weak to cause physical harm to the rest of the human body.
Protection from physical assaults
Besides protecting officers from blindness and laser-related injuries, the Seer Lazer-Shield also helps them maintain the situational awareness needed to identify threats and defend themselves from physical attacks.
"When an officer closes their eyes during a laser attack, they become vulnerable to attack," said Smith. "They become completely vulnerable to being assaulted. This is why Super Seer developed the Lazer-Shield – to keep officers engaged at all times."
A trusted supplier to law enforcement
Based in Evergreen, Colorado, Super Seer is a family owned and operated company in business for the past 53 years. They have spent that time solving problems for their customers, starting with eye protection for the recreational snowmobile industry and subsequently expanding to law enforcement helmets. All Super Seer products are made and assembled in Colorado.
Today, Super Seer offers a complete line of riot, tactical, ballistic and non-ballistic helmets for law enforcement officers (including motorcycle, mounted and corrections). Their riot helmets are made using individual shell sizes to provide a more secure fit for each wearer, and each helmet can be customized with paint, interior options, fastening options and riot accessories.
"Super Seer Ballistic Riot helmets are designed to provide six layers of protection, including ballistic, impact, ear, neck, face and liquid," said Smith. "Laser beam protection adds a seventh layer of protection to law enforcement officers in one truly complete package."
Start protecting officers now
Now that the Seer Lazer-Shield is available for all makes and models of face shield, law enforcement agencies can start protecting their officers against laser beam attacks quickly and effectively.
In doing so, these agencies will safeguard their officers' well-being, plus their organizations' abilities to uphold public order. Police will also deprive hostile players of a cheap-to-acquire and readily available weapon, at minimal expense to their agencies.
Visit Super Seer for more information, and ask for the Lazer-Shield assessment white paper guiding agencies on the science behind selecting the right laser protection for their officers.
Read Next: Super Seer releases 100% American-made riot helmet for law enforcement

Request information from Super Seer
Thank You!