PRESS RELEASE
Avon Protection launch F90 ballistic helmet
---
Avon Protection are pleased to announce the launch of the F90 ballistic helmet that is validated to NIJ IIIA protection level.  The F90 helmet utilizes Advanced Ultra-High Molecular Weight Polyethylene Material (UHMWPE) resulting in a lightweight helmet design that assists in reducing operational fatigue.  Our proprietary helmet forming and molding technology generates exceptional performance in the F90, resulting in one of the highest 17 gr V50 rated helmet in the market. For enhanced ballistic integrity our innovative No Thru-Hole technology allows for the attachment of the retention, NVG shroud and rails to the ballistic helmet shell without holes penetrating through the ballistic material.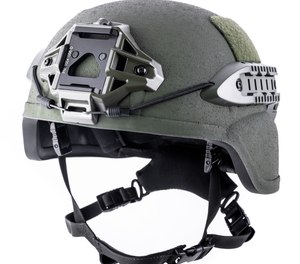 Commenting on the development of the F90 helmet, Daron Shank, Global Product Manager, said:
 "We are extremely excited to be able to offer First Responders a ballistic helmet solution that features lightweight material with exceptional performance at an economical price point."
The F90 Helmet compliments Avon Protection's market leading legacy market leading ballistic helmet product portfolio. Adapting proprietary and innovative technology to create solutions that are lightweight with exceptional performance and offer premium user comfort.
Commenting on the launch of the F90 Helmet, David Mack, President – First Responders, at Avon Protection, said:
"Capability and threats are always evolving, so at Avon Protection we are continuously working with our customers to ensure we design, develop and deliver world leading solutions to ensure they always have the right product available for their operational mission."
About Avon Protection:
Avon Protection is recognized as a world leader in respiratory and ballistic protection, delivering life critical solutions for Militaries and First Responders worldwide.
As an innovative capability provider, Avon Protection understand the unique requirements of the modern warfighter and tactical operator. This depth of specialization and understanding has ensured products are designed to protect users in the most extreme of environments.
Avon Protection are proud to have supplied protection solutions to the UK Ministry of Defence and other allies since the 1920's and remain the primary supplier of integrated protective equipment to NATO and the United States Department of Defense Army, Navy, Marines, Air Force and Special Operations Forces. 
Avon Protection are at the capability frontline of numerous national defense and tactical deployment strategies. Leveraging its Military pedigree, Avon Protection has brought the First Responder market field proven protection solutions that meet the complex needs of the tactical operator. Evolving protection capability to meet the operational needs has meant Avon Protection are recognized as a market leader among Law Enforcement and SWAT users around the world.
For more information about the company's products visit: www.avon-protection.com

Request more info from Avon Protection
Thank You!