These recent saves show why every cop needs a knife on duty
From cutting people free from flaming cars to rescuing furry friends, you never know when you'll need a quality blade on the job
---
Sponsored by ZT Knives
By Rachel Zoch, Police1 BrandFocus Staff
Any cop will tell you it pays to be prepared, because you never know what a day on patrol might bring. Most departments don't provide a knife as part of an officer's standard duty gear, but these three recent saves, in which officers used their knives to rescue someone in the nick of time, show why a good pocketknife can be an essential – even lifesaving – tool on a cop's belt.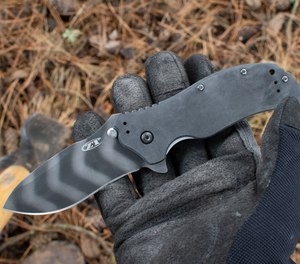 Be Prepared for Anything, Including Flaming Car Crashes
Plenty of patrol officers have "flaming car" stories – but not everybody has the right tools to help in a hurry. In his second year with the Chicago Police, Officer Raul Sandoval used his EDC knife to free a child from a burning car.
While responding to a rollover crash, he found someone trying without success to rescue a child stuck in the back seat. Sandoval reacted in an instant, grabbing his knife and cutting the seat belt to free the boy, who was scared but otherwise relatively unscathed.
Sandoval says police academy instructors told him that carrying a dependable pocketknife is smart strategy and a good tool to have just in case. He says he never carried a knife before joining the force but now tries to carry one all the time, even when off duty.
"You never know what you'll need it for," said Sandoval.
On the other hand, Officer Dalton Foley with the Farmville Police Department in central Virginia is a dedicated knife user. He carries two knives on duty every day, and he recently used one of them to rescue an unconscious woman from her flaming car.
"It was pretty scary, if I'm going to be honest," Foley said. "I was able to open the door and found the driver was in there. She was unresponsive, so that's when I got the knife from the top of my vest out and was able to cut her seat belt and pull her out of the vehicle."
He thinks he still could have rescued the woman without the benefit of his knife, but it would have been much more difficult and dangerous, not only due to the risk of smoke inhalation but also the risk of an explosion, which happened just moments after the rescue.
"Having a knife there is what made it quick," he said. "Just one cut, and I was able to start pulling her out."
Foley carries an everyday knife in his pocket for routine tasks like packing evidence and handling drugs. The other knife, which he keeps on his outer carrier vest close to his collar bone for quick access, is a bigger blade.
"Pretty much everybody that I know carries a knife in their pocket," he said, "but far as I know, I'm the only one who carries a second one. The other type of knife that I carry on my vest isn't really an everyday use knife. It's more of a fighting, self-defense style knife."
Foley is a big believer in everyday carry, and he even bought knives as holiday gifts for a few of his squad mates last year.
"It's nice to have a quality blade," he said. "I think they're important tools, and everybody working patrol should carry at least one quality knife."
Save Four-legged Friends and Share the Love Online
Everyone loves an animal story with a happy ending, and officers all over the world use their knives to help out furry friends every day. Police1 columnist Sean Curtis recently shared his harrowing story of freeing a dog dangling from a pickup truck, but here are a few other stories in which an officer was able to use his knife to rescue a critter in distress:
Most of these animal rescue stories – especially those with video – have gone viral around the country (or even the world). While your primary mission is always to serve and protect, sharing video or images of these saves, which demonstrate how police officers go above and beyond every day, is a great way to spread goodwill and get a little positive attention for your agency.
The bottom line? Carrying a quality knife can help you in all kinds of ways on the job, both routine and unusual. Each of these rescues was made quick and easy by a blade. Make sure you have the right tools to be prepared for anything on the job.

Request information from Zero Tolerance Knives
Thank You!