PRESS RELEASE
Rigid Industries® Releases New Catalog and Readies for SEMA Show
---
Phoenix, AZ & Las Vegas, NV - Creating a catalog with a multitude of new products for Rigid Industries, the industry leader of the most efficient LED lighting solutions, in time for the SEMA Show, the world's premier automotive specialty products trade show, while preparing for the SCORE Baja 1000 Experience within SEMA, is just a glimpse of what's happening at Rigid.
But wait - there's more. For SEMA attendees, when visiting Rigid's South Hall Booth #34193 to see Rigid's newest LED lights and pick up a catalog, you can also register to win a custom Rigid Industries tool cabinet from Bad Guys Custom Cabinets, an autographed Rigid Industries 'Bad Habit' Monster Truck, and a Tonka® Off-Road Pro 2 Truck replica signed by Myan Spaccarelli.  There will be celebrity autograph signings throughout the week, so make sure to pick up the schedule.
The winner of the Rigid Industries catalogue cover contest is Dave Oaths' picture of his 2012 Chevy Silverado towing a 2014 Stingray.  It has a 50" RDS light bar and four Dually D2s. "Why I run Rigid Industries? I'm a huge fan of supporting local economy. I like having the best light output possible and knowing that my equipment won't fail on me," says Oaths.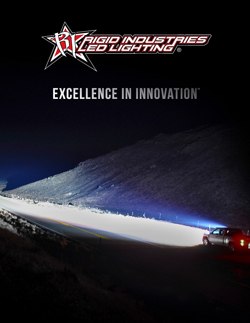 Keep an eye out for all the new products that will make their debut at SEMA and ask for the new 2015 catalog.
The toughest conditions on Earth are no match for the superior lighting and long-lasting performance Rigid Industries LED Lighting products provide. Rigid's rugged and durable products are backed by a world-renowned warranty program and customer service by an American-made company located in Gilbert, Arizona.  
About SEMA:
The Specialty Equipment Market Association (SEMA) is a trade association consisting of manufacturers, distributors, retailers, publishing companies, auto restorers, street-rod builders, restylers, car clubs, race teams and more, brought together by a love for cars, trucks and SUVs.
About Rigid Industries:
Due to its unparalleled patented optics and torture-tested housings, Rigid Industries® is a world leader in forward-projecting LED lighting. Rigid LED lighting products are used in industries such as: aviation, agriculture, construction, emergency response, industrial, marine, military, mining, off-road and power sports. Rigid Industries® is committed to providing innovative technologies, and guarantees a quality product designed, engineered and assembled in the USA. For more information and a list of products, please visit www.rigidindustries.com or follow the company on Facebook, LinkedIn and Twitter.