Top tactical gifts for law officers
---
This is my favorite time of the year — I get to recommend holiday gifts for that LEO loved one on your Christmas list. This year, I looked at essentials that make the job easier and safer. You can also add your own gift ideas for cops in the comments area below.
FrogLube 
While it doesn't break down under extreme stress, FrogLube definitely breaks down the paradigm associated with lubricants. FrogLube is a 100 percent biodegradable lubricant treatment that is bio-based and safer than any petroleum-based product I have encountered. It sort of smells like the embrocation I use occasionally to help my muscles warm up when cycling in cooler weather. It definitely doesn't smell like a petroleum distillate. FrogLube has paroled me from my banishment to the garage when I clean guns because it smells better.
FrogLube comes in a thick paste and a liquid lubricant, which has about the same viscosity as chocolate milk.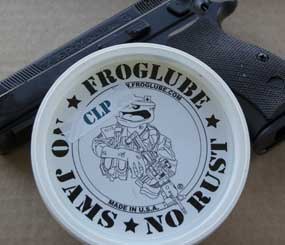 I got a chance to interview Capt. Larry Lasky, the Navy SEAL (ret.) who first introduced the world to FrogLube. Larry sought new solutions when he was frustrated with product failure, which is the mother of invention. This product has had extensive input from folks who merit the black rectangle over their eyes in group photos.
Here are some of the paradigm busters associated with FrogLube:
While I was a member of a small arms instructional team in the military, we did not teach our soldiers to lubricate their magazines, which was eventually changed to limited lubrication. With FrogLube, one can lubricate them inside and out. I experimented with this whole idea, including some tests to see if it would cause primers or powder to fail. I can easily demonstrate cartridge failure with most common lubricants. I could not demonstrate cartridge failure with FrogLube.
1.) Lubricated magazines and similar products have a tendency to be dust magnets. With FrogLube, I found the amount of dust that accumulated on metal surfaces was the same as a bare metal surface and less than several oils I used in the test.
2.) FrogLube works best when the metal is treated with it first, then used in a normal manner. This may confuse some of us who clean their guns after shooting. When I "FrogLubed" (yes, I am coining a new word here) my guns with it, I found I could dry patch the barrels afterward and wipe down all areas.
3.) FrogLube discourages leading. This is quite tangible on the range with a quick side by side comparison of lubricants.
I began testing FrogLube on everything I shoot and use for gear. As soon as I got a sample, I field stripped my entire inventory, then cleaned and treated every gun. I felt that I could not give our readers a good assessment of the product unless I trusted it completely. Yes, I used FrogLube on my 1938 Colt.
FrogLube worked fine on my AR-15 and a piston-driven carbine throughout several shooting sessions. I didn't expect it to change the amount of carbon deposit and it didn't. The barrels and actions took much less time to clean, which amounted to wiping them down with a microfiber cloth. I was able to clean the cloth also, which I never do.
If a person ants to test a protectant, use salt water or body fluids. I carry a high carbon blade when I work out. It stays in the waistband of my running shorts and usually has a thin line of oxidation at the end of a few good workouts. After a month, the FrogLube treatment completely interrupted the oxidation.
I shot lead bullets through treated barrels, including bullets I poured myself. I even experimented with using it as a bullet lube. As a gun and knife lubricant, it preformed rather well, especially when using combinations where galling can occur. For example, I am in the middle of a gun test with a non-anodized aluminum frame and a steel slide, where an inferior lube would be evident. FrogLube seems to prevail here.
FrogLube is made in the USA and the parent company — Audemous Inc — is a Service Disabled Veteran Owned Business. It has a MSDS data sheet that makes the product so environmentally "green" and hazard safe that it comes with its own halo.
What's the downside of FrogLube? Apparently, it smells like food to my pets. It's not as if they can get in my safe anyway, but it has caused me to rethink where I am hiding my portable safes.
Simmons LRF (Laser Range Finder) 400 (801400C)
I like to shoot anything that has a trigger and I especially enjoy doing medium-range plinking. It is great training for a precision shooter to shoot a variety of known distances. I prefer heading for a wide open ranch where I can create my own target rich environment. The Simmons LRF 400 goes with me.
The LRF 400 is has a 5-800 yard range, which works for most shooters. It is lightweight and weather resistant and runs on a single nine volt battery, from which it can run for days. It has an easy to read display and I rarely fool it, unless I am ranging through things like chain link fences. I can get a reading within seconds and I have measured the results and it keeps right up with products that cost twice the price. The 4x monocular is clear enough for most situations except late twilight but the display isn't illuminated anyway. Let me encourage you to get out and see what your rifle will do at 500 plus yards. Take your LRF 400 with you.

If a pen is what happens to be in the hand when you are attacked, feed it to your attacker. (PoliceOne Image)
TUFF-WRITER Tactical Pen
I have run a few pens through sheetrock and other building compounds before but the Tuff-Writer generates a lot more power and provides a much better grip for this purpose than any writing product I have encountered before.
For the record: There are about five different things that I would deliberately grab before using a pen as a defensive tool. The short list includes guns, ECDs, chemical irritants, impact tools, and more guns. A writing instrument is not on this list. In fact, I am reluctant to mention this quality for this very reason. However, if a pen is what happens to be in the hand when you are attacked, feed it to your attacker. If I am going to carry a writing instrument for this contingency, it will be a Tuff-Writer.
I tested the Operator Series Pen for this article. It is a heavy, knurled grip instrument made of 6061-T6 alloy with a proprietary Hard anodized finish which meets Mil-A-8625 "F" specifications. This pen is all about attention to detail, from the truck suspension like spring clip to the taper of the stylus end. If anyone was wondering, it is as formidable with the cap on the end or over the tip. The cap attaches to the stylus end with a positive detent click and stays there.
I found that the pen can be washed and sterilized, jammed into a wall or used to break glass in an emergency. The walls of the instrument are about twice as thick as most writing instruments and made of a much more durable alloy. I was unable to scratch the finish with abrasives like steel wool and only clamping it in my vise (I was prying it from plywood) scratched the surface.
The Tuff-Writer Operator Series Pen uses pressurized ink refills, which allows it to write upside down or in really bad weather. This means that the writing instrument designed for really bad places is perfect for jotting notes also.
Fisher X-Mark Bullet Pen
I acually go back "a ways" with Fisher Space Pens. I carried a Bullet Pen when I first enlisted, through a short career as a firefighter and during my whole career in law enforcement. It has always been a Bullet Space Pen, the pocketable ones that barely take up pocket space. I owned one for about 20 years. In case anyone ever noticed, everything that writes mentioned here takes the pressurized Fisher refill. If it works, use it. I never use the refill supplied with the pen, however, only because I prefer bold, which mirrors my personality.
Fisher has added a Bullet Space Pen model with a flat end, instead of the traditional bullet nose. It still writes the same and costs the same. I'm not sure why I like it better, but I do. I doesn't have moving parts... it doesn't have a faster processor... it doesn't get better mileage. It just works.
Fisher Space Pen Trekker Pen
The Trekker Pen is one of those "write anywhere" pressurized cartridge pens that is inexpensive and can be attached to a keychain or worn around the neck.
I began using pens suspended from the neck while doing some routine police work. I was just applying the fingerprint tape to a window in an auto burglary. I had gloves on, a knife in one hand to cut the tape. I needed to transfer the tape to the card, then write my notes on the card while everything was fresh in my mind. I needed a way to keep my pen handy without getting the print powder on my gloves all over my uniform.
Originally, I carried the pen which I purchased for my Modular Sniper Data Book from the Tactical Tailor at a rifle/pistol match at Camp Rilea (Ore.). I strung it from a 550 cord around my neck. It was handy, washable, and actually wrote on the fingerprint tape.
Fisher went a step further with the Trekker Pen in matte black. It is always handy around the neck and the cap has a positive click which prevents it from getting lost. It is inexpensive enough that it can be a part of any patrol kit.
Gift Certificates
I was going to end this column with those pens, but I never color within the lines. If you are looking for a practical gift that can be easily mailed or forwarded to someone you love who wears the badge, consider an article I did earlier this year called Product Review: Top training programs.
There are always gift certificates for these schools. For a more personal gift, attend the class with them.
Stay Safe!