PRESS RELEASE
Black Hills Ammunition, Inc. announces new products for 2021
---
RAPID CITY, S.D. — New for 2021- 6.5 Creedmoor 130 Gr. Dual Performance from Black Hills. The 6.5 Creedmoor is one of the most popular cartridges of this decade. Accuracy, long range capability, and modest recoil have made it a top choice for long range competitors. Those same attributes make it popular for hunters.
Black Hills Ammunition is offering another great new 6.5 Creedmoor hunting bullet for 2021, the 130 grain Dual Performance. Think a monolithic copper projectile, carefully designed and precision CNC machined for great performance at all reasonable hunting ranges. This is a versatile, purpose built hunting projectile that reliably performs on longer shots but still provides sufficient penetration on close shots that might present themselves. This bullet is designed to do both- expand upon impact, creating a large wound track plus penetrate deeply, thus the name Dual Performance. Upon impact the bullet expands quickly; the petals then fracture and continue to penetrate, cutting through the stretched and stressed tissue for fast, humane kills. Adequate penetration is assured by the solid copper shank of the projectile, retaining a uniform weight, which then continues on to a depth of up to 27". Velocity is 2800 fps from a 22" barrel. If you have discovered the 6.5 Creedmoor, and are looking for the right load to be your hunting partner, try the 130 grain Dual Performance from Black Hills Ammunition.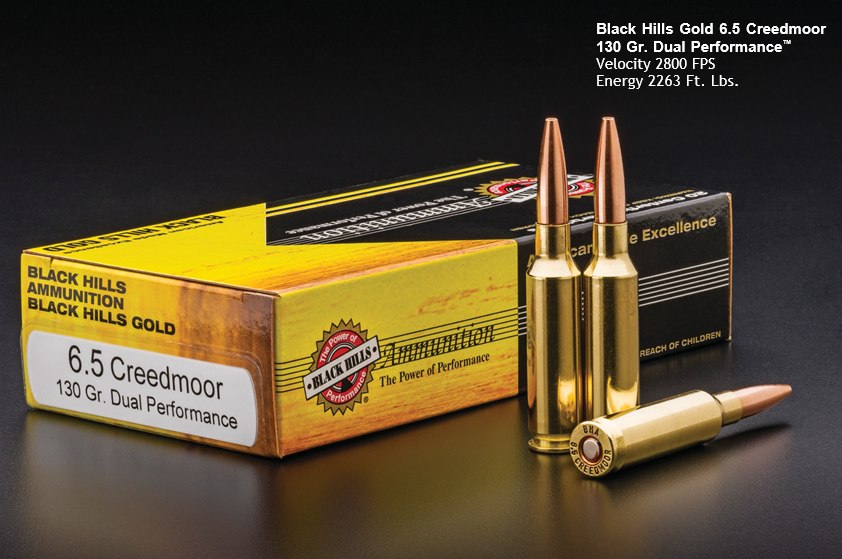 New for 2021- 300 Blackout 115 Gr. Dual Performance from Black Hills
The 300 Blackout provides users a larger caliber option to 5.56mm in the same platform size. The 300 Blackout has an efficiency advantage compared to the 5.56 when used in shorter barreled firearms. While a 10.5" barrel is generally considered to be a "short" barrel for 5.56mm, many .300 Blackout weapons have barrels as short as 5.5" while still retaining effective ballistics. With the recent surge in popularity of this cartridge and the many platforms for it, new projectiles are being specially designed for this cartridge to ensure optimum feeding and best performance.
The 115 grain Dual Performance projectile from Black Hills is an example of one of the best possible choices. This new projectile, manufactured by Lehigh Defense for Black Hills, is monolithic copper, precision machined to provide ideal and effective performance from those shorter barrels. The frontal portion of the bullet is designed to easily expand to form an effective wound cavity. During this process the expanding petals then fracture, creating additional penetrating projectile fragments that pierce the stretched and stressed tissue, cutting their own separate wound tracks from the projectile's remaining solid shank. The main shank of the projectile, once free of the petals continues on to ensure adequate penetration, even at varied velocities resulting from barrel lengths from 5.5" to the longer barrels of 16" or more. If you're using a 300 Blackout to defend your country, your city or your family, you need the best performance available. That performance comes from Black Hills Ammunition.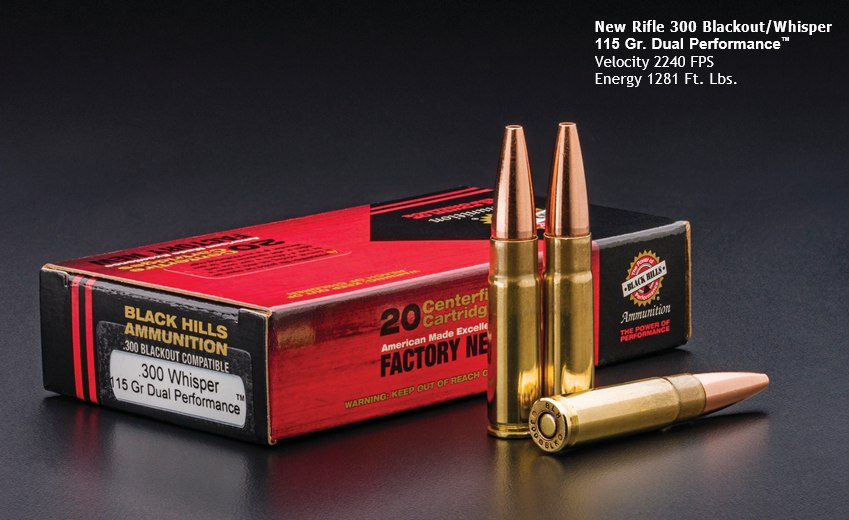 New for 2021- 300 Blackout 198 Gr. Subsonic Dual Performance from Black Hills Ammunition
The 300 Blackout. Everything that is old is new again. Originally designed by JD Jones of SSK and called the 300 Whisper, this unique cartridge now generally called the 300 Blackout allows one weapon the option to fire a supersonic cartridge with power approximately equal to the Russian 7.62x39, or with a change of a magazine, to fire subsonic ammunition, that with the use of a suppressor, makes the cartridge, if not silent, much quieter, and likely to be noticed or recognized as a gunshot. Better for not disturbing the neighbors. One of the challenges of choosing the quieter subsonic version is getting effective on target performance with a velocity of around 1000 fps. Most bullets, especially rifle bullets do not expand well, or at all, at that velocity.
Black Hills Ammunition now offers a very good solution to that problem. Enter the 198 grain Subsonic Dual Performance round. This load not only expands to provide good terminal performance, after expansion, the three expanded petals separate from the shank of the projectile to cut three separate wound tracks, further increasing terminal effectiveness. The shank of the projectile then continues  on  to  penetrate  to  around  20"  as  demonstrated  in  10% ballistic gelatin. This is an optimum balance of on-target effectiveness and penetration. This is accomplished  through  the  magic  of  CNC  machined  monolithic  projectiles  made  by  Lehigh Defense for Black Hills. With precision machining of solid copper it is possible to design and produce projectiles accomplish things not possible with conventional lead core projectiles. For missions requiring quiet performance, look to the quiet professionals at Black Hills Ammunition, and the 300 Blackout 198 grain Dual Performance round.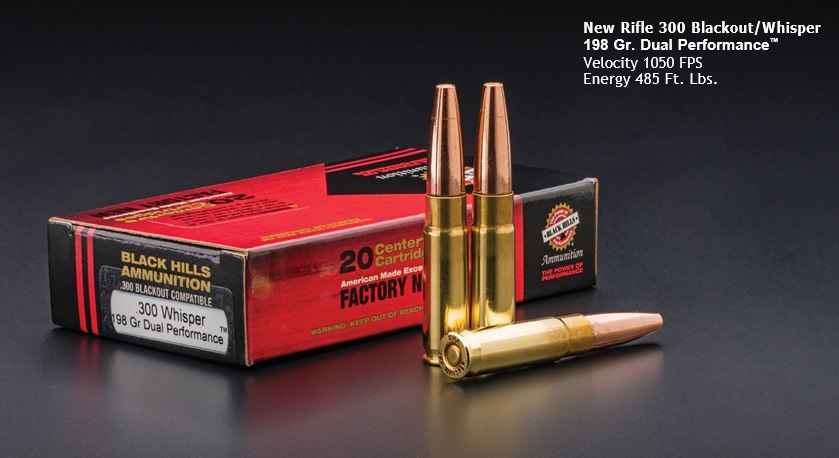 About Black Hills Ammunition, Inc.
Our recipe for success is to make ammunition the only way we know how, the best it can be, and further, to treat our customers fairly and provide outstanding personal service. This simple formula has worked for us. We would be honored to share this homestyle recipe with you. We now have a crowded 21,000 square feet of manufacturing, and supply thousands of loyal dealers across the country. We produce new ammunition for all four branches of the U.S. Military, including all current contracts for 5-56 match ammunition. We supply ammunition to most the U.S. firearms manufacturers and many custom gun makers. In addition, law enforcement agencies nationwide rely on our ammunition for duty and training.

Request more info from Black Hills Ammunition, Inc.
Thank You!