PRESS RELEASE
Black Hills Ammunition introduces a new 10mm product to the HoneyBadger™ lineup
---
New to our HoneyBadger™ lineup- 10mm 115 Gr. HoneyBadger™
Black Hills Ammunition is now in production of the 10mm HoneyBadger™, a long awaited addition to the HoneyBadger™ line. This load is a bit of a departure from our typical HoneyBadger™ defensive ammunition, as it's designed for defense against bigger predators that you typically find on the streets of our big cities. This round is designed for protection against 4 legged predators.

The dominant handgun caliber historically in this role has been the famed .44 Magnum. This is a great cartridge, but limited by a full load of only 6 cartridges. Our goal was to give you performance equal to conventional .44 Magnum factory ammunition, but in 10mm so you can pack up to 16 rounds of deep penetrating, effective ammunition in a controllable, easy packing, semi automatic 10mm. When you're at a disadvantage against an unhappy critter trying to eat you, having more rounds of effective ammunition available is a good thing.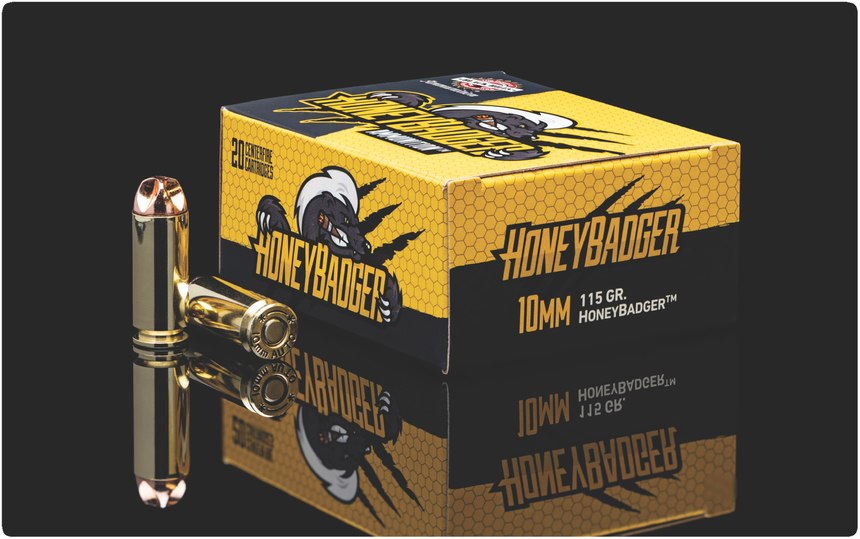 The 10mm HoneyBadger™ gives you a solid copper projectile traveling at over 1600 fps. This bullet penetrates deep and will not overexpand and fragment against tough meat and bone. It penetrates to 23" in ballistic gelatin, while producing a 4.5" wound channel. This provides terminal performance equal to or superior to a .44 Magnum 240 grain JHP but with more controllability, less muzzle blast, flash and recoil and potentially 2.5x the number of rounds available in the weapon!
About Black Hills Ammunition section:
Our recipe for success is to make ammunition the only way we know how, the best it can be, and further, to treat our customers fairly and provide outstanding personal service. This simple formula has worked for us. We would be honored to share this homestyle recipe with you. We now have a crowded 21,000 square feet of manufacturing, and supply thousands of loyal dealers across the country. We produce new ammunition for all four branches of the U.S. Military, including all current contracts for 5-56 match ammunition. We supply ammunition to most the U.S. firearms manufacturers and many custom gun makers. In addition, law enforcement agencies nationwide rely on our ammunition for duty and training. Visit black hills ammunition, inc. online for more information.

Request more info from Black Hills Ammunition, Inc.
Thank You!