3 ways to improve your Glock
I cannot see myself shooting any Glock in the future without having TTI doing their magic on the gun's grip, trigger, and sights
---
Since 1986, the Glock handgun has enjoyed great success with a wide variety of people. Over the years, however, some people have complained that the Glock points high, is hard to shoot in the .40 caliber Glock 22 and 23 models, and can be a bit slippery in the hand while shooting.
After many years of shooting 1911-style handguns and other grip styles, the Glock grip takes some getting reacquainted with when I first pick it up. It's also a bit slippery to shoot and I find myself really making sure my left hand sticks to it when I am shooting the .40 caliber defense loads at high speed — particularly the 155-grain and 180-grain loads.
Late last year, I decided I was going to do something about those issues. I took a few of my Glock Gen 4s — Models 19, 23, and 35 and one Gen 3 Glock 17 — and sent them off to be "optimized.".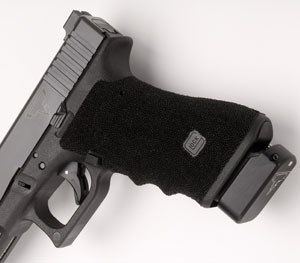 Enter, Taran Tactical Innovations
I wasn't looking for anything too radical. These are mainly 'school guns' I use to teach with — they're mostly for students to shoot but they do also function as home and vehicle defense and carry guns. I wanted better sights than the standard Glock sights, a better texture in the grip, a smooth, reliable trigger.
So I turned to Taran Butler of Taran Tactical Innovations. A world class shooter and shop owner, Taran is no stranger to the Glock and has done a lot of great shooting as well as gunsmithing. 
I told Taran what I had in mind and we agreed:  two of the guns were to be set up for mainly CCW and the other two would be teaching guns that could also serve as competition handguns.
I received the guns back and they were exactly what I was looking for.
Two styles of grip texturing was applied to the grips. For the Glock 35 and Glock 17, a full wraparound stippling was used to completely texture the grip area and a little bit of the dust cover on the left side for the support hand thumb. For the 19 and 23, texturing was done on the front strap and back strap only. Taran mentioned to me that the full stippling can be a bit aggressive on shirt fabric so he will do that for CCW guns.
The sights are designed with a slightly narrower notch in the rear along with a slightly thinner front sight with a high visibility fiber optic sight of a new design, with the fiber optic higher up on the front sight. The rear sight features serrations in the back to cut down glare as well as a steep scallop in the front to allow racking the slide one handed, using the rear sight only. 
For those who wish to have night sights on their guns, Taran will install night sights of your choice.
All triggers were polished and tuned — several extra springs were sent along so that I could make the CCW triggers a bit heavier if I chose. 
The teaching/competition triggers were superb! Probably the best Glock triggers I've ever felt, and much more reliable than the aftermarket kits I've tried out over the years. In fact, world champion shooter Robert Vogel,is shooting a TTI trigger in his gun.
Answering the Liability Question
A part of the optimization that is a bit controversial for some is the optional removal of material from the underside of the trigger guard where it meets the front strap. 
The purpose of this — along with a slight re-contouring of the back strap — is to effectively make the Glock point more naturally in the hand.
It definitely improves the feel and point-ability of the Glock. For those who think any modification of this sort will instantly render them helpless from lawsuits, I think that this modification should have been done by Glock a long time ago. It makes the pistol easier to point, easier to shoot, easier to hold onto and easier to hit targets. It reduces liability and gains shooter confidence in the gun carriedon or off duty without causing any significant changes to the gun. 
If you put it into your firearms policy as an allowable modification to be done only by a qualified shop such as TTI, then there is no liability that I can see and there's a significant improvement to be gained from it.
I'm sure Glock will void the warranty if you do this particular modification, but I am not concerned about warranty issues. You can get a new frame cheap if you need to do so in the future to replace the frame.
Along with the modifications, Taran sent along some extended base pads, magazine springs and followers as well as recoil springs for me to test out as well. These magazine kits increase capacity by 4 to 6 rounds in 9mm and 3-5 in .40 caliber. They come in a variety of colors but I went with the basic black. 
Shooting and Carry Testing
It usually takes me six months to wring out a gun and make sure it is working as advertised. After shooting all of these guns since late last year, I can tell you that they are working as designed and I cannot see myself shooting any Glock in the future without having TTI doing their magic on the gun. 
They feel great in the hand — the full texture stippling eliminates the hands slipping on the gun in recoil while the stippling on the front and back strap definitely increases friction between the gun and the hand without worrying about wearing a shirt out. 
The triggers feel magical and the sights are superb. I will be putting night sights on the two carry guns in the near future.  
The base pads were absolutely reliable and I could not get them to malfunction.
It's nice to get a package done on a gun that is exactly what you want and not a bunch of price increasing fluff that doesn't really matter. Taran Tactical Innovations is the real deal and I highly recommend them if you are contemplating a service upgrade for your Glock.

Request product info from top Police Firearm Accessories companies
Thank You!