Get a grip with Boresight Solutions texturing work
---
The Smith and Wesson Military and Police line of firearms has been a success by nearly any measure. The first M&P pistol was launched by S&W nearly a decade ago, and was really the right pistol at the right time. Coming to market when many departments and entities were looking to upgrade their arsenals, the M&P has quickly gained a place in the law enforcement, competition and lawful private carry markets.
Like many new designs, the M&P initially had some detractors. Those who had some experience with Smith and Wesson's earlier polymer framed pistols were quick to dub the M&P with such unflattering names as the "Gen Two Sigma" and the "Glock Wannabe."
Despite these early naysayers, the M&P has proven itself to be a solid pistol at an affordable price and it is now a common occurrence to see the M&P riding in duty gear with many of our nation's finest. The M&P just might be the world's most perfect handgun.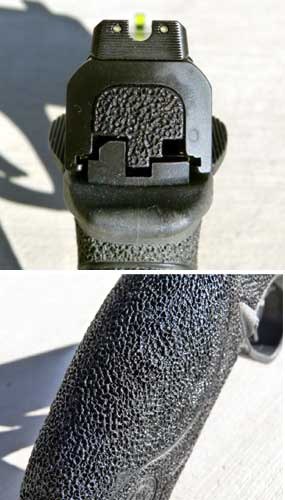 Impressive Results
Nothing remains perfect forever and the M&P is no exception. The gun, as shipped, is a little too thick in some areas; most notable being the grip tang and underneath the trigger guard. The frame does has some texturing to enhance grip with sweaty hands or while wearing gloves but the texturing is really almost nothing more than a cosmetic feature.
Fortunately, there are now a number of gunsmiths offering a rougher texture for shooters, like me, who find the factory texturing a bit on the weak side.
One such gunsmith is Ben Simonson of Boresight Solutions. I recently sent Ben two M&Ps and am extremely impressed with the results.
Ben has done work for such reputable firearms instructors as Chris Costa and Kyle Lamb and offers grip services, sight replacement, and trigger work. All the guns Ben works on are done one at a time and by hand.
No machining jigs or computers are used and the human element can be seen in his work. No two pistols Ben touches will ever be the same and there will always likely be tiny flaws or imperfections if one looks hard enough.
This might sound like a criticism but is actually meant as a compliment. The level of detail in the texture work is simply amazing and I'm reminded of hand cut checkering and painstaking file and polish work done by fine 1911 gunsmiths.
My pistols were modified in such a way as to keep them legal for use in USPSA Production Division. The Production rules allow for texturing but do not allow for the removal of material.
As such, I did not have Ben re-contour my grip tangs or cut material from underneath either trigger guard.
In addition, Ben installed Apex Tactical Specialties competition trigger kits and Trijicon HD tritium sights. Trigger parts were polished and both guns were set up as close to each other as possible with the idea that one pistol will serve as my primary with the other riding in a range bag as a back-up.
Quick Turn, Long Wait List
All this great work is affordable and the turn around on both guns was about a week. The down side is the waiting list. Ben operates a small shop and his workload is substantial.
As a result it will likely take several months for your number to come up once you've contacted him. Ben will reach out to you when it's your turn, at which time you can send in your pistol. While the wait can be lengthy, the good thing is you'll still have possession of your pistol while it waits its turn to be shipped to Ben's workbench. 
The world's most perfect pistol just got a bit better!
Rumor has it Ben works on Glocks too...