PRESS RELEASE
The Next Generation - New Holsters Revealed at Shot Show 2023
---
You are invited to our Product Launch Party at SHOT Show!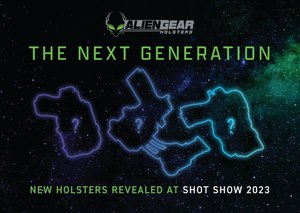 Come see Alien Gear Holsters at SHOT Show in Las Vegas, Nevada during the week of January 17th-20th, 2023. We will be showcasing our NEW Next Generation Holsters at booth # 10174 (second floor).
You don't want to miss out on all the items we will have to offer:
NEW Product Reveals
Gear Giveaways
Holster Demos
PRODUCT LAUNCH PARTY
Please join us to kick off SHOT Show 2023 with FREE BEER & SNACKS!
When: Tuesday, January 17th at 1:30-3:00 PM
Where: Booth # 10174 (second floor)
We look forward to seeing you there!
For more information, please contact us at aliengearholsters.com
About Alien Gear Holsters
Alien Gear Holsters was launched in 2013 and has shipped millions of holsters to over 230 countries. The demand for our holsters has reached all corners or the world and is the driving force behind our effort to join the international market. We have armed international presidential security teams, foreign law enforcement agencies and gun carrying citizens around the world. With an ever-increasing demand internationally, we are looking to build strong relationships and distribution networks within the international market. Our products are the perfect fit for distribution, retail and uniform stores, and government tenders.
The development of our law enforcement and military offering, the Rapid Force Duty Holster System, has given us the ability to support all security and protection efforts and to supply law enforcement agencies and militaries with the world's most unique, rugged, and customizable duty holster. Rapid Force Duty holsters are engineered to meet and exceed all requirements for law enforcement and military use. Launched with the highest levels of praise and approval, Rapid Force redefines the duty holster. We have successfully incorporated feedback from law enforcement and security force professionals to create a duty holster that is truly conducive to their needs.
Address
4411 W Riverbend Ave.
Post Falls, ID 83854


Request more info from Alien Gear
Thank You!