How Trijicon embraces the Science of Brilliant
Trijicon will not put its stamp on anything less than excellence
---
There are many problems facing law enforcement today. One of those is sifting through the plethora of equipment marketed for the profession to find what's right for you or your department. One tried and true method to find quality equipment is to stick with companies with long track records of quality. Trijicon is one of those organizations.
The company's ACOG (Advanced Combat Optical Gunsight) is literally "battle-tested," having served many of our military ground forces including Special Operations Command since 1995. Since then, several other countries' militaries have adopted the ACOG for their troops. As is usually the case, law enforcement followed suit. ACOGs have been married to cop carbines for decades now.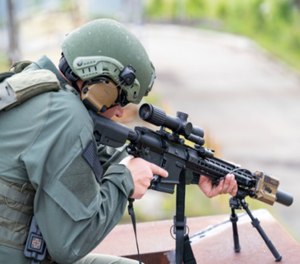 The Science of Brilliant
Trijicon's founder, Glyn Bindon, was an engineer at heart and an innovator in his garage. From there, Bindon built Trijicon, now the manufacturer of the most respected aiming solutions on the planet. The company's "Science of Brilliant" concept is comprised of three principles:
Heritage of innovation
Industry-leading durability
Unsurpassed craftsmanship  
Bottom line: Trijicon will not put its stamp on anything less than excellence. It's no surprise that this is the company that produces what is considered the Low Power Variable Optic (LPVO) at an obtainable price point.
About Variable Combat Optical Gunsight (VCOG)
Some of the challenges faced by law enforcement are low light conditions, varying distance shooting problems and equipment failures due to breakage or just plain poor durability. This is where the LPVO comes in and Trijicon's VCOG (Variable Combat Optical Gunsight) is the top shelf of that design. 
The VCOG 1-6x24
The VCOG 1-6x series is a 1-6x variable power optic with a 24mm objective lens. Most LPVO optics of this power variable only have a 20mm objective lens. The larger objective lens allows for a larger field of view and better light transmission in low light conditions. The buyer has the choice of a horseshoe dot or segmented circle/crosshair reticles in red or green. The choices don't stop here. The VCOG offers bullet drop compensator reticles for the .223, .308 and .300 Blackout in both MRAD and MOA measurements. That gives the officer or department 18 purchasing options for the VCOG 1-6 to ensure the optic fits the specific needs of that jurisdiction.
The VCOG 1-8x28
Weighing about 8oz more than the 1-6x24, the VCOG 1-8x28 includes a larger magnification range and a larger 28mm objective lens. Generally, an optic of this power would have a 24mm objective lens, but Trijicon is focused on solving the problems law enforcement faces. A 28mm lens lets in a lot of light and provides an excellent field of view even at 8x power. The 1-8x28 comes with reticle choices of MRAD (Milliradian), MOA (Minute of Angle) or MRAD Tree as found in the SCO (Squad Common Optic). It also has two night-vision compatible settings. 
In common
Both the 1-6x24 and 1-8x28 use a simple AA battery, although Trijicon recommends lithium batteries. Both models have a dial fin to assist with rapid magnification transitions. Both solve the issue of extreme durability with their 7075 T-6 forged aluminum frame. Speaking of durability, the VCOG is submersible to 20 meters. Most of us in law enforcement will not be scuba diving with our rifles; still, knowing that heavy rain will not affect our defensive capabilities is a comfort during a crisis event.  
The VCOG is a first focal plane optic that allows the bullet drop compensator to work at any power setting. Both VCOG models come with an excellent integrated mount that is included in the initial purchase price, so there is no guesswork as to which mount is compatible with the optic and your rifle. Each of the illumination settings has an "off" setting between them. This is particularly useful if one has a preferred setting that is high on the spectrum but doesn't want to crank the optic up from zero each time the rifle is deployed. For example, on the 1-8x28, I prefer the "7" setting for most environments. I know I just need to move the illumination dial forward one notch and I'm where I need to be. 
The extreme quality can be seen in the edge-to-edge clarity not common in lower quality optics and in that the eye relief doesn't change from the lowest to the highest magnification. Hence, there is no need to change our preferred cheek weld.
Brilliant aiming solution
The VCOG is the next generation of law enforcement and military optics. It was built from the ground up as a combat optic, rather than some products built for competition and then "beefed up" for sales to military and law enforcement. Like all Trijicon optics, the Variable Combat Optical Gunsight is truly a brilliant aiming solution.
---
About the author
Warren Wilson is a captain, training commander and rangemaster with the Enid Police Department in Oklahoma. He is a former SWAT team leader, current firearms instructor and writer. He has been a full-time law enforcement officer since 1996.

Request information from Trijicon
Thank You!