Firearms Review: The Charter Arms Pitbull .40 S&W Rimless Revolver
---
Charter Arms has a new rimless .40 S&W revolver, the world's first. I put some rounds downrange at SHOT 2012 with one and it was immediately apparent that this deserves serious consideration. If the agency uses a .40 S&W auto for duty, this product is a good backup and off duty tool.
I have preached this before — carry the same cartridge for backup as one uses for duty. If possible, use something that takes the same magazines. Carrying a revolver like this one is a good alternative.

The Charter Arms Pitbull .40 Rimless Revolver is based on the five-shot .44 Special Pitbull, a handgun known for plenty of bang for the buck. The Rimless .40 has a similar 2.3 inch barrel. With an overall length of 6 ¾ inches and a weight of 20 ounces, consider it a large pocket gun that uses a cartridge of confidence, especially considering that it is made from 416 stainless.
Spring-loaded Detents
Making a rimless revolver requires a bit of engineering. Since there isn't a rim on the case to keep cases in the revolving cylinder, some other mechanism must be used. Most manufacturers use moon clips, thin metal strips that retain the cartridges by their case rims. They are inserted into the revolving cylinder with the cartridges. This kind of set up makes loading and ejecting quick and easy, but it defeats the purpose of a revolver. It generally needs a moon clip all the time.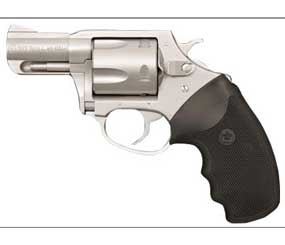 The Charter Pit Bull .40 Rimless Revolver uses spring-loaded detents to retain the cartridges, maintaining a consistent headspace. The trick with using this method is ejection. The mechanism has to hold the brass firmly but allow them to release cleanly.
Nick Ecker, President of Charter Arms, gave me the tour of this revolver.
It loaded easily and the workmanship was up to par for a Charter Arms. I ran the first five rounds downrange. I've always liked the ergonomics of the Bulldog models and this Pitbull handled the loads well. The rubber grips are a Charter Arms selling point and it would even be an easier sell if the grips had a laser option. It was hard to judge accuracy clanging steel plates but I was able to easily ring them with this one.
I didn't like the ejector rod. I carry a revolver often and I use the palm of my hand to punch out empties. This one is a little narrow for this and I would have added a generous cap to the ejector end. The trigger was about average for a double action revolver and it allowed for single action operation also.
An All American
Charter Arms Revolvers are American made, using American parts, in an American-owned operation. They offer a bazillion options and their safety system is one of the most reliable in the industry. There's no doubt in my mind that this is a viable back up and I see it as a top choice for law enforcement users. Yep, I'd buy one in a second.

Request product info from top Police Firearms companies
Thank You!