First-person shooter: My experience training in a VirTra virtual reality simulator
PoliceOne's Sean Curtis gets immersed in 300 degrees of realism at Denver Police Department's training facility
---
Sponsored by VirTra
By Sean Curtis for Police1 BrandFocus
When I was graciously afforded the opportunity to check out the VirTra V-300 training simulator up close and personal, I excitedly said yes. VirTra pioneered interactive multiscreen simulation training for law enforcement starting in 2004, but this was the first time I had been able to try one personally. The 300-degree viewing surfaces are much more realistic than the traditional one-dimensional shoot training, and my experience was nothing short of amazing.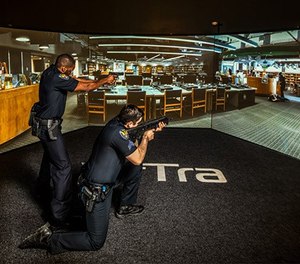 For some foundation, I'm just about to cross the 20-year mark, have previous SWAT experience, and I am a current firearms instructor for my agency. I have used a plethora of shooting simulators over the years and have seen them evolve. I met with Sgt. Mike Vogler, who heads up the Denver Police Department's training academy. He showed me the V-300 and how it works.
Setup
We walked into the training simulator, and there were five large movie screens set up in a hexagonal shape. Foam pads covered the floor between the screens and served as the work area for trainees. Behind each screen, I found a projector and sizeable speakers. All the projectors and speakers were wired to a bank of six computers. Near the entrance to the hexagon, a table with two monitors, a keyboard, and chair served as the control station.
Sgt. Vogler introduced me to the tools I'd be using: a Glock 17. I couldn't be happier, as this is my carry gun. The sergeant explained that the weapon started life as a true Glock and had been modified to work on CO2 cartridge-filled magazines. These magazines made the weapon simulate firing, causing the slide to rock back with each shot fired. A CO2 station sat on another table and was a handy device for refilling the magazines on site. The VirTra V-300 is capable of handling a variety of weapons this way, including rifles and many less-lethal options like TASERs.
After syncing the G17 wirelessly to the controls, I stepped into the simulator and marveled at the vast display surrounding me. The initial setup only took a few minutes. I fired five shots and then three confirmation shots at each screen to calibrate the weapon. Within a few minutes, we were up and running.
Let's Run it Live
All five screens then lit up and bathed me in the light. I was transported to a desert setting and surrounded by targets ranging from paper and steel to poppers and hostage targets. Each time I pulled the trigger, the weapon recoiled, and I had to adjust sights again just like normal. The shot rang out simultaneously with the recoil. The sonic feedback of what I hit, ringing steel and punching paper, sounded off, and I began to slip into the simulation, getting comfortable with the great likeness to reality.
The gun range scenario helped me break the traditional chains of static shooting by forcing me to turn and address other targets. Keep in mind, there is only a 60-degree safe zone behind the shooter – everything else is questionable. I literally had to turn 180 degrees at times to hit targets called out by the sarge.
I was impressed with the accuracy of the gun, too. Other products I'd used in the past were not so reliably accurate. The guns were often too fake, did not have the right weight, or they would not hit where I aimed. There were none of these issues with the V-300 –in my mind, I was holding and shooting a real Glock.
Shots Fired
I graduated from the shooting gallery and moved to my first call. Dispatch aired suspicious persons at the movie theater. The forward screen lit up with a nighttime approach to the front of the theater. I truly felt I was about to walk in and find out what was going on. As people strolled by, the police radio aired details – then all hell broke loose. A shot rang out, I think I heard breaking glass, and people screamed then began running in all different directions.
I drew my weapon, aired shots fired at the theater, then made entry. When the front screen brought me in, all five screens lit up, and I suddenly felt very alone and exposed. People ran everywhere trying to flee. An employee popped up quickly from behind the counter, drawing my muzzle, but no shot. He pointed to a suspect in the corner. Although I was facing forward, I wheeled right in time to see shots coming from behind an arcade game.
I returned fire, and a movie patron fell out from behind the machine, shot. I didn't have time to wonder if I had really screwed up before the suspect (still behind the machine) popped out, gun blazing. I shot him, and he fell. All five screens then swept me forward down the hall, where tons of people jumped out, causing me to assess for threats quickly. A police officer emerged out of nowhere but had a badge in his hand. My head is absolutely on a swivel while I keep moving toward the sound of gunfire.
Although the movement was pretty linear, I had to continually clear 300 degrees of visual for threats. The scenario ended when I reached the outside of the theater and shot both a male and female suspect. That's right – the VirTra V-300 reflects the real world, so the white knights may have some hard lessons.
After Action Report
I ran the theater and a few other scenarios, learning some harsh lessons. There is an element of realism that is so keen in this simulator. All the videos are filmed live with real people. There are explosions, crazy sound effects, surprises, and blood. The V-300 creates a reactive environment that changes based upon the actions of the trainee and the person running the scenario. The most significant difference is the realism of being surrounded by your problem – nearly every direction offers some threat, and you have to keep turning and looking to clear areas or engage them. Other simulators I've used lock your focus onto the forward screen, potentially training you to only focus on what's in front of you in the field.
This is a nearly perfect place to learn lessons. Despite knowing I was in a danger-free environment where I would not be hurt, killed, sued, fired or charged with a crime, my fitness monitor registered that my heartbeat had doubled. It is close enough to real to get your adrenaline flowing, but there are no ramifications if things go wrong. You can discuss it with the trainer and rerun it or tuck it away for next time.
From an administrative standpoint, the V-300 can limit liability, make officers safer and also serve as a tool to show the community, judges and the district attorney just how hard it is for officers to make the split-second decisions they do every day.
About the Author
Sean Curtis is a law enforcement professional with nearly two decades of experience, serving with SWAT, diving and swift water rescue teams in Colorado. He has also served in wildland fire, search and rescue, EMS and emergency management.

Request information from VirTra
Thank You!