Vitamin company designs supplement line for first responders
---
By News Staff
WENATCHEE, Wash. — A vitamin company designed a supplement pack to help first responders stay healthy during long shifts.
Thin Fit Line launched the "Heroes Pack" for first responders, and founder Dan McBride credits his fire commissioner father, as well as his own experience as a volunteer firefighter, as motivation to help responders stay healthy on the job, ABC7 reported.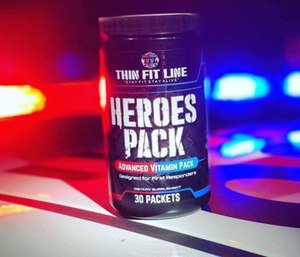 "Knowing the stresses of the job made me recognize how important fitness and nutrition is for these career fields, not only physically but mentally," McBride said.
McBride, who went on to become a corrections officer, added that he remembers "running on fumes" while working long hours.
"I remember what it was like sleeping at the fire station, waking up all hours responding to calls and then going to a full-time job the next day. I was practically running on fumes," he said. "And I remember the long mandatory 16-hour shifts around hundreds of inmates, always wondering if or when they would strike. I remember watching brothers and sisters fall ill because they weren't taking proper care of themselves during those long stressful hours."
The Heroes Pack contains 42 fruits and vegetables, over 50 herbs and other vitamins to keep first responders going in a healthy way, and verified first responders get a lifetime discount.
Thin Fit Line also donates portions of the proceeds to the National Fallen Firefighters Foundation and Concerns of Police Survivors.

Request more info from Thin Fit Line
Thank You!