PRESS RELEASE
i2c Technologies Unveils New Low-Priced VX400 Covert Pole Camera System
---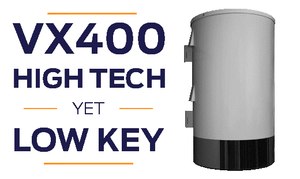 In response to interest from their law enforcement customers, i2c Technologies has designed a new version of their popular VX400 Covert Pole Camera System that significantly lowers the cost of the unit.
The new VX400 model now features a more affordable and highly-rated Axis PTZ camera that has a full 1080p resolution and is packed with the kind of top-of-the-line features you'd normally expect in more expensive cameras, like 10x optical zoom, and continuous 360° pan that lets you easily follow moving objects.
The camera provides both the zoomed-in detail and the broad overview that law enforcement needs for hot-spot surveillance and event monitoring.  It features Wide Dynamic Range - Forensic Capture that ensures great detail when both bright and darker spots are in a scene. The camera's outstanding light-sensitivity provides high-quality video even when recording in near darkness.
The VX400 Covert Pole Camera System is a complete HD video surveillance system hidden in a rugged covert housing that resembles a power transformer and easily mounts on a standard utility pole. When fully equipped, the new model features an Axis 10x optical PTZ camera, an advanced 4G LTE cellular data modem, and a ruggedized onboard PC with user-friendly video management software for easy retrieval, archive, and distribution of recordings.
The VX400's discreet appearance and ability to be rapidly deployed make it an ideal tool for covert surveillance operations, monitoring major outdoor events, and providing law enforcement with situational awareness. Every VX400 purchase includes remote set-up and configuration by i2c's U.S. based tech support team. Units ship anywhere in the continental U.S. and fully-equipped units now start at $4,995.
For more information or to request a quote, visit i2ctech.com

Request more info from i2c Technologies
Thank You!