How do you fight America's deadliest drug? Insights from veteran officers fighting fentanyl
Law enforcement agencies need better resources to respond to the opioid crisis without sacrificing officer safety
---
By Police1 BrandFocus Staff
Fentanyl has quickly become America's deadliest drug. In 2016, a new record was set. Fentanyl-related overdose deaths surpassed common opioid painkillers and heroin and emerged as the leading cause of overdose-related deaths in the country. This opioid is 50 to 100 times stronger than morphine and kills around 130 Americans a day on average, according to the Centers for Disease Control and Prevention. But what makes this crisis especially challenging is that new analogs (even naloxone/Narcan-resistant ones) are constantly being introduced.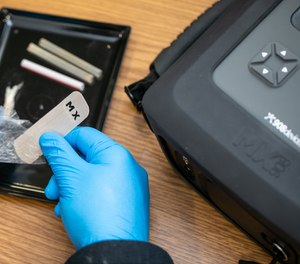 In response, law enforcement and its first responder partners have identified high-priority needs for improving responses to the opioid crisis nationwide through the Priority Criminal Justice Needs Initiative. These objectives include developing response models based on data gathered during investigations. Seized materials can be analyzed to inform public health and law enforcement interventions and help agencies be more agile in responding to needs for new equipment and approaches.
Patrick Glynn, commander of the narcotics special investigations unit for the city of Quincy, Massachusetts, saw a surge in opioid-related crime as early as 2008. After working in law enforcement for over three decades, he knew that law enforcement would play a critical role in the response to the nation's unprecedented epidemic. Around the same time in Maine, Roy McKinney, director of the Maine Drug Enforcement Agency, also saw the rise of fentanyl in his communities and introduced evidence-based risk mitigation strategies.
Although both officers worked in communities about 120 miles apart, the challenge they shared was keeping up with evolving drug use trends and consequences. Both agencies needed to improve their drug field test capabilities to make informed decisions to disrupt the distribution of fentanyl.
That's what drew the Quincy Police Department and the Maine DEA to add the MX908, a field ready trace detection device, to their arsenal of fentanyl fighting strategies. We asked McKinney and Glynn to share their experience with the MX908 and how it helps their agencies disrupt the distribution of fentanyl.
Overcoming the limitations of traditional field tests
Using traditional presumptive drug testing methods like colorimetric tests had limited effectiveness in the face of the fentanyl crisis, though there have been advances. Some of the biggest drawbacks of using color-change tests include the subjectivity of test result interpretations, and possible risk of exposure. Similar to Raman and FTIR spectroscopy instruments, colorimetric tests also require bulk amounts of test samples, which is often unrealistic in field settings.  
The potency of fentanyl and its analogs is also a big challenge; the active ingredient is so toxic that street samples contain relatively little active drug – sometimes 1 percent or less. Some leading field tests can reliably identify cutting agents and high concentration drugs but are unable to identify compounds under 10 percent concentration. 
Unlike traditional detection techniques, the MX908 can identify trace amounts of fentanyl in the presence of a cutting agent in under a minute.
When fentanyl and its analogs first emerged on the drug market, McKinney recalled ordering his officers to hold off on testing bags that were possibly fentanyl-related to avoid exposure.
"It was all about the safety of officers as we learned about this drug," said McKinney, who has worked in law enforcement since 1976.
That's why using the MX908 was a no-brainer for McKinney and his agents, who knew that having a detection tool that could quickly and easily analyze substances at trace levels would not only improve officer safety, but also help reduce the backlog of substances that needed further testing.
Now in many cases, according to McKinney, officers don't even need to open sample pouches to test substances. The MX908 allows users to simply swab outside of the package because the device can analyze substances at quantities invisible to the eye. What's more, MX908 requires no extra steps, or extra chemicals, for the detection of drugs like heroin.  And the portable design of the tool transformed the way Maine DEA agents conduct presumptive drug tests.
The devices' broad trace detection capability was another differentiator for the Quincy PD.
"It used to take a very long time to test substances because we needed a specific test kit for each and every drug out there," said Glynn. "But with MX908 it's a no-brainer. We now have one device for the detection of priority drugs and more.  The most outstanding part is that it can detect a wide variety of substances at trace levels."
Focus on prioritization, reducing backlog
Timely and accurate analysis of substances like fentanyl is critical to law enforcement.  It is not uncommon to hear how inadequate resources can lead to backlogs in forensic laboratories, but for Glynn this has improved since his team started using the MX908.
"The MX908 allows us to bring presumptive drug test results into the grand jury session much quicker," said Glynn. "We can now safely run tests out in the streets, quickly identify the harmful substance, and expedite adjudication to get these substances out of our communities."
Focusing on officer safety
As one of the first law enforcement leaders to encourage the use of Narcan to reverse overdoses, safety is a top-of-mind subject for Glynn.
"While the hype of fentanyl exposure to officers is great, we know that a small percentage of officers still overdose," said Glynn. "That small percentage is still a percentage, and if officers don't have naloxone with them to counteract that exposure, we could still end up with a risk."
From Glynn's perspective, adding the MX908 is adding another safety layer to protect officers.
Of course, resources and budgetary constraints are realities that every law enforcement agency faces, and Glynn says that modern challenges like the opioid crisis call for modern, innovative approaches.
"Some might say that having tools like the MX908 is a luxury, but I'd say that it's a necessity of working in narcotics today," said Glynn. "The safety, accuracy and speed with which we can identify substances without having to disturb the product itself is worth it – after all, it's our job as administrators to make sure our officers have the tools they need to do their jobs."

Request information from 908 Devices
Thank You!