PRESS RELEASE
Mark43 partners with Callyo to break down information silos within law enforcement agencies through cloud technology
---
By integrating Callyo's investigative data into Mark43's Records Management System (RMS), the cloud-based technology companies will facilitate seamless workflows for investigators.
NEW YORK — Mark43, a leading cloud-based public safety software provider, today announced that it is partnering with Callyo, a top mobile law enforcement software as a service (SaaS) company. The game-changing partnership is breaking down long-standing informational silos between investigators, the second-largest group within law enforcement, and other divisions within agencies such as patrol.
Through this partnership, investigators using Callyo's signature Investigative Suite will be able to integrate information with Mark43's secure, cloud-based Records Management System (RMS). Mark43's RMS allows for efficient report writing and case investigation management in the cloud. Meanwhile, Callyo provides a virtual phone network for law enforcement where investigators can securely make phone calls and record interviews, thus eliminating the need for inefficient methods such as buying several different burner phones.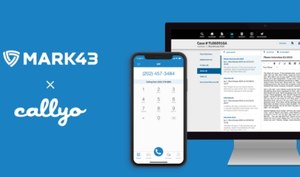 By integrating their two systems, the companies are making connections that empower both police officers and investigators. The future includes bidirectional searching and viewing capabilities of the Mark43 RMS records in Callyo. Another upcoming functionality are notifications to investigators if a subject that they are interviewing with Callyo shows up in the Mark43 RMS as recently being pulled over or coming into contact with patrol.
By partnering with Callyo, which currently provides technology for investigators at over ten thousand law enforcement agencies, Mark43 is continuing to build out its open ecosystem of partners that seamlessly integrate into the Mark43 platform. Mark43 designs its platform with partnerships in mind and has recently integrated with SPIDR Tech, Carbyne, and RapidSOS to overhaul traditional inefficiencies in public safety tech.
Both startups are hosted on AWS GovCloud and have been featured as leading innovators on the GovTech 100. Since both companies are SaaS, the integration can be available immediately to entire customer base, at no additional cost for mutual customers.
"We are thrilled to add Callyo to our platform to provide a seamless experience for investigators," said Scott Crouch, CEO & Co-Founder of Mark43. "Patrol officers and investigators are often dealing with the same suspects, and connecting our systems will enable greater investigative effectiveness, making it easier to bring cases to their rightful conclusions."   
"We selected Mark43 to be the first RMS partner in our ecosystem of law enforcement services because of the company's cutting-edge technology," said Chris Bennett, Chief Product Officer & Founder of Callyo. "We are looking forward to expanding functionality and benefits for public safety by facilitating connections that have previously been impossible."
About Mark43
Mark43 is the modern platform built for wherever your service takes you. With cloud-native, intuitive software designed to let you focus on what matters most, Mark43 gives agencies a technology foundation to build from — smart, open, and extensible — growing and innovating with you as your needs evolve. Developed by a team that spans five offices in North America, Mark43 is proven, tested, and supported in over 60 public safety agencies of all sizes. For more information, visit www.mark43.com.
About Callyo
At Callyo, we build innovative, simple, meaningful tools within reach of all in law enforcement to combat crimes such as human trafficking and child exploitation. Callyo has changed the way investigations are done and believes that you shouldn't need special equipment to do something special.

Callyo has been called "arguably the most innovative new policing technology in the past 20 years" while maintaining record satisfaction and renewal rates across 100,000+ officers and 10,000+ agencies. We have saved countless man-hours and taxpayer expense and improved the well-being of investigators with solutions that respect the privacy of our fellow citizens. Callyo website: https://www.callyo.com/

Request more info from Callyo
Thank You!