K-9 announcements: Dos and don'ts
Author Jerry Hunter details the methods and importance of giving K-9 announcements
---
By Jerry Hunter
Police K-9 Magazine
How many of you have experienced this at training during searches: "OK, Officer Jones: bring your dog, give two announcements and send him."
All too often this exact scenario occurs multiple times throughout the day during maintenance training sessions. This is what I like to call the "training mode" mindset. This type of mindset could not be any more opposite to what I refer to as the "street mode" mindset. Although I will not elaborate further on where your head should be during training and when you're out working the streets, I will discuss in detail the police K-9 announcement and its importance.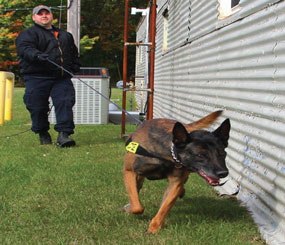 This article encompasses the reason for giving a K-9 announcement, court rulings about when officers are not required or expected to give an announcement, the elements of the announcement, and case-law decisions pertaining to K-9 announcements.
Currently, there are seven canine-specific cases that mandate giving suspects a warning prior to using a police K-9 as a potential use of force tool. Summaries of the facts and judicial rulings for these seven cases are provided below.
Burrows v. City of Tulsa (10th Circuit)
Facts: Officers went to a home to serve a felony arrest warrant for forgery, false impersonation and check fraud. The suspect, Burrows, fled on foot. A neighbor flagged officers down and stated someone was trying to break in through his back door. Burrows was illuminated at the back door by the light of a police helicopter. Burrows saw the responding K-9 handler and surrendered by lying down spread-eagle on the back porch, awaiting officers' approach. Without a verbal warning, the handler put the K-9 over a fence into the backyard. The dog located and bit Burrows.
Court's findings and rulings pertaining to the K-9 announcement: The Appeals Court stated that although the jury did not reach a unanimous decision, the jury could have found that the handler's actions - his failure to warn plaintiff and his decision to put the dog over the fence and let him go free (while the handler remained on the other side, knowing that if the dog found plaintiff, he would attack and could not be called off with a voice command) - were not objectively reasonable.
Trammel v. Thomason (11th Circuit)
Facts: Officers responded to a residential burglary call and the suspect fled on foot. A police dog was used to track and locate the suspect in a residential area. The dog alerted to a backyard area, and the handler removed part of a six-foot fence so the dog could enter that yard. The court stated that no verbal warning was given to afford the suspect an opportunity for surrender. The dog located and bit an innocent third party (Trammell) who was visiting a friend and standing in his friend's backyard using a cell phone. Prior to being bitten, Trammell did not hear or see any sign of police activity that would have alerted him to the presence of the dog. He could hear the neighbors on either side of the backyard making noise, but he did not hear any police warnings, nor did he hear a police helicopter.
Court's findings and ruling pertaining to the K-9 announcement: The court concluded that given these facts, a reasonable jury could conclude that the use of the canine in the manner prescribed constituted unreasonable and excessive use of force in violation of plaintiff's constitutional rights under the Fourth Amendment. Trammell testified that while in the small residential backyard, he heard no warning and that under the circumstances he would have heard one if it had been given. Court concludes that a jury could find that a K-9 announcement was not given.
Sorchini v. City of Covina (9th Circuit)
Facts: Sorchini fled from police after unsuccessfully attempting to steal a car. A police dog discovered him beneath a parked truck and bit him. After his arrest, Sorchini sued the City of Covina for using excessive force in violation of his Fourth Amendment rights. The urn did not agree and, on appeal, Sorchini argued that the district court should have given an instruction that the police must warn a suspect before sending a dog to find him.
Court's findings and rulings pertaining to the K-9 announcement: The court referred to Kish v. City of Santa Monica. The Kish case held that there has been no decision by the Ninth Circuit or the Supreme Court that police should give a warning before non-deadly force is used on a person. Because Kish is an unpublished opinion, it is not a precedent and neither Kish's holding, nor observations about the state law, have any bearing. The City of Covina presented uncontroverted evidence that police policy requires its officers to give a warning prior to using a dog.
Vathekan v. Prince George's County (MD, 4th Circuit)
Facts: A police K-9 handler respond to assist officers investigating a forced-entry residence burglary. The burglary was reported by one of three renters who live in the residence. The reporting renter did not believe anyone should be inside the residence. No K-9 announcements were given and the K-9 was commanded to enter and search the residence for the burglar. Unbeknownst to the officers or the reporting renter, another renter was in her bedroom asleep. The K-9 entered the residence and bit the sleeping renter.
Court's findings and rulings pertaining to the K-9 announcement: It is clearly established that it is unreasonable for a police officer to fail to give a verbal warning before releasing police dog to seize someone.
Kuha v. City of Minnetonka (8th Circuit)
Facts: Kuha was stopped for a minor traffic violation. After Kuha pulled over, he fled from his vehicle on foot. While fleeing, Kuha evaded arrest by swimming through a swamp. Although Kuha was initially stopped for a minor traffic violation, his behavior following the stop led officers to believe that more might be at issue than a mere traffic infraction. Officers found recent damage to Kuha's vehicle and believed he had been recently involved in a traffic collision.
Officers were confronted by Kuha's unexplainable flight in the early morning hours. Kuha had chosen to swim through a swamp. There were inhabited apartments nearby and residents would soon be leaving for work. Officers were concerned for the residents' and their own safety, as it was not known whether Kuha was armed. A police K-9 was used to track Kuha; the dog found Kuha in three-foot-high grass and bit him. No announcement was made prior to the K-9 finding and biting Kuha.
Court's findings and rulings pertaining to the K-9 announcement: Kuha was not given an opportunity to surrender prior to being bitten by the K-9. The court concluded it was objectively unreasonable to use a police dog trained in the bite-and-hold method without first giving the suspect a warning and opportunity for peaceful surrender.
The court stated, "We agree that officer safety is paramount but disagree that requiring a verbal warning will put officers at increased risk. To the contrary, such a practice would likely diminish the risk of confrontation by increasing the likelihood that a suspect will surrender. While there may be exceptional cases where a warning is not feasible, we see no reason why officers could not have placed themselves out of harm's way, and given a loud verbal warning that a police dog was present and trained to seize by force."
The court concluded that the law with respect to the use of police dogs was not sufficiently established in September 1999 when this incident occurred, and that a reasonable officer would have known that the failure to give a verbal warning could be deemed unconstitutional.
Szabla v. City of Brooklyn Park (MN, 8th Circuit)
Facts: Officers responded to a traffic accident in which a single vehicle had driven into a tree. When officers arrived, they found the car unoccupied and requested that a K-9 respond to assist in trying to locate the driver. When the K-9 handler arrived, he saw a screwdriver and other property inside the vehicle. The K-9 handler believed the screwdriver was possibly used to commit a burglary and the property in the vehicle was stolen.
The K-9 handler used a 15-foot leash and began a track for the driver through a park. No K-9 announcements were ever given. The K-9 led officers to a shelter inside the park. The K-9 then entered the shelter and bit Szabla, who was asleep. Szabla slept in the shelter because the park was across the street from a temporary employment service that hires day laborers. Szabla was an innocent person and not related to the traffic accident.
Court's findings and rulings pertaining to the K-9 announcement: The court addressed the need for a canine warning announcement that would give a suspect the opportunity for peaceful surrender. The court concluded that a jury could properly find it unreasonable to use a police dog trained in the bite-and-hold method to track and bite a suspect, without first giving the suspect a warning and opportunity for peaceful surrender. The court further stated that at the time of this event (August 2000), case law specifying that not giving a warning to a suspect was unreasonable under the Fourth Amendment has not been clearly established.
Rogers v. City of Kennewick (9th Circuit)
Facts: An officer attempted to stop a subject riding a motorcycle for minor traffic violations. The subject did not stop and rode into an open garage at a residence. The owners of the residence said the suspect ran through their house and out the back door. A police K-9 was called to assist in attempting to locate the suspect. The K-9 handler arrived and began searching yards for the suspect. No K-9 announcement was ever given and the K-9 was deployed off-leash. While searching the side of a residence, the K-9 left the handler's view, jumped a wooden fence, and bit an innocent third party (Rogers) who was asleep in his daughter's backyard.
Court's findings and rulings pertaining to the K-9 announcement: The court ruled that there was clearly established case law that failing to give a warning before releasing police dog to bite and hold is unreasonable.
Overall Conclusion
Clearly, the courts have ruled that K-9 announcements must be made any time an officer intends to deploy a police dog as a use of force. Failure to do so has resulted in, and will continue to result in, serious and detrimental litigation for police K-9 handlers, supervisors, and municipalities. This can include the cessation of law-enforcement K-9 programs if upper management decides that the program has too great a risk of liability.
There is however, on exception - a situation in which a K-9 announcement is not required - that the courts have ruled on in three separate cases. Each of these cases involved a suspect who was armed with a gun and posed a threat to the lives of the officers and the public. Those three cases were:
Estate of Rodgers v. Smith (4th Circuit)
Facts: Suspect Rodgers abducted a female at gunpoint and forced her into his vehicle. Police officers saw Rodgers in his vehicle with the victim and a high-risk stop was initiated. Rodgers failed to stop and a high-speed vehicle pursuit began. Rodgers finally stopped in a parking lot and the K-9 handler's vehicle crashed into Rodgers vehicle. Rodgers exited the vehicle with a gun in his hand. The K-9 handler sent his K-9 to bite Rodgers, without giving a K-9 announcement. Rodgers then pointed his gun at the K-9 handler and the officers shot Rodgers, killing him.
Court's findings and rulings pertaining to the K-9 announcement: When the K-9 handler deployed the K-9, the handler could see that Rodgers was holding a handgun at his side. At the time of the K-9 deployment, the handler was no more than 10 feet away from Rodgers. The handler testified that he deployed the dog without a warning because," I was close and there was almost no cover between Rodgers and I. And I didn't want to draw any more attention to myself than I had to." Under these circumstances, the handler's judgment was reasonable and there was no Fourth Amendment violation in the manner in which the handler deployed the dog.
Thomson v. Salt Lake County (10th Circuit)
Facts: Suspect Thomson had been drinking and at 0200 hours called his wife and threatened to act violently. Thomson then went home, got a gun, pointed it at his wife, and then fled on foot. Officers arrived and learned that Thomson had pointed the gun at a person, was armed, potentially suicidal, and had a vehicle parked nearby but had fled on foot. Officers began a yard-to-yard search utilizing a police K-9.
Officers learned they were very close to Thomson because the K-9 could be heard barking in the background while Thomson was speaking to an officer on his cell phone. The police dog was released, without warning, into a backyard where officers believed Thomson to be. Officers heard noises and the dog did not recall to the handler when commanded to do so. Officers entered the yard and heard Thomson yelling to get the dog off him and threatening to shoot. Officers saw Thomson was holding a rifle and he would not drop the gun and raise his hands when instructed. Thomson put the barrel of the gun in his mouth and then quickly pointed the gun at an officer. One officer shot and killed Thomson.
Court's findings and rulings pertaining to the K-9 announcement: Deputy's release of a properly trained police K-9, without warning, and failure to negotiate with an allegedly suicidal suspect did not recklessly create a need to use deadly force, in violation of the Fourth Amendment. The court ruled as such on the grounds that deputies were objectively reasonable in taking steps to locate an armed and agitated suspect running through a residential neighborhood, after deputies had received a report that the suspect had aimed a gun at his wife. A warning by police officers is not variably required, under the Fourth Amendment reasonableness standard, even before the use of deadly force in apprehending a suspect.
Crenshaw v. Lister (11th Circuit)
Facts: Suspect Crenshaw committed two armed robberies with a gun. Officers spotted Crenshaw in his vehicle immediately after the second robbery and they attempted a high-risk vehicle stop. Crenshaw failed to yield and a high-speed pursuit began. During the pursuit, Crenshaw crashed his vehicle into a marked patrol vehicle. After the crash, Crenshaw abandoned his vehicle and fled on foot into a heavily wooded area at night. A police K-9 unit was on-scene and the K-9 was used to track Crenshaw, whom officers believed was still armed with a gun. The K-9 handler deployed the dog, without a verbal warning.
The handler ended up crawling through dense brush and heard Crenshaw state, "I am over here." Immediately after the handler heard this, the K-9 bit Crenshaw for three to five seconds while the K-9 handler crawled through the brush to where Crenshaw was hiding. Once the handler made it to Crenshaw, the suspect was ordered to show his hands and he did not immediately comply. The K-9 handler was not sure if Crenshaw was still armed. The K-9 handler grabbed Crenshaw's hands and the dog was not removed until both of Crenshaw's hands were accounted for and secured. Thus, Crenshaw was bitten numerous times.
Court's findings and rulings pertaining to the K-9 announcement: Crenshaw was suspected of armed robbery and was a fugitive from the police. The K-9 handler had every reason to believe Crenshaw was armed and dangerous. The K-9 handler was not required to risk his own life by revealing his position in an unknown wooded area at night to an armed fugitive who, up to that point, had shown anything but an intention of surrendering.
Elements of an Announcement
So what should a K-9 announcement consist of? The answer is that a K-9 announcement should be as brief and to the point as possible, with little if any room for confusion. Last year I again went through a Basic Handler's Course with my most recently assigned dog. This course was attended by approximately eight different K-9 teams from agencies throughout California.
One of the agencies attending this course used the following announcements: "Attention in the area. (Name of City) Police Department K-9. I am requesting you make yourself known or I will send in my police K-9 to find you. If my police K-9 finds you, he is going to bite you. Make yourself known to me at this time." If the K-9 handler received no response he then gave a second K-9 announcement: "Attention in the area. (Name of City) Police Department K-9. I am requesting you make yourself known or I will send in my police K-9 to find you. If my police K-9 finds you, he is going to bite you. Make yourself known to me at this time. This is your last and final warning before I send in my police K-9."
Amazingly, the handler from that agency was able to make those announcements without having to read them from a card. Each announcement literally took about 30 seconds to recite. To make matters worse, that particular handler would deliver his announcement so quickly that the words ran together and the message was completely unintelligible. Of course this announcement was not the handler's personal choice, but it was set by department policy and he had to adhere to it.
There are three components to the announcement that officers must state. These components are:
    1. Your authority (police, sheriff, etc.)
    2. Request for a peaceful surrender
    3. The consequences for not surrendering (dog bite)
My agency's K-9 announcement is, "Police K-9, come out now or I will send my dog. When my dog finds you he will bite you." Don't get me wrong here. I'm not saying my agency has the best K-9 announcement being used in this industry. What I am saying is that our announcement is short and to the point, while covering the three required components.
Ensuring Successful Delivery
There are several advantages of having a brief, clear announcement. A brief announcement with all the required components is easily remembered, not only by K-9 handers, but by the other officers working in the field. On the other hand, a long K-9 announcement is not only difficult for a handler to remember until he has said it a few dozen times, but it's nearly impossible for others - including patrol officers, supervisors, narcotics agent, air support officers, etc. - to remember given that they rarely have to say it.
If your agency has a long K-9 announcement that's tough to remember, do those with whom you work a factor and type your announcement on a small card. Give these cards to anyone who works in the field and who may assist you on a K-9 deployment. These cards can easily be laminated so officers can carry them in their shirt pockets. In the event you need someone else to make your announcement (opposite side of a large building, on the corners of an established perimeter, etc. ) these officers can remove the card from their shirt and state the announcement without having to worry if the required components were met and if they abided by your agency's policy.
Whatever your agency's K-9 announcement is, it must be said with clarity. Some handlers are so eager to send their dog, they rush through the announcement and it is completely unintelligible. You cannot expect someone to surrender to a bunch of garbled words they do not understand, and the courts will not expect this either.
In addition, you must be able to give the announcement not only in English, but in whatever language is used in the community in which you work. For example, if you work in a predominately Spanish-speaking community, you need to learn to give your announcement in Spanish.
If your announcement is heard by witnesses or neighbors, it's best if these people can recall what the announcement said and state they were able to understand the announcement from wherever they were when the announcement was given. If you discover there was a neighbor or witness who heard and understood the announcement, document this in your report.
Location, Location, Location
This leads us to the next topic: where K-9 announcements should be given. Many handlers are trained to give their announcement while they are standing at the breach point of the area where they are about to deploy their dog. In training, some handlers are lackadaisical and given their announcement while standing in the "fatal funnel," the center of a long hallway, or other places where there is no cover or the available cover is not being utilized.
Obviously, this is never a good idea. Some handlers do not realize that what they do in training, they will generally do while on a call for service. This is very obvious when the human body is placed under stress; in such situations the human body will resort to its level of training. If you do not utilize contact or cover during training, guess what? You're not going to use it on your own when you're amped up on a call.
I often see handlers, and I have done it myself, bypass threat areas to get to what they think is the only breach point to make their announcements and their entry. An example would be a burglary with forced entry and the premises (residential or commercial) is surrounded by several types of cover or concealment. These can be bushes, cars, garbage dumpsters, etc. Many handlers will go directly to the point where the forced entry was made into the premises, bypassing other threat areas because they always train to make their announcement and send their dog at the point of entry.
Here is an example: Let's say you are the first to arrive on the scene of a commercial burglary and there are several large bushes near the front of the business. From the street, you can see the front glass door is shattered. Several other officers arrive and assist you. It's safer for you to make an announcement from your position at your vehicle than it is for you to bypass these threats and make the announcement at the shattered glass door. Wouldn't it be safer for you to send your dog to clear the large bushes and threat areas, either off-leash or on a long line, and then down your dog and advance his position through the now-cleared area? The assisting officers canceler the other threat areas surrounding the building as they get into their perimeter positions. Once you're at the breach point, you can give your announcements again before sending your dog inside.
I have found that this approach is very advantageous. Not only are the exterior threats cleared, but the perimeter officers can also inform you of any other openings they discover, through which your dog may be able to exit while searching the interior of the building. The last thing handlers want is for our dog to exit the building while out of our view and injure one of our fellow officers who is there trying to help us.
Coordinate with Colleagues
Depending on the size of the area you're going to use your K-9 to search, perimeter officers should also make announcements from their positions. That approach has proven to be particularly beneficial during court proceedings. Not only did you make announcements from your location, but the same announcement was made on all sides of the area by assisting units.
If I am the only person making an announcement, I'm always certain to ask the farthest assessing officer if he or she heard my announcement. If they do not hear my announcement, I will either repeat my announcement in a louder voice, or I will have that officer make an announcement from their position.
When communicating with assisting officers, you should always use your portable radio. Nearly all agencies now record radio transmission, and such recordings can be used to your benefit in court. It's also a good idea to notify dispatch after you make your announcements. Again, this notification is recorded and can be used to your benefit in court, but it also lets all other officers on scene know that you are sending your dog.
Once you have decided to deploy your K-9 inside the building, you may need to make several additional announcements, depending on the size of the structure. This is beneficial in two ways. One, it will be heard by anyone inside the building who may not have heard your previous announcements, and two, it will re-stimulate your dog, who might be getting frustrated due to the length of the search.
Finally, try to keep your dog from barking when you give your announcement. It is not acceptable for your dog to bark during your announcement.
Barking Up the Wrong Tree
If your dog barks continuously during announcements, it is probable the suspect will not hear your announcement and they could use this against you and your agency in court. Your dog barking during your announcement can also cost you dearly in litigation. Remember, the reason for the announcement is to afford the suspect an opportunity to surrender prior to being bitten by your dog. We cannot expect a suspect to surrender when he can't hear your instructions because your dog is barking.
If your dog is barking, not only will you not be able to hear the suspect possibly trying to surrender but also, you and your dog will not hear any sounds coming from the area where the suspect may be located. You will not hear any slight movements from the suspect, who may be repositioning in his hide after hearing your announcement.
Another downfall to your dog barking during your announcement is your inability to hear any innocent and non-crime-related people who may be inside the search areas. What if someone that you were unaware of was trying to gain your attention and let you know of their presence?
Finally, when utilizing the dog as a locating tool, we need the dog to be as clear-headed as possible. If you allow your dog to bark excitedly during the announcement and then send him into the search area, he may begin searching the area using only his eyes. When he settles down, then he will begin to use his nose properly in an effort to locate the suspect. By having the dog calm from the outset of the search, he will be more likely to use his nose and locate a suspect who may be in very close proximity to your starting point.
Averting the Bark
There are two common techniques to train dogs not to bark when an announcement is made. With the first method, use a hallway with rooms attached. Out of the dog's view, place your agitator in one of the rooms approximately 25 to 50 feet from the location where the announcement will be made. The agitator needs to remain entirely out of the dog's view and be completely quiet. Bring your dog to the point where the announcements will be given and have your dog in a "sit" at your side. Have your six-foot leash attached to the live ring on your choke or pinch collar with about 18 inches of slack in the leash and hold the leash with the hand closest to the dog. Do not "pump up" the dog or add to his excitement; remember, the object is to keep him quiet.
Calmly give one announcement in a conversational tone of voice. If your dog does not bark, gently praise him without getting the dog overly excited. Allow the dog about 15 seconds to settle, and then give another announcement in the same tone. If your dog does not bark, the agitator should come out of the room and the dog should receive a reward bite and an ample amount of praise from you. Don't overdo the praise just yet, as this could cause your dog to become overly excited and make the behavior modification task difficult.
If your dog barks during an announcement, slowly raise your leash hand straight up, taking up the slack until your dog's front paws are about half an inch to an inch off the ground. Hold the dog in this position and give the command you wish to use to cease his parking (quiet, still, fey, etc.) Don't release this position until the dog has stopped barking. When the dog has stopped barking, slowly allow the slack back in the leash and start the command again. When you are able to say the comment in a normal tone without the dog barking, immediately have the agitator emerge and give the dog a reward bite with a lot of praise.
The second method for correcting this behavior is similar to the first method. With your dog in a "sit" at your side, stand with your feet shoulder-width apart. Have your outside foot about a half-step behind the inside foot. This is commonly referred to as an interview stance. Give your announcement in a normal, conversational tone of voice. If the dog barks, immediately give your command to be quiet while simultaneously doing an about-face with a stern leash correction. Walk about three paces then do another about-face with a second and third leash correction, simultaneously using whatever correction word you have chosen. Then return back to the starting position.
As always, don't overdo the leash corrections. We're not trying to rip the dog's head off; we just want to achieve that "pop." And remember, the dog needs to get an immediate reward bite when he displays the desired behavior.
As with all training sessions, end the training on a positive note. When your dog has displayed the desired behavior, reward him with a bite and then run him back to your car with a lot of praise.
Sgt. Jerry Hunter is a police K-9 handler and K-9 unit supervisor for the King City (CA) Police Department. He has been a dog handler for approximately 10 years and has handled an explosive detection K-9 and three dual-purpose narcotics/patrol dogs. Sgt. Hunter can be reached at jhunter@kingcity.com.

Request product info from top K9 Police Training companies
Thank You!