Me and my K-9: I thought we were invincible
A dramatic, drawn-out chase between a handler, his K-9, and a suspect pointed out the flaws in their training
---
By Rich Horner
Police K-9 Magazine
"I thought we were invincible." 
Most dog masters have thought the same thing at one time or another, especially when we were starting out. Vancouver Police Department (Canada) dog master Derrick Gibson was no different than many others in sharing that opinion. With an imposing stature (6', 220lbs),  the 48-year-old Gibson spent 15 years in the Infantry of the Canadian Army before joining the VPD 16 years ago. The last 11 years as a dog master with his second dog, a German shepherd named Teak.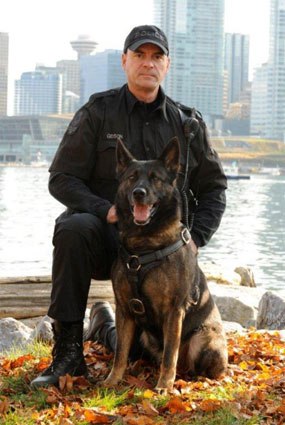 Gibson described Teak as hard-hitting and hard-biting and by any reasonable standard you couldn't blame him for saying "I thought Teak and I were invincible". That all changed after an incident in the summer of 2009.
Josh Boden had a promising future playing professional football in Canada (for you American readers, yes it is possible to make a living playing football in Canada!). However Mr. Boden's nastiness on the playing field didn't stop once the game had ended. 
After his off-the-field tendencies became known, Boden's football career ended, but his criminal behaviour continued. Boden amassed convictions for several violent assaults and other crimes in the years to follow.
During the summer of 2009, the Vancouver Police Sex Crimes unit were investigating a series of brazen sexual assaults against women, usually in public places (transit stations and bus stops). Their investigators identified Boden as a possible suspect and placed him under active surveillance in an attempt to witness further assaults and make an arrest.
On September 7,, Boden was being followed by covert officers in the area of a busy transit station in east Vancouver. Dog Master Gibson and his K-9 partner Teak were conducting 'shadow' duty nearby and would be authorized to make an arrest if the suspect was observed committing an offence. 
The efforts of the surveillance unit paid off and their suspect was observed groping a female in the parking lot of a large grocery store. As the suspect fled on foot, surveillance continued while authorization for a takedown was given. Gibson drove his patrol vehicle towards the location of a busy transit station as it appeared the suspect might board a train and/or get lost in the flush of people to be expected.
Gibson parked his wheels and hid with Teak between two parked vehicles and watched as Boden, completely oblivious to their presence, walked within yards of Gibson behind a bank towards the transit station. 
Gibson knew that a brief opportunity to make arrest had now presented itself. Gibson yelled towards Boden, announced his presence and told him to stop or that he would deploy his dog. Boden ignored Gibson and continued walking. Teak was deployed and made contact with Boden's upper thigh. Instead of the telltale signs of a successful 'contact', there was no sounds of pain, no 'get your dog off me! 
Instead, Boden grabbed Teak by his neck and then started to pry his jaws apart. Gibson knew his boy was in need of immediate assistance and started running towards the pair. Gibson lowered his shoulder and nailed Boden square in the chest knocking him over. This seemed to have no effect as Boden continued to pry Teak's jaws apart. 
A Tactical Error
Gibson proceeded to deliver multiple strikes and verbal commands towards Boden to stop fighting with his dog. Only after another surveillance officer arrived and began to assist, did Boden appear to give up. As instructed, Boden rolled over and appeared to be complying with officer's commands. When the assisting officer got his handcuffs out and was in the process of handcuffing Boden, Gibson removed Teak from the bite.
This proved to be a tactical error as Boden renewed his fight for freedom by getting up and running into a busy roadway. A break in traffic permitted Gibson to re-deploy Teak who quickly made up the distance and caught Boden's arm. This had no effect on Boden, who was now running down the block with Teak attached to his arm. While running, Boden was actively attempting free himself from the determined shepherd. At the end of the block, Teak lost his bite and fell to the ground. Teak recovered his footing and continued his pursuit of Boden making contact with a pant leg and ripped it. 
Teak was relentless and successfully made contact with Boden's left calf muscle. The suspect continued running with a proverbial ball and chain (in this case a police dog) wrapped around his leg. The suspect ran off the main thoroughfare, behind a convenience store and into a lane way. Teak lost his bite again as Boden ran down the laneway that ended up being a dead end surrounded by walls 10 feet in height. 
Boden began scaling the wall only to have his progress halted as Teak made contact with the suspect's leg. At this time Gibson and the other officer entered the lane. Gibson drew his firearm and instructed Boden to stop. Boden turned towards Gibson and rushed him. Gibson managed to holster his firearm just before getting hit by Boden. Gibson then engaged in what he describes as 'the most violent arrest attempt he has ever been in.'
At one point the pair fell on top of Teak causing Gibson's K-9 partner to release his bite. Teak quickly reengaged but unfortunately this time he bit Gibson's right calf. Gibson managed to out Teak who then made contact with Boden.
Gibson recalls calling out for help to the crowd of citizens who had gathered to watch. To his utter dismay, no one came forward and in a terrible display of humanity some were actually filming the incident on their cell phones.
Fortunately other officers arrived and managed to overpower Boden and take him into custody.
Gibson received several cuts and bruises, including a sprained wrist and a dog bite to his lower calf muscle. He was so exhausted from the incident that another dog master had to take Teak back to Gibson's patrol vehicle. 
Teak, although exhausted, fared better than his master, although still on active duty, Gibson says Teak now walks with a limp as a result of the fight.
Boden was treated for the injuries and was taken to jail. At a later date he was convicted for sexual assault and assaulting a police officer.
Lessons to Take Away
When asked to reflect on the incident, Gibson says he learned some valuable lessons.
 Always maintain and strive to improve yourself and your dog. This is especially true for those teams that have been on the road for a few years when it's tempting to ease up on training and rely on your experience.
Maintain a high level of personal fitness. Even though Gibson's incident lasted only 3-4 minutes he was totally exhausted. Do you yourself a favour and workout regularly.
Always keep your dog on the bite until you have sufficient resources to take the suspect into custody (if department policy and governing laws permit). 
To sum it up, Gibson says "I thought I (we) were invincible, it's not true, there will always be someone bigger, stronger than you."
Teak has since been retired. He received a very serious knife wound while apprehending a robbery suspect in January 2013, which forced him into retirement a few weeks ahead of time. 

Request product info from top K9 Police Training companies
Thank You!