Eighth Circuit ruling: Multiple TASER use justified to stop violently resisting suspect
After a man who viciously attacked his girlfriend died following a violent struggle with three officers, an excessive force lawsuit is brought against the officers
---
On the night of September 22, 2013, Worth County Sheriff's Deputy Isaac Short responded to a domestic disturbance call at a home in Northwood, Iowa.
Upon arrival, Short entered the home and heard screams coming from a second-floor bedroom. He kicked in the locked door of the bedroom and discovered Michael Zubrod engaged in a brutal attack on his girlfriend, Rhonda Schukei. Deputy Short saw Zubrod strike Schukei in the face with a hammer and heard him say, "Die bitch, you're gonna die."
Deputy Short radioed for back-up, drew his firearm and commanded Zubrod to step back from the victim. Zubrod initially complied by stepping back and dropping the hammer. Deputy Short holstered his gun and took out his TASER. Zubrod responded by saying something about finding a gun and began to reach down under the bed. He came up empty-handed, grabbed a nearby pair of scissors and immediately stabbed Schukei in the neck while she was lying on the floor.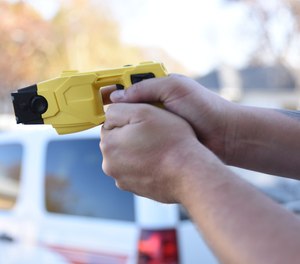 Deputy Short fired his TASER but it was not effective in incapacitating Zubrod. [1] Zubrod grabbed a pair of pliers from a dresser and attacked the deputy. The fight moved from the bedroom into the hallway and into another bedroom. Deputy Short was eventually able to partially control Zubrod and place one handcuff upon his wrist. Zubrod continued to resist and Short could not secure the second handcuff to his other wrist. This only caused the situation to worsen because when handcuffs are fastened to only one wrist of a resisting suspect they can be used as a weapon by the offender.
Deputy Short was able to hold Zubrod's wrists together for about eight minutes until Deputy Hoch arrived to assist. Zubrod continued to resist, broke free and got to his feet. Deputy Hoch deployed his TASER but it was again ineffective. The battle to control Zubrod continued as a third deputy arrived to assist.
Deputy Hoch ordered the third officer, Deputy Smith, to use his TASER on Zubrod. Both Deputy Hoch and Short released their grip on Zubrod so Deputy Smith could deploy his TASER. The TASER malfunctioned and the fight continued. Deputy Hoch attempted to use his TASER again on Zubrod and though the barbs connected with Zubrod's thigh, neuromuscular incapacitation did not occur.
The three deputies continued to wrestle with Zubrod; Deputy Hoch deployed his TASER on Zubrod in the drive-stun mode 10 times in a period of just over three minutes. Zubrod was finally brought under control and properly handcuffed, but during the entire episode he was never neuromuscularly incapacitated.
After the protracted battle ended, the deputies observed Zubrod had stopped breathing. Paramedics were on the scene and commenced life-saving measures but to no avail. The medical examiner determined the cause of death to be "cardiac arrhythmia following altercation with police in the setting of acute methamphetamine intoxication." The medical examiner concluded that the role of the TASER use upon Zubrod was "unknown." Methamphetamine was discovered in Zubrod's blood. He was a methamphetamine user and had increased his use of the drug in the days leading up to his attack on Schukei.
Excessive force lawsuit
Zubrod's estate sued the involved deputies pursuant to 42 U.S.C. § 1983 and alleged that Deputy Hoch's use of his TASER involved excessive force and that Zubrod was subjected to TASER use after he was restrained by handcuffs. Moreover, Deputies Smith and Short were alleged to have violated Zubrod's Fourth Amendment rights by failing to intervene and stop Hoch from improperly using his TASER against Zubrod. The Federal District Court Judge dismissed the lawsuit, holding that the deputies were entitled to qualified immunity and that the use of the TASER under these circumstances was reasonable. Zubrod's estate filed an appeal.
Why the Eighth Circuit dismissed the lawsuit
The Eighth Circuit Court of Appeals affirmed the dismissal of the lawsuit for the following reasons:
The court ruled that Zubrod's estate failed to produce sufficient evidence that Zubrod was subjected to TASER use after he was completely handcuffed and subdued.
The court stated that Zubrod "had already severely injured his victim [Schukei] and demonstrated hostility and violence toward the deputies. The deputies faced an individual who was dangerous, acting abnormally, strong, threatening, and noncompliant, and each time they eased up to allow him to submit, he resumed his violent behavior."
The court viewed Deputy Hoch's body-worn camera video and stated, "We conclude that it shows a violent suspect who failed to comply with reasonable orders to turn around and resisted after multiple [ten] tasings."
The court stated that as Zubrod "fought first one, then two, then three deputies who were unable to obtain his compliance without the use of TASERs. Under the aforementioned 'tense, uncertain, and rapidly evolving' circumstances, this does not present a constitutional violation." [2] 
The court concluded that "We hold that the district court properly [dismissed] … Zubrod's excessive force claims. In addition, because a failure-to-intervene claim may not prevail in the absence of a showing of excessive force, we also hold that the district court properly [dismissed that claim as well]."
Lessons for LE
In this matter, the Eighth Circuit Federal Court of Appeals issued a well-reasoned and logical opinion that validated the extraordinarily difficult efforts by law enforcement officers to bring a violent and extremely dangerous suspect under control.
The case highlights the high degree of danger in every domestic violence call and the extreme difficulty facing officers, even with superior numbers, in subduing violently resisting suspects, especially when they are under the influence of methamphetamine. The decision also validates the continued use of a TASER in the "drive-stun mode" upon a continually violently resisting suspect.
---
References
1. Neuromuscular incapacitation of a person will only occur when both barbs from a TASER contact the target's body. A TASER can also be used in the so-called "drive-stun mode" by placing the barrel of the device directly against the target's body. The drive stun use of the TASER is designed as a pain compliance technique and ordinarily does not result in neuromuscular incapacitation. However, if the TASER was fired at the suspect and both barbs attached properly, it is possible for a TASER to cause neuromuscular incapacitation in the drive-stun mode. See footnote 2 of the Zubrod decision.
2. Quoting Graham v. Connor, 490 U.S. 386, 397 (1989).

Request product info from top Police TASER companies
Thank You!