TASER tactics and training injuries
---
by Police1.com Columnist Greg Meyer
Sponsored by TASER
This month I'll cover several TASER topics based on some recent research and experiences in court and administrative hearings.

There are three TASER tactics issues: 3-point contact, distance to achieve adequate dart-spread and avoiding setting folks on fire.

3-point contact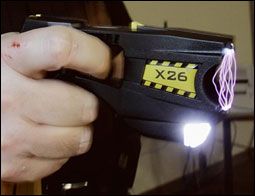 When you're in tight with your suspect, the pushes and shoves start, and you don't break contact, consider using the "3-point contact." Leave the cartridge in your TASER and fire it at contact range just like a drive-stun. Then, with one or both darts deployed on the person, move the TASER device away from the darts and drive-stun the person on another part of the body. A few inches would work, but a couple of feet between the darts and the drive-stun would be more effective.

If you tilt the business end of the TASER so that just one of the electrodes is against the body, you'll achieve a better circuit and full neuromuscular incapacitation just as you would with a wide dart spread! If you have not yet been trained on this tactic, check with your TASER instructor. This tactic is being taught by master instructors, and it is very effective.

Distance to achieve adequate dart-spread

It is vitally important that you understand and rehearse in dynamic training scenarios the need to have considerable distance between yourself and the suspect when you use the TASER in dart-mode. Case after case of what officers report as a TASER "failure" are in reality either a "miss" with one or both darts, or the officer's failure to deploy the TASER at sufficient distance to achieve a dart spread that will incapacitate the suspect.

An officer was recently criminally prosecuted for severely beating a suspect after breaking contact and deploying TASER darts too close to the suspect to do any good (It's too bad he didn't know about using the 3-point contact when you're in close, there would be no significant injury, no internal affairs, no lawsuit, no criminal prosecution). If you're going to break contact and use the TASER in the dart-mode, think "three or four giant steps backward" before you aim and deploy the darts. Sufficient dart spread will almost always give you a great takedown.

The possibility of fire

I would have thought by now that we would all know that you DO NOT fire a TASER device at a person who has poured gasoline on himself! This really ought to be a total no-brainer. There have been a number of such incidents around the country over the years, and they are totally avoidable with a little common sense.

Please note that I am not addressing the recent incident in Texas because I don't know enough detail yet. But I'm currently working on gasoline-related TASER case in Riverside, Calif. Fortunately in that case, the gasoline did not ignite. But, don't risk it!

Training injuries

Occasionally there is litigation over claims of TASER-related training injuries. Along with a prominent orthopedic surgeon in Los Angeles, I am involved in a study of training injuries to recruit officers during their training at the Los Angeles Police Academy. We are in the preliminary stages, and hope to have an article published by the end of this year. Our goals are to document the type and frequency of the injuries and what type of training they came from — and to suggest possible injury-reduction protocols that will prevent some injuries while preserving the need for aggressive training.

Here's some preliminary data: We're looking at physical training, self-defense, obstacle course, Mobile Field Force, arrest and control, driver training, gas house, pepper spray, and TASER. In 2005, more than 400 new recruits began training.

There were 93 training injuries recorded in 2005, including the following injury types: back sprain, lumbar strain, hamstring strain, dislocated shoulder, knee strain and sprain, ankle sprain, thigh strain, pectoral strain, shin strain, hip sprain, foot fracture, shoulder strain, wrist contusion, head laceration, eye corneal tear, wrist sprain, chest pain, chin laceration, pulled calf muscle, rapid heartbeat, torn quadriceps, toe contusion, ear laceration, and hand fracture.

None of those injuries were TASER-related.

Law enforcement training is physically rigorous and demanding. It is an essential objective of law enforcement training to prepare officers as realistically as is reasonably possible for the threats and circumstances they will face on the street.

It is essential to train law enforcement officers how and when to use various items of equipment, including nonlethal weapons, and to understand their utilities and effects. Such training is essential so that the officers will know as much as can be reasonably known about the weapons, their operation, their possible effects, and what are the risks and consequences if the officer is disarmed and/or overpowered by a suspect.


Because of these legitimate needs of law enforcement, and because realistic training must be dynamic and physically challenging, it is inevitable that injuries will occasionally occur. Thus, it is very important for trainers to follow the proper TASER training protocol to minimize the risk of training injuries.
Finally, I'd like to suggest some "must see" seminars.
The sudden in-custody death problem has been with us for a long time, and these incidents will continue to occur regardless of what police tool or tactic is used. The Institute for Prevention of In-Custody Death is presenting its second annual three-day seminar this November in Las Vegas. You can get details and enrollment forms at
www.ipicd.com
.
Another important seminar is entitled, "Legal, Psychological, and Bio-Mechanical Aspects of Officer Involved Lethal and Less-Lethal Force," presented by Americans for Effective Law Enforcement. The popularity of this seminar has resulted in it being presented twice a year instead of once. The seminar will be presented in November in Las Vegas, and in March in San Francisco. Details can be found at
www.aele.org
Until next time ... stay very safe!