Susteen releases their new Social Media Cloud Analyzer free for all law enforcement agencies
---
IRVINE, Calif. — Susteen is celebrating 25 years of service. As a thank you to law enforcement agencies and the communities they serve, we are releasing a version of our new Cloud Analyzer free to all law enforcement agencies. Acquire data from Facebook, Twitter, Dropbox, iCloud and more! Live Training webinars are included and software is available for download today.
Susteen is a leading mobile forensic software company located in the United States. Their cutting edge products include the Burner Breaker, the only tool in the world capable of breaking into thousands of locked phones and tablet computers. Secure View is the go-to tool for the mobile forensic investigator and acquires, analyzes and reports on data from thousands of cell phones. Grants are available for some agencies so inquire today.

Law Enforcement agencies are having trouble keeping up with increasing amounts of cases involving cell phone and cloud data. As part of Susteen's 25th year anniversary, we are allowing agencies to download a FREE copy of our Cloud Analyzer. Additional options are available to acquire pincodes/passcodes on phones and pull browser data off of computers. We are committed to our communities and those that help keep them safe. Grant options are available.  The Advanced Cloud Explorer allows detectives to build evidence reports based on information downloaded from cloud sources.  Analyzation tools include GPS mapping, Timeline monitoring and Gallery.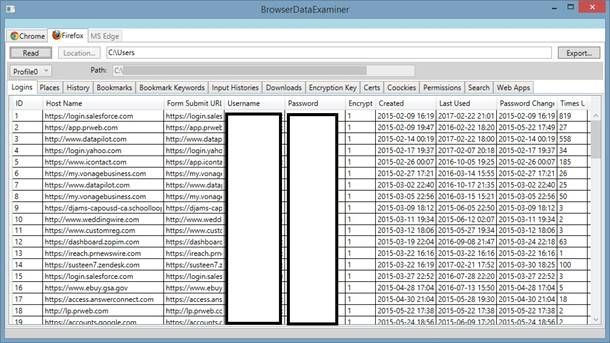 Acquire username, passwords and web history. (Photo/Susteen)
Our download of the Cloud Analyzer is available today for law enforcement agencies only.
About Susteen
Founded in April, 1991 by Hiro Maruyama, in Southern California, Susteen, Inc. is an international design solution provider, specializing in the area of data communications and mobile computing. Susteen strives to enhance data communications through multi-level applications, and to develop products that provide convenience to the client through technological innovations.

Request more info from Susteen
Thank You!