A year in the life of the Albany County Sheriff's drone unit
From assisting SAR operations to deploying UAS during civil unrest, 2020 kept this eight-pilot team busy
---
The following overview was compiled by Chad Hotaling on behalf of the Albany County (New York) Sheriff's Officer team. The drone unit was the "brainchild" of Sheriff Craig D. Apple, Sr., who saw the potential benefits early on and was a motivator of the program. Given the green light, Chief Deputy Leon Bormann conducted countless hours of research to build this program from the ground up. To this day, Chief Deputy Bormann continues to take this program to the next level. 
The Albany County Sheriff's Drone Unit currently consists of eight Federal Aviation Administration (FAA) Part 107 certified pilots. These pilots are comprised of sworn deputies, firefighters and civilian volunteers.
Part 107 pilots are required to retest every two years to maintain the FAA pilot certification. This process consists of an extensive written examination held only at designated FAA testing sites. Two of our pilots completed this process in 2020.
Additionally, monthly training is held to maintain pilot proficiency and to check equipment operability. Over the past year, our pilots have logged 472 flights, 55 hours of flight and have flown over 16,000 miles for both training and missions. In addition, our team spent countless hours researching and keeping up to date on the latest advances in the UAS industry.   
Grants fund new drones 
Through an extensive grant process in 2020, two new drones were added to the Sheriff's Office cache of UAS: A DJI 210 quadcopter equipped with both thermal and zoom cameras and a Mavic Enterprise Dual equipped with a thermal camera. These two new drones will enhance the capabilities of the drone unit, as well as replace outdated equipment. Having thermal capabilities from an aerial perspective enables pilots to quickly locate persons who may be missing, injured or at risk in low light situations.
Police1 resource: The drone of your dreams is flying your way
Drones deployed during civil unrest
2020 proved to be a year in which UAS enhanced safety for both law enforcement and the public.
Our team deployed on several missions during civil unrest. Working closely with law enforcement agencies within the county (Albany, Watervliet, Cohoes, Green Island), as well as adjacent counties (Troy, Rensselaer), our team was able to provide valuable real-time information that enhanced critical decision making.
With eight pilots, our unit was able to deploy from multiple locations simultaneously. This gave an aerial perspective of crowd size, movement, and potential threats, enabling law enforcement to provide adequate safety measures for both protesters, counter-protesters and law enforcement officers.
Police1 resource: Drone deployment during protest response
Search and rescue deployments
The drone unit was able to work closely with the Sheriff's Office Search and Rescue Team this year. Our pilots typically carry their equipment while working their daily job assignments. This enables our pilots the advantage of arriving on a scene quickly to provide valuable information. This information can include victim or patient location, safety concerns, and equipment deployment location.  
John Boyd Thacher State Park lies within Albany County and draws visitors from across New York, as well as adjoining states. With miles of hiking and biking trails and a newly opened climbing area, the likelihood of an accident has increased.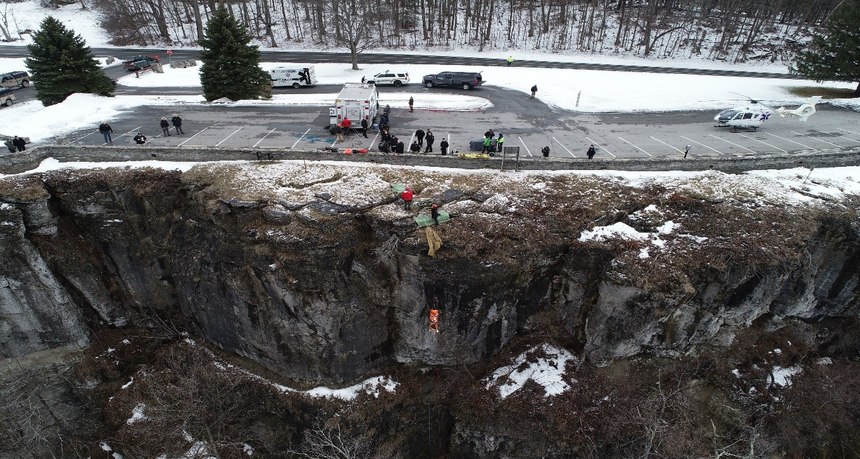 Pilots assisted our search and rescue team on several callouts at the escarpment area of the park. One of these incidents included an individual who experienced mental health issues and jumped from the "overlook parking area." The victim was located alive with the assistance of our pilots and search and rescue team members. Working in conjunction with the rope rescue rigging team, images transmitted from the drones reassured rescuers that the operation was running safely and effectively.
Police1 resource: Police drones in action
Testing live streaming technology
Since the inception of our drone unit, live streaming capabilities continue to evolve in the UAS industry. We continue to seek out equipment and software solutions that will best suit the needs of the county residents.
Throughout 2020, we have had the ability to test some of these products on a trial basis. These have included Responder Air and callyo's 10-21 Flight.
Live streaming of an incident or event enables pilots to broadcast live footage in real-time to selected viewers. This was most recently done on a large-scale hazardous materials incident at SABIC Industries in Selkirk, New York on September 1, 2020.

A railcar containing styrene gas began to leak creating the potential for a massive explosion. Drones were rapidly deployed at the scene broadcasting valuable information back to the command post.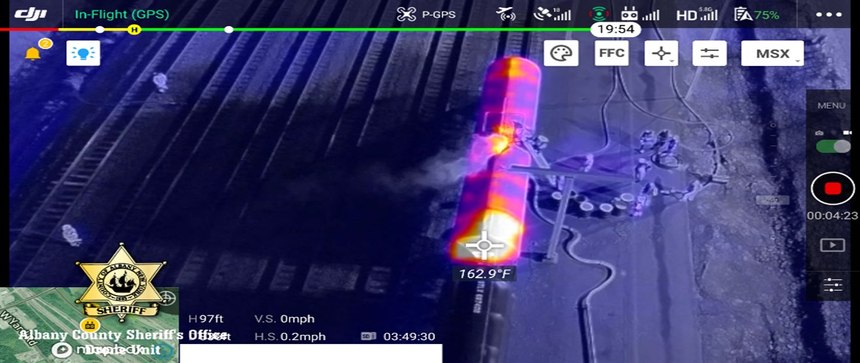 This incident lasted over a three-day period with a total of 67 flights and 18 hours of airtime. Hazardous materials placard information, leak detection and thermal data was provided back to command staff allowing first responders to formulate a plan. Flights continued during the mediation process ensuring the railcar temperature and exposures were within safe limits.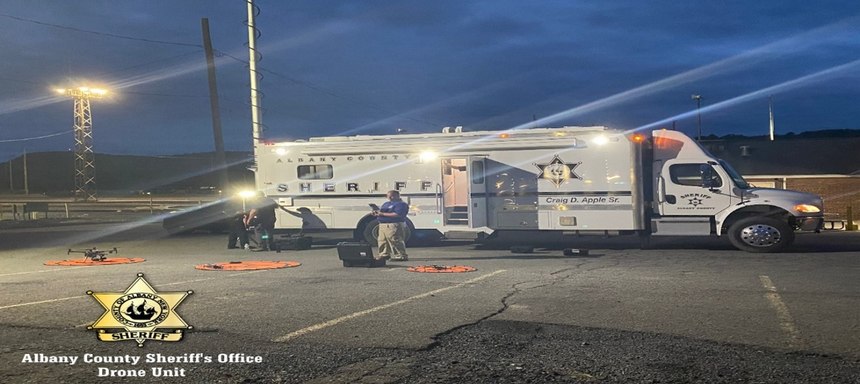 Through this collaborative effort between local, state, and federal agencies the incident scene was determined safe and terminated without injury.
Police1 resource: Integrating laser scanning and UAV data gives investigators a new 3D view
Fire investigations
On another occasion, we were contacted by the New York State Office of Fire Prevention and Control to assist fire investigators with a multiple unit structure fire investigation.
The fire occurred at the Oakbrook Manor Apartment Complex in Ravena, New York destroying an entire apartment building. Drones were able to capture images of the damage and take measurements, as well as assist in determining the area of origin. This allowed fire investigators to safely perform their duties without the added risk of entering and remaining in an unsafe structure. Upon completion of the mission, all evidentiary material was immediately turned over to fire investigators.
radar detection and accident-avoidance software
Our team members were invited to assist NuAir (Northeast UAS Airspace Integration Research) this past year with a flight safety study at Griffiss International Airport in Rome, New York. Pilots from across New York State gathered for multiple flights of their UAS to test radar detection and accident-avoidance software like that used in commercial and passenger aircraft. This breakthrough technology would allow multiple UAS to fly within proximity of one another and avoid any potential hazards.
---

2021 guide to drones in law enforcement (eBook)
It is hard to think of any technology that has seen such rapid and widespread integration into law enforcement operations as drones. The number of agencies using UAS has skyrocketed, as has the number of use cases for police drones. It is the diversity and affordability of this new technology that makes it so invaluable for police departments.
---
Waivers submitted
The Albany County Sheriff's Office also submitted two waiver requests to the FAA this year. One was for BVLOS (Beyond Visual Line of Sight), and the other was for TBVLOS (Tactical Beyond Visual Line of Sight). The waivers would allow pilots to fly UAS out of their direct line of sight in extreme circumstances in which life and/or property is in danger. The waivers enable pilots to remain in full compliance with strict FAA regulations in the rare instance such need arises. Without the permission granted by these waivers, pilots would not be able to fly under these conditions.
Tethered drones
As the year was winding down, we had the pleasure of meeting with the drone company Easy Aerial. They came out to our patrol station in Clarksville, New York and gave us a demonstration of their equipment. One of the highlights was their tethered drone (a drone in flight connected by a wire). Typically, a drone battery lasts between 20 to 30 minutes of flight requiring multiple takeoffs and landings during a mission. With a tethered drone, the drone can stay in flight indefinitely providing uninterrupted camera footage. While this technology is new and expensive, there is hope that it will be made as an affordable option.
---

Download this Police1 drones/unmanned aircraft systems buying guide
This Police1 guide provides information on what law enforcement agencies need to consider when determining how to integrate this technology into their equipment cache.
---

Request product info from top Police Drones/UAS companies
Thank You!