Police1 law enforcement innovation series: How to meet rising standards in public safety delivery
This on-demand webinar series highlights four technologies agencies can quickly deploy to help raise the bar in hiring, training, corrections and policy management practices
---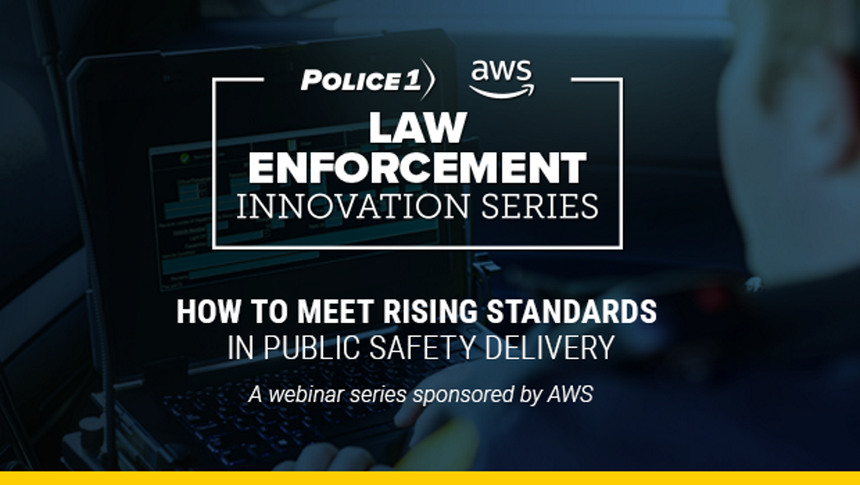 A Police1 Event, sponsored by Amazon Web Services
With today's rising standards in law enforcement, evaluating and improving service delivery policies and procedures are essential. Public safety agencies are turning to innovative technologies to increase transparency and confidence in law enforcement. This on-demand webinar series highlights four cloud-based technologies that agencies can quickly deploy to help raise the bar in hiring, training, corrections and policy management practices.
Pre-employment background Investigation technology
Guardian Alliance Technologies is dedicated to protecting the integrity of the law enforcement profession through innovative solutions, technology and strategic partnerships aimed at improving the process of recruiting, vetting and hiring law enforcement professionals.

Guardian's CJIS-compliant, cloud-based application allows for the electronic gathering, management, automation and evaluation of pre-employment law enforcement background investigations, including AI screening of social media and online activity, and most importantly, provides the nation's first comprehensive applicant database, known as the National Applicant Information Center (NAIC).
REGISTER TO WATCH THIS ON-DEMAND WEBINAR FEATURING GUARDIAN ALLIANCE TECHNOLOGIES
Evidence-based, early warning and intervention solutions for public safety
For the first time in the history of policing, through longitudinal data studies and the database automation of police systems, there are systemic, highly accurate means to identify problematic conduct. In this informative Q&A session, Chuck Ramsey, co-chair of the Task Force for 21st Century Policing, and Ron Huberman, CEO of Benchmark Analytics, discuss how the current era of police reform has the potential to be different if police departments take advantage new technology to systemize and engage officers who are engaged in problematic behavior.
REGISTER TO WATCH THIS ON-DEMAND WEBINAR FEATURING BENCHMARK ANALYTICS
Educational access for everyone inside prisons
Before COVID-19 removed all in-person instruction, about 1 in 5 people who are incarcerated got access to education, but that is now rapidly changing ... for the better. Edovo, a mission-driven enterprise, is making digital education and self-improvement tools a daily reality. Over the past years it helped fuel the growth of wireless connectivity and personal handheld devices in prison nationwide, and in a few short years ahead, everyone who is incarcerated will be able to have free daily access. By carefully navigating the corrections landscape, Edovo is uniquely positioned to deploy a platform that will not only enable education on all devices, but virtually and securely connect mentors, teachers and volunteers directly into the self-improvement journey. For the first time, educators and service providers will not be fighting to get inside, but figuring out how to scale.
REGISTER FOR THIS WEBINAR FEATURING EDOVO
Meeting public safety challenges with policy and training solutions
With increased public scrutiny of law enforcement actions, it's more important than ever that agencies effectively define and train personnel on appropriate and lawful behavior. This impetus extends beyond use of force to all areas of law enforcement operations, from report writing to receiving personnel complaints to working with subjects who have disabilities or don't speak English. This session will explore the role of comprehensive policies and training in setting behavioral expectations and meeting rising standards. Bill McAuliffe, Director of Professional Services for Lexipol, will address how technology can assist agencies in developing and maintaining policies, improving personnel accountability and compliance, and enhancing transparency with the community.