How changes in technology are evolving the role of the emergency dispatcher
New apps and software are helping make next-generation 911 a reality
---
Sponsored by Tyler Technologies
By Laura Neitzel for Police1 BrandFocus
When Rich McQuade started his career as a 911 dispatcher, the process was pretty straightforward.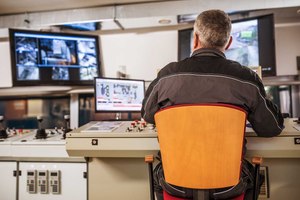 "You would grab the critical call information, the location, the caller's name, call back number, basic details of what's going on, and then broadcast it for the units to respond," said McQuade, who has parlayed 27 years of experience as a 911 dispatcher and consolidated public safety answering point (PSAP) operations manager into a career at Tyler Technologies, where he works with their computer-aided dispatch (CAD) software solutions.
Today's dispatch is no longer just answering 911 calls – evolving technologies are making the job of a 911 dispatcher both more efficient and more challenging.
The ability to access information from various databases and then share that with other responders has become a game changer that adds value for first responders.  
"Every agency is able to look at every agency's information," said McQuade. "Everything becomes more efficient."
Responders don't always have the luxury of looking at their computer, said McQuade, but knowing the dispatcher is seeing the exact information at their workstation that the responding officer would see on his or her computer builds trust that the information the dispatcher is giving them is correct. It also puts the dispatcher in a closer and more active role that McQuade describes as "part detective and part air-traffic controller." Moment by moment they may be directing multiple incident responses, while simultaneously surfacing background information of relevance to responders.
As CAD tools continue to evolve, so will the role and duties for those responsible for mission-critical communications during an emergency response.
What's driving change
Like of the rest of law enforcement, 911 services have undergone profound changes driven by the internet, cloud-based software and mobile technology. Most calls to 911 are made from a cellphone, but many 911 systems in use today were never designed to receive calls and data.  Consequently, they are missing out on potential capabilities that can accelerate an emergency response and help save lives.
"Driven by the belief that it is vital Americans receive a consistent level of 9-1-1 service no matter where they live or where they travel,"  NENA: The 9-1-1 Association is leading the charge to develop a next-generation 911 (NG911) system that takes advantage of capabilities such as text and video messaging.
"The emphasis is to allow the public to better inform the responders about what's going on, whether it's enhanced location information or providing multimedia pictures and video," said McQuade.
Although NG911 is in various stages of deployment, technology providers like Tyler Technologies are developing software and apps that are compliant with NG911 standards and can support text messages for emergencies. Dispatchers are also gaining access to additional data from the agencies' records management systems and access to shared databases across jurisdictions, and across different types of emergency response and government agencies.
This will become useful not just for in-the-moment dispatching and decision making, but also for tracking and reporting response times, incident information, and other data.
Some of the technologies that are making NG911 become a reality are in use now and already showing their influence over the changing the role of the 911 dispatcher.
1. Computer-aided dispatch and GIS Maps
Most citizens have a smartphone with a map application, so naturally they assume that if they make a call to 911, the dispatcher automatically knows their location. Imagine then the frustration of a panicked citizen who calls 911 from their mobile device only to see the police car or ambulance pull over 300 yards away. A delayed response due to location inaccuracy can literally be a matter of life and death.
Fortunately, that situation is becoming less common thanks to CAD systems integrated with geographic information systems (GIS) technology.
"With the past five years, everything has become map centric," said McQuade.
Map-based technology like automatic vehicle location (AVL) functionality in CAD, enhanced plotting of callers and GIS displays of incident details help dispatchers locate callers, identify the closest and most appropriate resources, direct first responders to the quickest route and track the real-time locations of responding units.
The ability to overlay not just location information, but also data gathered from multiple sources also gives dispatchers and first responders an unprecedented degree of situational awareness. Dispatchers and responders can view the same GIS maps that show everything from incident response locations and road closures to building floorplans.
2. Text-to-911
Text-to-911 is the ability to send a text message to reach 911 emergency call takers from a mobile phone or device.
While text-to-911 is not yet widely implemented, access to this functionality will be a clear benefit to the over 55 million Americans who are hearing impaired or have speech disabilities, as well as anyone who finds themselves in a critical situation where it's not possible or safe to call – like a domestic violence, active shooter or hostage situation.  
Some text-to-911 applications are also allowing users to attach multimedia to their text messages, which introduces additional benefits and challenges.
3. Video
Citizens are using video to do everything from documenting a minor accident on their smartphone or capturing a package theft on their security camera to livestreaming a tirade from an irate customer. The next step in the evolution of the PSAP is to allow the citizen to send this media as part of a 911 call for help.
Video is a valuable asset to law enforcement because of its ability to refine the ambiguous. The ability to view bystander footage of a robbery suspect fleeing the scene in a car can potentially eliminate questions about the make or model of car, description of the suspect, or exact location of the robbery. A witness could even share live video of an assault taking place, see the injuries that someone has sustained, or alert public safety officials to weather, fire and road conditions during a natural disaster.
The human cost and benefits
NG911 technologies like video bring obvious benefits to the public and to first responders, but they are a double-edged sword for dispatchers, McQuade warns.
"911 operators hear the person crying on the phone, or hear a fight going on. But they've never had to see the faces of the people involved or the injuries involved."
Technology is changing that. The ability to intercept videos and texts from citizens will continue to bring efficiencies that make the role of a dispatcher more stressful than ever, just as it makes it more essential than ever. Smart leaders will need to plan for the inevitable challenges that lie ahead and provide an enhanced level of support to dispatchers as technology breaks down the barriers between dispatcher, responder and citizen.
"You ask any professional dispatcher. The officer says, 'I want to go home at the end of the night.' And the dispatcher says, 'It's my job to make sure you go home at the end of the night,'" said McQuade.
Next-generation 911 technologies like computer-aided dispatch, GIS mapping, text and video are promising to make this more likely.

Request information from Tyler Technologies
Thank You!