How one consolidated dispatch center manages a mountain of calls
Tyler Technologies' New World CAD system increases service and efficiency for one West Virginia agency
---
Sponsored by Tyler Technologies
By Laura Neitzel for Police1 BrandFocus
As a consolidated center,  Metro 911 of Kanahwa County in West Virginia dispatches for 32 fire departments, 22 law enforcement agencies and two EMS agencies countywide. Like most dispatch centers, Metro 911 operates on a slim budget, but is tasked to provide an increasing level of service to its member agencies and assign additional duties to dispatchers.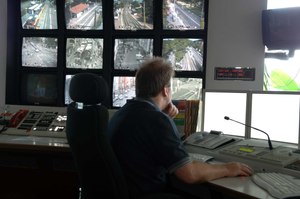 Metro 911 serves a county that has ranked second-highest in the state for the number of opioid-related overdoses – in a state that ranks among the highest in the nation. When the opioid epidemic started hitting the area hard, Metro 911 officials knew they needed to find a better solution for managing the heavy volume of calls and keeping officers safe.
Searching for a new solution
"Metro 911 sought a system that would better connect dispatchers directly to the field units and allow for bidirectional communication so that data points and information would be available to everyone responding to a scene," said Russell Emrick, deputy director of technology.
Along with Josh Knox, CAD/addressing coordinator, Emrick led the search for an integrated solution that would leverage technology to create efficiencies so the agency could do more without placing an additional burden on dispatchers.
One important feature would be the system's ability to leverage a particular set of data.
"The state of West Virginia had painstakingly collected geographical information systems (GIS) data as part of a statewide addressing initiative," said Knox. "The data is tremendously helpful to citizens and responders, but the system we had could not handle that in a meaningful way."
In addition to leveraging the state's GIS data, Metro 911 wanted to invest in a solution that would continue to serve them well into the future.
"We wanted a system that was more future-directed in its potential ability to incorporate next-generation 911 (NG911) features," said Knox.
NG911 initiatives include features now in early stages of widespread implementation, like Text-to-911, which allows a mobile user to send text and multimedia to 911, and enhanced 911 (E-911), which automatically provides the caller's location, even if they are calling from a cellular phone.
Emrick and Knox embarked on an exhaustive two-year RFP process, scrutinizing multiple vendors. With the support of county officials who place high importance on public safety, they selected the vendor that provided the greatest value and best fit for the agency and that would continue to enhance the system – at no charge – as new features rolled out.
Finding the right fit
Metro 911 selected Tyler Technologies' New World Enterprise CAD (New World CAD) as its emergency management system. New World CAD helps multi-agency dispatch centers like Metro 911 decrease response times and keep first responders safe by giving field units access to the same information as the command center. It leverages advanced features like:
GIS integration and real time mapping
New World CAD provides geo-verified address capabilities and turn-by-turn mapping to a call's location – vitally important in a state where the majority of areas are rural. These unique NG911-compliant features use GIS integration to provide important details that lead to more efficient routing.
To calculate the quickest route, the system factors in map data like one-way streets and bridge clearances , as well as real-time information about road hazards, weather conditions, construction zones, stalled traffic or other conditions that could potentially delay a response.
Proximity dispatching and AVL capabilities
Automatic vehicle location (AVL) capabilities provide dispatchers with the information they need to find and dispatch the closest appropriate vehicle, track its location and keep callers and first responders apprised of arrival times. When a unit calls for backup, dispatchers can respond instantly with the nearest units.
New World CAD also leverages shared data from NCIC and state crime databases and integrates with other New World software like Law Enforcement Records, Mobile Computing and Corrections, so dispatchers and responders can instantly access important details to increase situational awareness and officer safety. Dispatchers and responders can access criminal records, warrants, stolen vehicle alerts, building information, fire hydrant and gas line locations and other mission-critical intelligence, as well as receive alerts about potentially dangerous situations.
Streamlined operations and simplified reporting
To minimize distractions and delays, New World CAD is configurable for role-based dispatching. This allows agencies to customize views so dispatchers and call takers see all the critical information they need in one screen without wasting precious time sorting through nonessential information. At the moment a 911 report is created, the information is shared with field units.
Name and address data from dispatch prepopulates in the field report, increasing accuracy and reducing the amount of time a responder has to spend creating a report. Simplified reporting also gives agencies greater insight into operational efficiency and intelligence for response planning and enhanced decision-making.
Yielding improvements quickly
The value of New World CAD's AVL feature was demonstrated shortly after Metro 911 implemented the solution.
Cpl. Stephanie Adams, a Kanawha County sheriff's deputy, trained 200 fellow officers in New World CAD in September 2017, not realizing that a month later it would become a crucial link to dispatch – one that may well have saved her life.
During an early-morning patrol, Adams approached a suspicious vehicle in a high-crime area. Quickly, the situation turned into a foot pursuit. Although she radioed the situation as she was chasing the suspect, the dispatcher could understand a few words, but no details of Adams' location. Using the AVL feature, the dispatcher quickly pinpointed Adams' location and sent for backup, who arrived within two minutes. Adams told the Charleston Gazette-Mail that "hearing those sirens was like angels singing."
Keeping citizens and officers safe
In addition to successfully dispatching Cpl. Adams' call for backup, integrated GIS mapping also showed early value by playing a big role in getting fire rescue to a citizen whose vehicle was trapped in rising water.
The GIS component that allows the AVL and street network routing to get the closest available unit dispatched is a game-changer, says Knox.
"Not only it is important in medical calls to get the closest medic dispatched, but it also helps dispatchers keep an eye on EMS, firefighters and police officers' safety," he said.
Citizens also benefit from New World CAD "because Metro 911 is providing superior service, using their tax dollars wisely and efficiently and allowing police, fire and EMS to do their jobs better," Knox said.  "Dispatchers and field units have really taken to the new system and are using it in useful ways we never even contemplated."

Request information from Tyler Technologies
Thank You!