Hire smarter: How new tools and techniques can help your agency build a force for the future
Download this free eBook to learn how to vet and hire qualified candidates - before the competition does
---
Sponsored by Miller Mendel
Attracting and hiring police candidates who possess the aptitude, attitude and fortitude to serve the profession with integrity has never been easy. But the tumultuous events of 2020 have made it even harder to vet and hire new and experienced officers, while striving to attract more diverse candidates.
Traditional methods of recruiting and hiring are no longer sufficient to fill vacancies. Law enforcement administrators must be willing to take new, more effective and efficient approaches in order to build a force that fulfills the needs of today and the future.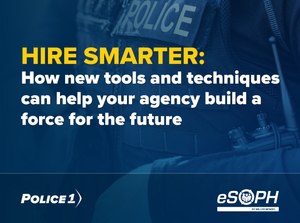 Fill out the form below to download the free eBook. You'll learn:
Why taking a deep dive into a police applicant's personal history is a must (especially now).
How to grow your force without lowering your standards.
How to close the hiring gap and diversify your force.
Resources.
Fill out the form below for your FREE eBook:
Download the eBook "Hire Smarter"