Decatur Electronics and D&K Engineering Join Forces as New Powerhouse in Law Enforcement Community
---
Two Companies - Same Mission
There's an old saying that goes, "the sum of the parts is greater than the individual pieces". That's exactly what's happened at Decatur Electronics. For over 65 years, Decatur Electronics has been serving law enforcement by providing the tools needed to strengthen their traffic enforcement efforts. Since 1955, Decatur Electronics has pioneered new and powerful speed enforcement products used by law enforcement agencies all over North America. Traffic radar systems and radar-activated signs have contributed to public safety like nothing before ever has and Decatur Electronics keeps moving forward with leading-edge technology.
The relationship between Decatur Electronics and D&K Engineering has been long and fruitful. As the contract manufacturer of Decatur Electronics' radar gun circuitry and electronics, D&K Engineering knows Decatur's radar unit. It was a logical move to merge the two companies to continue designing, engineering, and building some of law enforcement's most valuable tools and technologies. By joining forces to create dynamic and robust equipment for law enforcement applications, the two organizations have combined the best of both worlds.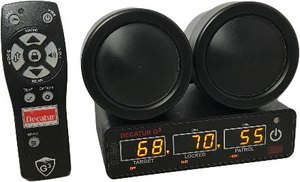 D&K Engineering of San Diego, California, merged with Decatur Electronics in 2018 and formed a very powerful alliance between two market drivers. The technological innovations D&K Engineering brings to the table combined with the marketing and sales capabilities of Decatur Electronics has produced a new powerhouse in the law enforcement community.
Innovation From the Beginning
Police radar was an amazing invention back in 1955. The ability to measure speed remotely using Doppler-style radar units became the standard in the industry. When Decatur Electronics first brought the radar gun to the market it was a hit across the country and around the world. The same thing is true for the products D&K Engineering has been producing for almost 20 years. D&K Engineering has conceived, designed, and engineered over 700 products with over 500 patents that validate the unique technology created.
Traffic radar technology and speed measurement products are only a part of the offerings available from the Decatur Electronics/D&K Engineering alliance. From military and defense equipment to medical devices and "Smart" machines, D&K Engineering has an impressive track record in product development and innovation of advanced technologies for many important clients. The Decatur Electronics/D&K Engineering alliance has important law enforcement tools, such as:
Police Radar - In-vehicle and handheld.
Step By Step Improvements to Tried-and-True Technology
The approach D&K Engineering has taken with the Decatur Electronics Police Radar has been an on-going development process aimed at improving the radar unit's reliability, enhanced manufacturing processes, and overall cost. For example, the Decatur Electronics/D&K Engineering G3™ Radar, the latest generation of the Genesis II radar family. Listed on the CPL of the National Highway Safety Administration, the G3™ Radar is the latest development in modern traffic surveillance with many advanced features. The G3™ Radar is a Ka-Band directional dual antenna with an easy-to-use infrared (IR) remote control. The G3™ Radar provides instant target acquisition and speed lock as well as more precise tracking and speed measurement.

The Future Looks Bright - Better Get Some Shades!
When two companies with the right synergy get together to produce industry-leading technology the world takes notice. Police departments, sports teams, and every other user of speed measurement technology knows when a firm noted for innovative research and development methodologies good things are going to happen. New technology created by inventive minds and supported by a development process that has introduced hundreds of unique devices is going to produce world-changing results.
Product development of traffic enforcement equipment has taken a substantial leap forward. Law enforcement agencies are looking forward to the next generation of Police Radar. D&K Engineering will be right there with the highest-quality, most reliable, and most cost-effective Decatur Electronics' tools available anywhere.
Make Contact
Customers who would like to learn more can go online to Decatur Electronics' website or can call +1 800-428-4315 Monday - Friday from 7 am until 7 pm PST. You can also send an inquiry using the contact page on our website. Our customers are always welcome to meet with us at national and regional law enforcement conferences like IACP, Police Fleet Expo 2020, Midwest Security 2020, and Washington Traffic Safety trade shows.

Request more info from Decatur Electronics
Thank You!