How your agency can use tech to improve response times and increase officer safety
Tyler Technologies' New World public safety software puts actionable data at hand
---
Sponsored by Tyler Technologies  
By Laura Neitzel, Police1 BrandFocus Staff
When an emergency call comes in, dispatchers, police officers and command staff do not have a second to spare. Misidentified addresses, unknown hazards at the scene or volumes of unnecessary detail can bog down response times and put first responders and citizens in danger.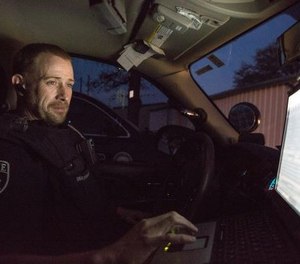 Tyler Technologies' New World public safety, an integrated suite of software solutions, is designed to give dispatchers and first responders access to accurate intelligence that helps them make more informed decisions that lead to timely and appropriate responses. Because all New World public safety applications are integrated across the product suite, information flows seamlessly through the entire ecosystem, reducing redundancy, increasing accuracy and empowering public safety personnel with relevant information.
"New World public safety applications were developed to help agencies automate workflow so that they could be doing the things they really want to be doing – protecting and serving citizens," said Bryan Proctor, senior VP of Tyler's Public Safety Division.
New World public safety was developed in the early 1980s to use the power of computing to ease the burden of manual processes that took officers' time and attention away from more critical tasks. Fast forward to today: New World has continued to evolve and adapt to technological advances like cloud storage and mobility to give officers access to data in the field and to create a seamless workflow across devices and jurisdictions. From accelerating call response times to simplifying reporting via a customizable dashboard, the New World product ecosystem is increasing efficiency and effectiveness for law enforcement and public safety agencies large and small.
How New World increases officer safety
Being forewarned is being forearmed. Having access to relevant information while en route to a call helps command centers dispatch appropriate resources and helps law enforcement officers gain situational awareness before arriving on scene. Robust mobile messaging from the New World Computer Aided Dispatch (CAD) system provides a steady flow of information, notifying responders of potential hazards and relevant intelligence such as a history of domestic violence, firearms or criminal activity at the location.
New World also interfaces with the National Crime Information Center (NCIC) database, as well as multiple shared data sources from state and local agencies.  This means relevant information like warrants are automatically surfaced in the field without the officer having to search for it. Armed with information from crime databases, officers can spot stolen vehicles and identify suspects based on physical descriptions like birthmarks and tattoos rather than on identification documents that can be falsified.
If an incident results in an arrest, New World's field-based reporting module auto-populates reports and captures information required for state and federal reporting, saving time and eliminating errors and redundancy. The New World public safety product suite also integrates with New World Corrections Management software, allowing an officer to pre-book a suspect, streamlining the process so officers can make a quick transfer and get back out on patrol.
How New World increases response time and location accuracy
In a crisis, citizens dialing 911 may not know where they are or may get the address wrong, potentially causing a delayed response that could lead to loss of life. In a rural area, a caller may not have cellphone reception or location information. To improve response times and location accuracy, New World CAD is enabled with text-to-911 messaging so a person can text an emergency message even when they can't get a cellphone signal.
The command center can also pinpoint a physical location based on some of the geographic information system (GIS) components in a caller's mobile device. Without location information from the caller or person texting, first responders can still come to the aid of a citizen in distress.
"When a call comes in immediately from the 911 system, the latitude and longitude is mapped to our application so that the dispatcher doesn't even really need to think about it and more importantly, the caller doesn't need to be accurate," Proctor explained.
New World CAD also enhances communication between units and dispatchers by enabling silent dispatching, so responders don't have to rely only on radio communications. It also comes equipped with geographic analysis to provide visual references to dispatchers and responding officers by tracking and monitoring unit locations on a virtual map using real-time GPS. Units can be dispatched dynamically according to proximity and resources needed, allowing coordinated, multi-jurisdictional responses among law enforcement, fire and EMS. This enables citizens to be served by the closest appropriate resource. 
How New World helps departments deploy resources appropriately
New World helps officers in the field as well as command staff and supervisors. It not only eases the administrative burden on agencies by pulling information from mobile field reports and dispatch, New World CAD gives command staff critical information they need to make urgent decisions. The dashboard shows real-time unit locations, so command staff can deploy resources as needed. New World CAD also collects historical data that can be extracted and analyzed. Police chiefs can use the data to surface crime trends and adapt staffing plans to increase patrols in crime hotspots and at peak times.
New World's reporting solutions also enable agencies to easily create customized reports to share crime and incident response data with local government, stakeholders and funding sources to evidence a need for resources or to track performance against established goals.
"With the dashboard, you can extract the data as charts, graphs or whatever display best makes the information digestible for citizens, county commissions and city councils," Proctor said. "This makes it much easier for the police chief to demonstrate why the department needs additional funds for equipment or personnel."
Protected investment
Tyler Technologies leverages the substantial domain expertise of the former dispatchers, law enforcement and firefighters on its staff and collaborates with its clients to continue to innovate and evolve the New World public safety products. It also provides ongoing training and support so law enforcement agencies can get real, practical value immediately from their investment. 
New World is all about providing access to the right information at the right time in order to increase the level of safety for law enforcement and other first responders while ensuring a timely and appropriately-resourced response to emergency situations.  
"We really take to heart our mission of working with our customers to make sure that their communities are safer," Proctor said. "It's not transactional for us – it's really something that all of our employees feel and really believe in."

Request information from Tyler Technologies
Thank You!