PRESS RELEASE
Introducing the New NoteM8™
---
use if there is a picture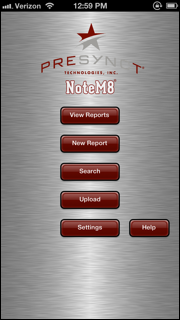 The incredible popularity and acceptance of the enterprise Presynct Report Network software gave birth to the NoteM8™ mobile application.
NoteM8™ is a native application that operates as a standalone app, but with the built-in capability to synchronize with an enterprise server.  With NoteM8™ Peer-to-Peer sharing, users write reports once, and share with one or many Peers at user's option.
NoteM8™ maintains a local install of data, images, and documents.  You can synchronize your local data with an enterprise installation of the Presynct Report Network.
Custom forms can be built into the NoteM8™ app.  Just like the Presynct Report Network solution, NoteM8™ users efficiently collect, organize, process, complete, share and move more data in less time and with minimal human effort – and no paper! 
There is no easier, more useful paperless workflow technology available anywhere!
You may download NoteM8 on the Apple Store, or call 866-773-7962 for more information.
About Presynct Technologies
Presynct Technologies provides automated incident reporting and document management platform for location-based and mobile workforce reporting. Officers and supervisors effortlessly write and approve reports on a computer, tablet, or smartphone! For the latest in paperless solutions, call 866-773-7962 today.

Request more info from Presynct Technologies, Inc.
Thank You!