How agencies are increasing vehicle recovery, suspect apprehensions and officer safety
From coast to coast, police agencies are using StarChase technology to reduce the risk and adrenaline when traffic stops go bad
---
Sponsored by Pursuit Response
By Laura Neitzel for Police1 BrandFocus
Traffic stops are one of the most common, yet most risky, tasks that a police officer undertakes. Traffic-related fatalities rank No. 2 for LEOs, and more than 7,000 are injured each year due to traffic related events. The list of causes often includes high-risk vehicle events, such as pursuits, which can quickly lead to death or injury. Unlike bullet resistant vests and body cameras, the industry has done very little to reduce vehicle-related risks. StarChase is a solution that empowers law enforcement with safe alternatives during these high-risk traffic situations.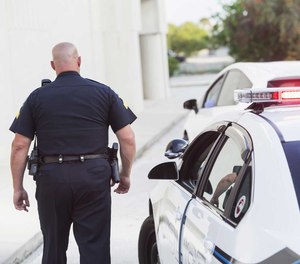 "There are always unknowns when you don't know the mindset of the occupants," said Sgt. Kurt Vigesaa of the Spokane Police Department in Washington.
A driver who is impaired, carrying illegal weapons or drugs, facing unpaid tickets or driving a stolen vehicle may make a foolish decision to evade police rather than face often lesser consequences. In fact, an astonishing 91 percent of police pursuits are precipitated by nonviolent offenses but result in thousands of deaths and injuries to police officers, innocent bystanders and suspects each year.
While a police officer can't predict when a traffic stop is going to turn bad, there are available technology measures, such as StarChase, that law enforcement agencies can take to reduce the risk and adrenalin inherent in traffic stops that do escalate.
Recovering stolen vehicles
Every 46 seconds, a vehicle is stolen in the United States. While costly and pervasive, vehicle theft by itself is considered a nonviolent property crime. The true reality is that stolen vehicles facilitate all types of crime. Traffic stops of a suspected stolen vehicle often escalate due to this reality.
Spokane, Washington, ranks near the top nationally in terms of stolen vehicles per capita. Vigesaa attributes this to an underlying drug problem and a revolving-door judicial system that doesn't adequately prosecute or punish nonviolent felonies.
Police officers in agencies with no-pursuit or restricted-pursuit policies may be understandably frustrated or demoralized when all they can basically do is 'wave goodbye' to a driver who chooses to flee. Vigesaa believes that criminals are emboldened by this knowledge and continue on to commit other crimes.
To address the problem, Vigesaa looked for different techniques and technology, including StarChase, to detain the active offenders.
"We arrest people with 10, 15, 20 felony convictions all the time," Vigesaa told The Inlander, a local weekly newspaper, in 2018. "If we can take some of these vehicle thieves off the street for a few days, that's a couple days they're not victimizing citizens."
At the opposite end of the country, Lake County, Florida, also has an epidemic of drug-related vehicle thefts.
"In areas that produce more narcotic crime, we've seen an increase in stolen vehicles – and the majority of those stolen vehicles run from us," said Deputy Shawn Lukens of the Lake County Sheriff's Office.
But in every traffic stop, stolen vehicle or not, the risk to public safety from a high-speed pursuit must be weighed against the danger that driver presents.
"For the Lake County Sheriff's Office, we can only pursue for forcible felonies or reckless driving, such as a DUI," said Lukens. "It's a balance of how do we still arrest the bad guy or catch the perpetrator who's running from us, but take into consideration the safety of officers, the safety of the public and the safety and well-being of the suspect himself by not pursuing it."
Police agencies in 41 states, including Spokane PD and Lake County Sheriff's Office, have found a solution using technology from StarChase. The StarChase system assists police in tracking and recovering vehicles while helping to keep officers' risk and adrenalin lower by minimizing some of the risks and negative suspect behaviors inherent in a stolen-vehicle traffic stop.
Avoid the adrenalin and chase by tracking the vehicle remotely
Police don't know what's in a suspect's mind during a traffic stop – but a suspect doesn't know what's in an officer's mind, either. The driver may take a chance that the officer doesn't know the car is stolen. Statistically, the driver will flee more often than not. When they do, police have a tool up their sleeves to reduce the risk to everyone, including the innocent public.
Officers, equipped with StarChase can target a fleeing vehicle and deploy a GPS tag via a handheld or vehicle-mounted launcher. Once the GPS tag is affixed to the vehicle, dispatch, command staff and any officer with user access can then view and track the tagged vehicle in real time using StarChase's secure, web-based mapping platform, which can be accessed via any internet connection. From a tactical perspective, the entire event becomes slower and more deliberate.
This is when the traditional, often deadly cat-and-mouse game shifts in the officer's favor. The officer who made the stop can drop back according to the agency's training and policy, luring the suspect into a false sense of confidence that they have successfully evaded the law.
"From what we've seen, as long as he stops seeing law enforcement, he slows down. He starts following traffic laws," said Lukens.
What the suspect doesn't know is that the GPS tag is live-tracking his location, direction and speed, giving command staff time to plan for a safe tactical apprehension.
"We can have units that are paralleling on side streets where they're not seen by the suspect and setting up a perimeter for when that guy takes off on foot or parks the car," said Lukens. Unlike a traditional pursuit, dispatch is able to safely direct the officers at slower speeds.
Knowing that you can tag and track a vehicle in case the driver decides to flee can help reduce the stress and adrenalin that come with initiating traffic stops, especially with stolen vehicles. The officer can play it cool and confident that once a suspect is tagged, a high-risk event is transformed into a more controlled event that is safer for all involved.
StarChase's web-based command and control platform, AppTrac-365, is another tool that provides additional safety to police officers by tracking an officer's position and movements during pursuits and other critical events. If a traffic stop turns into an escalating situation, AppTrac-365 can pinpoint the officer's location for rapid critical incident response.
Ending the 'drive away' and making the arrest
Since implementing StarChase in October 2017, the Lake County Sheriff's Department has seen an 87 percent recovery rate for stolen vehicles and an 80 percent arrest rate on vehicles tagged with the StarChase tracker. If you count multiple arrests per recovery, statistically that amounts to a 101 percent arrest rate.
"Obviously one of the biggest concerns in regards to officer safety is pursuits, not only for officer safety but for the general public as well," said Lukens. "StarChase for us basically eliminated that danger of that pursuit."
StarChase technology is also helping Spokane PD improve officer safety and achieve the agency's goal of reducing auto theft. Vigesaa's team has deployed StarChase GPS tracker over 50 times and apprehended 70 percent of those fleeing drivers.
"Even when I'm working alone, if a vehicle takes off, I can affix a GPS that allows a minute or two to gather resources, for other officers to respond to the area and to plan a detention of the vehicle and occupants," said Vigesaa, who has since become an expert in the use of the StarChase system. "StarChase is the best tool out there."
StarChase technology empowers law enforcement agencies with a means to apprehend stolen vehicles while providing officers with a safer alternative to high-risk pursuits. The balance between officer and citizen safety and the need and ability to apprehend a fleeing suspect is a win-win for officers, citizens and suspects alike.
Request information from Pursuit Response
Thank You!