Police Pursuits: The latest in training and technology
Increased fidelity training scenarios and smart, integrated tech tools are helping police make pursuits safer
---
This feature is part of our PoliceOne Digital Edition, a supplement to PoliceOne.com that brings a sharpened focus to some of the most challenging topics facing police chiefs and police officers everywhere. To read all of the articles included in the Spring 2018 issue, click here.
Presented by Pursuit Response
By Police1 BrandFocus Staff
New technologies and tactics can decrease the danger of high-speed vehicular pursuits. Pursuit Response is a collective dedicated to improving law enforcement and community safety during high-risk vehicle events.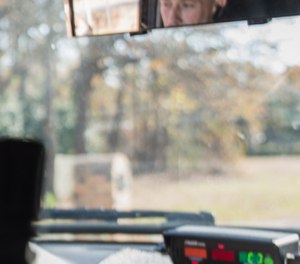 Police1 sat down with representatives from FAAC, OnStar and StarChase, the founding members of PursuitResponse.org, to talk about the latest tools and techniques for police pursuits.
Chuck Deakins, lieutenant commander (retired) and FAAC lead specialist for simulation training
Sherry LeVeque, OnStar Emergency Services outreach lead
Dave Respess, former law enforcement/lead EVOC instructor and StarChase director of field operations and training
Here's what they had to say:
What are the newest technologies enhancing officer safety in vehicular pursuits?
Chuck Deakins, FAAC: I believe there are two technological advances enhancing officer safety during pursuits. The first is the ability to link the environment of the "human interaction" technology of the use-of-force simulator with that on the driving simulator. We call this DrivingForce. This connection raises the intensity of driver training to a more realistic level and allows the student to honestly apply "de-escalation" principles where they belong first – the response to the scene. If an officer can de-escalate their driving response, they increase their own safety and survival and arrive in a much more controlled capacity to handle the situation.
The second advancement is in the actual assessment of a student's driving in the driving simulator with a program called VITALS (Virtual Assessment Training and Learning System). VITALS goes beyond scoring: The instructor has the ability to modify the program to meet departmental policies. The software is built so an agency can input its standards, policies or criteria for safe driving, and VITALS reports on how the student's performance compares to the standards with colored zones of green, yellow and red. These colors represent the student'' performance and are reviewed by the instructors.
Officer survival starts with better driving. Remember, we lose almost as many officers to driving each year as we do to guns. We should respect our driving training as much as we respect our weapons training.
Sherry LeVeque, OnStar: Stolen vehicle assistance technologies and services offered by connected vehicle companies, such as OnStar's Stolen Vehicle Slowdown, have been around since 2008. OnStar's Stolen Vehicle Assistance, Remote Ignition Block and Stolen Vehicle Slowdown help reduce pursuit risks and increase officer safety, suspect apprehension and vehicle recovery. While these technologies have been around for a few years, they are definitely underutilized.
Leveraging a stolen vehicle's GPS location provided by OnStar to police, coupled with the signals that can prevent a stolen vehicle from being restarted and/or slow down the vehicle, can only serve to help officers, as well as the public.
Additionally, companies continue to enhance and expand these offerings. For example, OnStar recently launched Theft Alarm Notifications, which send owners a notification if their car alarm sounds, which may increase the chances of recovering a vehicle or personal property by involving local law enforcement earlier.
Dave Respess, StarChase: Pursuit safety in modern policing is about leveraging smart technology like StarChase to focus on three key areas: force multiplying with multiple jurisdictions, management of agency resources when responding to pursuit events and effectively improving officer decision-making and response while reducing the probability of harm to the officer, the criminal and the community. StarChase positively impacts these critical areas, and more, by enabling agencies to have a much clearer "sight picture" when dealing with high-risk or potentially high-risk events via the real-time tracking capability.
StarChase also enables agencies to share tracking information seamlessly across jurisdictions to enable better tactical coordination. Ultimately, this level of visibility promotes smart resource allocation for a given event. An overarching benefit is a measurable reduction in speeds, as well as a subsequent increase in positive behavioral responses such as reduced adrenaline, better tactical decision-making based on data and more time to respond and evaluate conditions and tactics.
When smart technology like StarChase is used, an agency has the offensive advantage to continually look and re-examine their specific sight picture multiple times during a critical event. Ultimately this leads to safer results and lower risk for first responders and the communities they serve.
How can these technologies be integrated with other police tools?
FAAC: The "DrivingForce" system can also be linked to a physical exertion or stress component. The connection between the two systems allows students to transition back and forth, starting with human interaction and then transitioning to a driving scenario, or by beginning with a driving scene and then simulated human interaction. Transitions between human interaction and driving can be further enhanced by encompassing a physical exertion or workout to enhance the training event. This increases the heart rate of the trainee and puts them in a condition that is closer to what they would encounter in an actual event.
For example, one of our scenarios has the suspect suddenly run "through" the student-officer, creating a fight situation. The student is taken to the mat and fights for 60 seconds, then is redirected back to the screen where the suspect is shown getting into a car and leaving the scene. The student-officer transitions into the driving simulator and is now expected to drive a pursuit while stressed or exerted.
This is a much more realistic test of an officer's ability to recall safe vehicle operations that are traditionally second nature. The biggest area of concern is the seat belt. Officers are forgetting tactical seat belt usage followed by calm radio communications, all while pursuing a vehicle. All of these skills add to increasing officer safety and survival.
OnStar: An agency's SOP is the principal guiding tool, but as technology evolves, policy should also take into account any impacts from these new technologies. For example, GPS tracking technologies available to law enforcement (including those that may be located on the suspect vehicle) should also be considered as a non-lethal intervention prior to initiating a pursuit. Stolen vehicle policy updates, beginning with when a report is filed, can incorporate such technological advances, helping to limit liability.
OnStar's Stolen Vehicle Assistance and Slowdown are only effective if leveraged by law enforcement. They are tools that enhance the agency's existing procedures and technology used for handling stolen vehicles and potential pursuits. Slowing down a stolen vehicle is as simple as having an on-scene officer confirm sight of a stolen vehicle and working through dispatch with OnStar to send the signal to slow the vehicle to an idle speed. OnStar also automatically sends a signal to block the ignition (and prevents the vehicle from being restarted) when stolen vehicle tracking is initiated.
Technology is only going to continue to evolve, so OnStar maintains partnerships with law enforcement to share new developments.
StarChase: The No. 1 smart tool that StarChase integrates with is the officer and all branches of support during an event. StarChase delivers the ability for a single field officer to, in many cases, reduce a risky event before it becomes a high-risk, high-adrenaline, high-speed event. This smart technology is quickly becoming the go-to tool for agencies that want to provide virtual backup to their line officers during all critical phases, including the pursuit phase.
Another area where StarChase adds value is when combined with license plate readers on vehicles and highway cameras. When the LPR identifies a stolen vehicle, probable cause then prevails, and having StarChase as part of the equation allows the officer to tag proactively and reduce or eliminate the need for traditional pursuit.
Tire deflation is also enhanced with StarChase technology. Findings from an NIJ study revealed that tagged fleeing suspects return to within 10 mph of posted speed limits, allowing officers to manage the event more strategically with tire deflation devices. Significantly lower speeds lead to safer conditions for the officer during deployment.
How can police departments integrate the latest technologies into officer driver training?
FAAC: Agencies that are fortunate enough to provide driver training simulators have a designated area that allows for this advanced level of training. Agencies that cannot provide simulator tools can still apply the training concept of "simple to complex" and "realistic interactive training" with the facilities that they do have.
We understand that you can't train true intersection clearing with actual vehicles, as no one could afford the liability and expense, but you can at least train with mock vehicles or mock interference. If you have the facilities and personnel available, you can link your track training with some form of human interaction or use-of-force training – but beware: This form of training almost always results in diminished importance of and focus on driving training and results in more shoot-outs than anything else.
OnStar: With the abundance of information and evolving technologies available to public safety, the true challenge is staying up to date. In addition to receiving periodic training on the agency's pursuit policy and safe driving tactics, an overview of available tracking technologies can keep officers well informed.
For example, realistic driver simulation, scenario-based training and case studies from other agencies using these various technologies can be effective training strategies at periodic departmental trainings, as well as during initial academy training. Formal training materials (videos, literature, live demonstrations, etc.) are also available by contacting the manufacturers of the technology, such as OnStar, StarChase and FAAC.
StarChase: Working with technology partners, departments need to empower their workforce through education, training and practice. Driver training programs need to adopt progressive technology and the associated paired tactics. The more realistic conditions integrated during training, the more prepared officers will be when responding to high-risk vehicle events on duty.
Technologies such as StarChase do not obviate the need for well-prepared drivers. What StarChase does allow for is an environment, in most cases, where a well-trained officer can apply trained driver skills in an environment with lower adrenaline with respect to speed and decision-making. When smart technology like StarChase is coupled with proper training, the result is more time on the officer's side when it becomes necessary to make those critical tactical decisions.
What pursuit tech innovations are on the horizon?
FAAC: I see a real future in what most officers are calling virtual reality training. The true definition of virtual reality is what is taking place already in our driving and use-of-force simulators. The best part of virtual reality is that the officers and students are excited about the technology – they have an understanding of it. That means a more engaged student and therefore increased learning, resulting in enhanced officer safety and survival.
The more powerful element of simulation training is in the after-action scenario review or debrief – this is where the actual learning occurs. New innovations are being completed to offer actual replay/debriefing feedback to not only the individual students, but to the observing ones as well. There is also progress with the manipulation of weapons and vehicle controls that align trainers with the principles of muscle memory and skill building without leaving negative training scars.
The future is bright for advanced forms of simulated training to increase officer safety and survival. We should really embrace it!
OnStar: With the future implementation of technologies such as FirstNet and vehicle-to-vehicle (V2V) communications, the innovations will continue to evolve focusing on ways to aid law enforcement efforts. OnStar will keep the lines of communication open as the future unfolds.
StarChase: With insight from law enforcement, this year alone we have expanded our portfolio of solutions to include handheld tagging technology and an app-based solution that enables an agency to have cost-effective, location-specific information on their most critical assets and people.
---
About Pursuit Response
Pursuit Response is dedicated to improving law enforcement and community safety during high-risk vehicle events. This advisory group brings the latest research, advocacy, education, training and technology resources to law enforcement and the communities they serve.
FAAC Inc. creates simulation technology that provides law enforcement officers with a life-like virtual training environment. To learn more, visit FAAC.com/Police/PursuitResponse.htm.
 OnStar is a wholly owned subsidiary of General Motors and offers emergency, security, navigation, connections and vehicle manager services in Chevrolet, Buick, GMC and Cadillac models. To learn more, visit http://www.onstar.com/publicsafety.
StarChase provides pursuit management and GPS tracking technology to public safety and government agencies worldwide. To learn more, visit https://www.starchase.com/.
Request information from Pursuit Response
Thank You!