Motorola announces cloud-based communications platform
The ASTRO 25 Cloud Core Managed Service is designed for agencies needing options for P25 migration or those looking for cost-effective alternatives to owning and operating their own LMR P25 Core
---
At the 2014 IACP Conference and Expo in Orlando (Fla.), it's all about the cloud — not the weather, but the technology — for public safety. One such sign of this shifting focus from on-premise computing to software as a service (SaaS) came from Motorola Solutions, with the announcement of their latest mission-critical communications solution for public safety.
The ASTRO 25 Cloud Core Managed Service enables police departments to access the latest Project 25 (P25) land mobile radio (LMR) technology as and be in good position to more easily benefit from new capabilities as they become available in the near-and long-term future. 
By using a cloud-based communications platform, agencies can "benefit from economies of scale and save on the overall cost of building and maintaining a P25 core solution, allowing public safety personnel to focus on their day-to-day mission," the company said. "Furthermore, agencies using the system have the added benefit of immediate agency interoperability."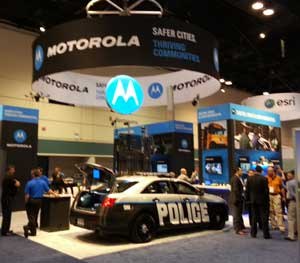 Bridging Gaps
Managing emerging technologies can be challenging, from integrating disparate technologies to resource gaps.
 "We're seeing a trend of this whole idea that voice, video and data are becoming more and more complex to manage," said Joe Preissing, senior portfolio manager, Motorola Managed Services."At the same time, some customers have resource gaps. So, customers are turning more and more to managed services, and they're doing this for three key reasons: operational, financial and strategic.
"In an operational mode, they want to leverage the vendor as much as they can. They want to gain guaranteed performance and end-to-end access. From a financial perspective, they want to reduce their cap-ex if they can, and move to a more predicable op-ex model — it's a lot easier to plan for that because it's recurring," Preissing said. "From a strategic perspective, they can sharpen their focus on their mission and really reduce the risk by allowing the vendor to manage and operation a cloud service."
Preissing conceded that there has been a bit of trepidation on the part of public safety in general and law enforcement in particular — mostly with regard to questions about security of the cloud. However,  leaders increasingly are coming to understand that cloud-based services like the new ASTRO 25 Cloud Core Managed Service are secure and redundant, he said.
Preissing said that the solution is particularly appealing to SMARTNET and SMARTZONE customers who want to migrate from analog to a digital, but may lack some of the human resources necessary to do that on their own. He noted that there are elements to Motorola's newest offerings that need to be updated more often than their legacy systems — software that needs to be updated more often than those users are accustomed to — and that can be much more quickly and easily by the vendor in the cloud than the customer can accomplish on site. 
If you're attending IACP 2014 and want to know more, visit the Motorola Solutions booth (#2201).