How license plate readers are helping one California PD catch more criminals
Police in La Verne use fixed LPR cameras to create a virtual fence around the city
---
The following is paid content sponsored by Vigilant Solutions.
By Police1 BrandFocus Staff
La Verne, California, is a suburban city of about 8.5 square miles, located about 35 miles east of Los Angeles. Its roughly 33,000 residents are served by the 39 sworn officers of the La Verne Police Department.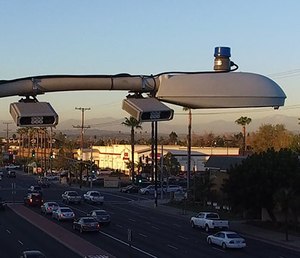 Problem
The local crime rate had risen in recent years, driven by people from surrounding areas coming into La Verne and committing thefts, burglaries and other crimes. La Verne PD needed a way to monitor who was entering the city so they could catch these criminals and protect citizens from those who might be passing through with ill intentions.
Lt. Chris Fenner had heard about the success neighboring communities had with fixed automatic license plate reader systems. The department already had a mobile LPR system, but Fenner worked for more than three years to add fixed cameras to create a virtual fence around the city.
"My goal was to get every major entrance into the city covered to get the majority of cars coming into our city," he said. "Anyone who comes into our city in a stolen car is probably here to commit a crime, so if we can be alerted to the presence of a stolen car coming into our city, we can prevent crime before it even happens."
Solution
Fenner and LVPD chose Vigilant Solutions because Vigilant maintains a nationwide LPR database and robust search capabilities. Vigilant also offered the lowest price of the three bids the department received.
Since January, LVPD has installed two dozen fixed LPR cameras that monitor nearly every possible point where a vehicle could enter the city. The data collected has been integral in apprehending dozens of occupied stolen vehicles, as well as aiding a number of successful investigations and arrests.
Using the system is simple: The Vigilant cameras capture a photo of each car and transmit the images and the plate numbers to the database, which collects plates and alerts from all over the state. If a vehicle has been reported as stolen or is flagged as part of a crime, the system will send an alert to every officer on patrol in the vicinity. LVPD can add its own internal alerts as well.
Fenner said the Vigilant system is user-friendly and that it didn't take long to get officers trained and up to speed. Alerts include audible tones and pop-up windows that provide patrol officers with real-time notification of a flagged vehicle, including an image, what crime the vehicle is flagged for and which camera picked it up so you know where you need to go look for it.
The images and plates captured by the LPR cameras are stored in the Vigilant database and can be searched later. This helps detectives investigate any crime where a vehicle description is available. La Verne PD has used the Vigilant LPR data to solve 10 burglaries and intercept a number of domestic violence suspects and mail thieves before they could do further harm.
For example, a restaurant reported a stolen safe and provided surveillance video that showed the suspect vehicle but not the plate. But with the exact time and a vehicle description from the video, investigators were able to review all the plates coming into the city in that timeframe and find the suspect vehicle. 
The database also helps locate suspects and identify patterns. An investigator can run a specific plate associated with a suspect through the whole system and see all of the places where that vehicle has been captured. Fenner said this is a big help in finding suspects and persons of interest.
Results
The numbers are impressive. In less than a year, La Verne officers have arrested 39 drivers of stolen cars, up from four or five in previous years. They've also solved 10 burglaries and apprehended four domestic violence suspects and five wanted felony suspects using the Vigilant Solutions cameras and data.
One felony suspect, wanted for pimping and human trafficking, was caught simply passing through town on his way from northern California.
"He just pulled off the freeway to get gas," said Fenner. He passed one of the fixed cameras, and LVPD was able to capture him thanks to the LPR alert.
In late October, La Verne police arrested a man who had bought a new luxury car using a stolen identity. Thanks to an alert from the Vigilant database, said Fenner, they recovered stolen checks and half a dozen different IDs in the car bearing the suspect's picture.
La Verne officers are enthusiastic about the program and its success rate so far. In fact, two officers have qualified for state awards for stolen car arrests.
"I can't even tell you the last time that anyone in La Verne got this award," said Fenner. "The No.1 thing that we're focused on is being alerted to these guys' presence and preventing the crime before it happens."
La Verne PD has successfully created a virtual fence around the city with fixed LPR cameras. The Vigilant Solutions LPR database also expanded the department's ability to investigate and close cases. Combined, these enhanced capabilities mean LVPD can prevent crime before it happens, catch more criminals and better protect the community.

Request information from Motorola Solutions
Thank You!