How to buy scheduling software (eBook)
Police scheduling continues to be a challenge for agencies of all sizes, but choosing the right software can turn a chore into an asset
---
To download your free copy of "How to buy scheduling software (eBook)" Buying Guide from Police1, fill out this form.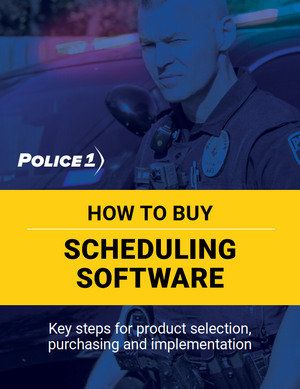 Scheduling has always been a challenge for law enforcement agencies, and it isn't getting any easier post-2020.
What was already a logistical feat – providing around-the-clock police response to communities, all while managing things like FLSA overtime compensation, contractual obligations with unions, and staff training needs – has only been exacerbated by the unprecedented staffing difficulties facing departments in the pandemic era.
Not only did the coronavirus highlight the need for agencies to be able to think fast on their feet to fill emergency staffing gaps, but it also brought into hyper-focus the health and wellness needs of today's officers. Things like off-site time clock access and real-time, electronic form submission went from being nice-to-have to must-have as protecting staff from infection became mission-critical.
And as ongoing calls for police reform have led to record-level retirements from the profession, schedulers are having to find ways to both sustainably utilize remaining staff and attract newcomers to their rosters.
Many departments are finding scheduling software allows them to do just that: fill on-duty staffing needs while also putting personnel into the driver's seats of their own schedules. And with tasks like shift bidding and off-duty sign-ups being streamlined in the process, the logistical minefield that was police scheduling becomes a key selling point for future recruits.  
This Police1 guide to purchasing scheduling software can help you compare products and ask the right questions so that you get the best system for your agency.
To download your free copy of the "How to buy scheduling software" Buying Guide from Police1, fill out this form.