Calif. agency implements emergency patrol schedule in response to COVID-19
The Santa Rosa Police Department's pandemic staffing plan could be a model for other agencies across the country
---
The COVID-19 pandemic is challenging on multiple levels for law enforcement agencies. Relatively simple chores like scheduling are complicated by losing officers to quarantine and having to allow extra time for sanitizing of cars and workspaces. The Santa Rosa Police Department (SRPD) in California has developed a pandemic staffing plan that could be a model for other agencies across the country.
Santa Rosa is about 50 miles north of San Francisco. The department has 175 sworn officers to serve 177,000 people. The pandemic became especially somber for the agency when one of its detectives succumbed to complications of a COVID-19 infection on March 31, 2020. Detective Marylou Armer was the first California law enforcement officer to die of the viral illness.
Chief Rainer Navarro had to find a way of leveraging the manpower he had available to police the city while minimizing the risk of infection and providing time for officers to self-quarantine after a stretch of work shifts.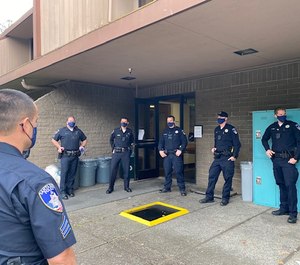 "We were looking at how to best schedule our staff to address calls for service and provide equity for all of our officers," Navarro said.
[Want to know more about staff scheduling software? Click here to download our buying guide.]
department implements Emergency patrol schedule
SRPD developed an emergency patrol schedule of 12.5-hour patrol shifts, staffed by two squads and four teams of officers.
Officers in one team work either four 12.5 hour shifts, followed by three days off, or three shifts with four days off. Another team works the opposite schedule (three on, four off, four on, three off) on the days the first team is off.
At the end of two weeks, those two teams go into self-isolation for two weeks while the other squad is working. Teams are assigned to either day or night shifts, not changing work hours during their duty cycles.
The Santa Rosa Police Officers Association, which is the bargaining unit for patrol officers, was involved in the creation of the schedule. POA representatives signed a "side letter" to the police officer work contract to incorporate it in the contract for the duration of the pandemic. Officers wind up working 87.5 hours each pay period, followed by 72.5 hours of paid self-isolation at home.
"This works with the 28-day period which is our pay cycle," Navarro explained.
Officers who are in their two-week self-isolation period have to make themselves available for call back to patrol on 24 hours notice. Otherwise, their only duty is to stay healthy and respond to any calls from the district attorney to attend court. The police department set up a procedure where officers can testify in court via a closed video link such as Zoom within a designated office in the police station.
There is increased attention to cleaning vehicles and other equipment used by multiple officers.
"We have an area that is part of our parking lot stocked with cleaning supplies. Part of the time that officers would be briefing is set aside to disinfect the vehicle before prior to the shift," Navarro said. "The vehicles are getting disinfected at least twice a day, if not more because they're disinfecting the vehicle at the beginning of the shift and again at the end of the shift. If officers feel there has been an exposure in one of the vehicles, we have an area where that vehicle can be quarantined for 72 hours."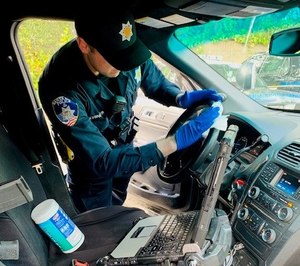 Pre-shift briefings are conducted outside, rather than in a squad room, so there is less gathering of officers in an enclosed space.
SRPD has limited access to some areas of its police station in an effort to keep any contamination from spreading.
"Inside the station, employees wear masks when they are in a common area or interacting with other employees," Navarro said. "We also closed our front doors, so we don't have foot traffic anymore. We locked down our records section and dispatch section to only those personnel assigned to that team. We've had that open for morale and have that teamwork feel with sworn officers, but since this occurred, we've restricted records to records personnel and dispatch to dispatch personnel. We have trays outside those offices where sergeants can enter to get paper and bring back to patrol staff, if needed."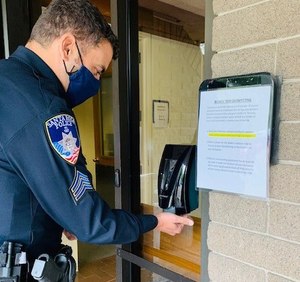 The regional police academy that serves Santa Rosa has ceased operations during the pandemic, and cadets assigned there were idle.
"We had several cadets who were starting that academy. We are using them on different shifts to go around and clean and disinfect all common areas. Those areas are getting cleaned three times daily, and there's a smell of bleach in the air," Navarro said.
The department is holding contaminated uniforms for 72 hours in a quarantined locker before returning them to get cleaned.
Santa Rosa PD has an online report resource for citizens to use for non-emergency use, and this has been expanded somewhat in an effort to keep patrol officers available for higher priority assignments.
Detectives who have not been reassigned to patrol during the pandemic are available to assist with reports that aren't appropriate for the self-service utility and investigative needs. In addition, SRPD has a team of officers to address homeless issues and non-essential business enforcement.
The emergency patrol schedule has been in effect since March 29, 2020. It will stay in effect until at least April 25, 2020, but Chief Navarro has the option to extend it to July 18, 2020, if it appears the need for the schedule remains.